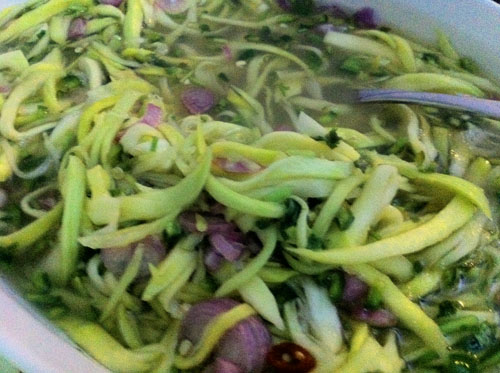 I love that it when my college classmates and I have a reunion. We usually hold it in Imelda's house. She is a fantastic cook. I think most of us (we are all BS Food Technology graduates) have this gift of cooking. These reunion is one way to brush up on the latest dishes or recipes.
One of the dishes she prepared that night was Green Mango salad. I love this salad. Low in calories and easy to prepare. She eagerly shared me her recipe when I asked her for it. I modified it a bit to my taste with optional variations.
Here is how it goes.
2 green mangoes (firm Carabao variety) cut into fine strips
1/2 cup sliced sibuyas tagalog
12 cup sliced coriander (wansoy or cilantro)
1/4 cup chopped red bell pepper
2-4 labuyo chopped
6 to 8 Tablespoon sugar or to taste
1 Tablespoon salt or to taste
Optional
1. add 3-4 spring onions, sliced
2. some peanuts or cashew nuts, whole or chopped