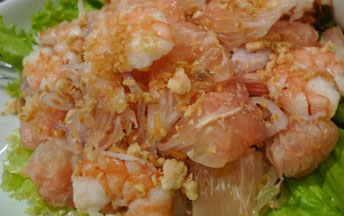 Pomelo salad is one of my favorite salads especially if we dine at Thai restaurants. There are many ways to prepare Pomelo salad but I prefer it mixed with shrimps and pomelo with little greens except as an accent.
Salad ingredients
1 whole pink sweet pomelo (suha)
1/2 kilo shrimps, boiled then shelled
3 pieces salted eggs , cut in wedges (optional)
1 small cucumber, cut into strips and seeds removed
1 piece celery blanched and chopped
Lettuce leaves to line the salad bowl
Dressing
Remember you can adjust the flavor based on your desired taste.
1 cup extra virgin olive oil
1/4 cup vinegar
1 tablespoon lemon juice
2 teaspoons sugar
1 clove garlic, crushed
1 teaspoon mustard
dash of worcestershire sauce

Procedure
1. Peel pomelo and cut them into desired pieces.
2. Mix gently the pomelo, the shrimps, cucumber and celery in a mixing bowl,
3. Line a salad bowl with lettuce.
4. Arrange the tossed salad mix (prepared in number 2) on the salad bowl. Top with the egg slices. (You can also use plain hard boiled eggs instead of salted eggs)
5. Prepare the dressing. Serve separately in another serving dish.
6. Chill the salad bowl in the refrigerator and remove just before serving.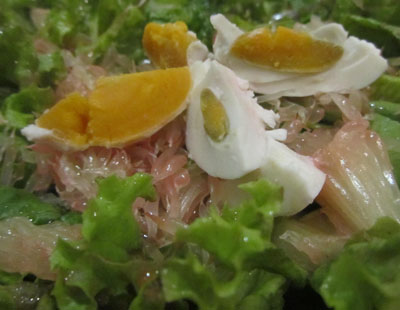 Another variety is where you add more lettuce to the tossed salad ingredients. You can also adjust the taste of the dressing. Some prefer it sweetish while others prefer it tart.