An XO46 original dish of mixed sautéed seafood in salted egg sauce.
Bicol Express is not alone. There is an original dish called "Pateros Express" from XO46 XO 46 Bistro Filipino. The dish is made of mixed sautéed seafood like shrimps, squid and fish in salted duck egg sauce. The dish was recently featured in The Maya Kitchen's Culinary Elite Series 2015 cooking class held last May 30, 2015.
Try this unique and flavorful Pinoy dish.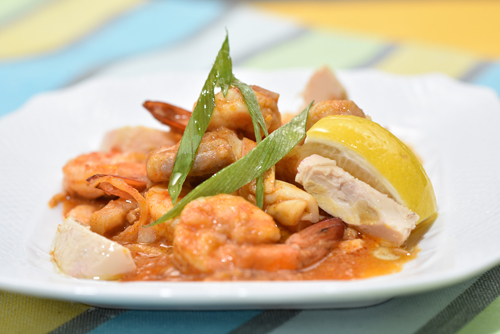 200 grams medium-sized shrimps, peeled and deveined leaving the tail
200 grams squid, cleaned and cut into squares and scored
200 grams fried fish fillet
¼ cup olive oil
50 grams garlic, crushed
½ cup white wine
juice of 1 lemon
3 salted eggs, separate yolks from the whites
5 grams Spanish paprika
salt and pepper, to taste
parsley, for garnish
1. Sauté shrimp, squid, fish fillet with a little bit of olive oil, garlic and white wine. Once seafood is cooked, set aside.
2. Get the yolk part of the salted egg and mash it with olive oil, lemon juice, Spanish paprika and salt and pepper. Mix the seafood with the salted egg sauce.
3. Garnish with white part of the salted egg and parsley.
Yield: 5 servings