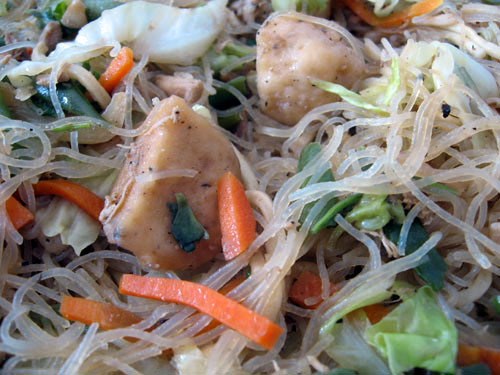 It seems every birthday celebration is not complete without a noodle dish. Today is my birthday and even if I won't be having lunch and dinner at home, I still made sure pancit will be cooked today. I actually prefer the thin rice noodles as compared to pancit canton or dried Chinese noodles.
This is my version.
Ingredients
1/8 cup olive oil
1 tablespoon garlic, minced
1 onion. minced
1 cup boiled pork, sliced (keep broth )
1 onion., minced
1 small cabbage, shredded
1 large carrot, strios
1 tablespoons soy sauce
1 1/2 cup broth from boiled pork
1 bundle of Kintsay or Chinese leeks
1 bundle or roughly 250 grams of 1st class Bihon China (rice noodles or rice sticks)
1/2 teaspoon salt
For Garnishings
2 pieces Chinese sausage, fried and sliced
Spring Onion, chopped for toppings
Sliced calamansi
Procedure
1. Saute garlic in olive oil. Add onions, pork, carrot and cabbage.
2. Season with soy sauce and stir fry for 2 minutes.
3. Add broth and simmer.
4. Add Kintsay.
5. When vegetables are cooked, add in soaked and drained bihon and season with salt.
6. Garnish with Chinese Chorizo and spring onions
7. Serve with calamansi.