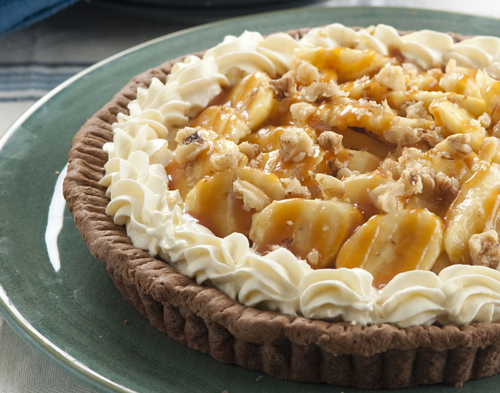 In the past week, I have shown you select recipes to be shared to you by the Maya Kitchen just to make Father's day extra special. The Smoked salmon brings Eggs Benedict up another notch while the Traditional Beef Pot Pie is an unmistakable comfort food. Now for the dessert, we have Banana Cream Pie with Caramel Fudge which rounds up this simple but special meal for that special man of the house.
I usually bake everything from scratch but a cake mix can come in handy.
Pastry or Pie Crust:
1 pack MAYA Complete "Quick n' Easy" Hotcake Mix 200g
1 tablespoon cocoa powder
4 tablespoons water
Filling:
1/4 cup sugar
3 tablespoons Cornstarch
1 1/2 cups evaporated milk
1 piece egg yolk, slightly beaten
1 tablespoon butter
1/2 teaspoon vanilla
3 pieces ripe banana (lacatan), sliced into rounds
Caramel Fudge:
1 cup whipping cream
2 tablespoons powdered sugar
3/4 cup sugar
1/2 cup softened butter
Procedure:
1. Preheat oven at 400°F/ 205°C.
2. Combine MAYA Complete Hotcake Mix with cocoa powder. Add water, one tablespoon at a time, enough to form a ball of dough. Roll out to 9-inch pie plate.
(Note: Making a pie crust for the first time can be a challenge. Woth practice, you should get the hang of it. I demonstrated the one pie crust in a past entry. Here is another guide Making the Perfect Pie Crust)
3. Bake until golden brown. Cool.
4. Prepare filling. Combine sugar and cornstarch. Gradually stir in evaporated milk. Cook over double broiler stirring constantly until mixture thickens. Remove from heat.
5. Gradually stir half of the mixture into the beaten egg yolk. Put back in saucepan and blend. Cook until mixture coats spoon. Blend in butter and vanilla. Cool.
6, In a bowl, whip half of the cream with powdered sugar until stiff. Chill.
7. In a saucepan, caramelize sugar in low heat then add butter and remaining all purpose cream.
To assemble:
1. Layer half of banana into pie plate – pour the filling.
2. Arrange remaining half of banana and cover and drizzle caramel fudge.
3. Decorate with whipped cream if desired.
Yield: 8-10 servings