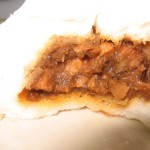 A lot of you have been clamoring for a siopao recipe. It's been ages since I last cooked siopao. My recipe is based on"Favorite Filipino Recipes" by Pat Dayrit. The recipe is comprised of two parts: the dough and the filling. Let's start with the dough first
Dough
1 1/2 cups lukewarm water
2 tablespoons sugar
1 teaspoon dry yeast
4 1/2 cups all-purpose flour
1 tablespoon baking powder
1/2 cup sugar
3 tablespoons pork lard
Procedure for Dough
1. Place the sugar and yeast into the lukewarm water.
2. Let stand for 10 minutes.
3. Mix flour, baking powder, remaning sugar and lard.
4. Add the mixture of Number 3 to the yeast mixture in number 1.
5. Knead until smooth.
6. Let rise for 2 hours. (Prepare filling while waiting for the dough to rise)
Filling
2 tablespoons lard
1 head garlic, minced
1 kilo pork shoulder (kasim) cut into large chunks
2 medium-sized onions, sliced
4 tablespoons soy sauce
4 tablespoons sugar
2 tablespoons Oyster sauce
Procedure for Filling
1. Saute garlic in the pan when lard is heated.
2. Add pork and brown lightly
3. Add the remaining ingredients and cook until tender.
4. Remove pork and dice into 1/2 inch cubes.
5. Return pork to mixture.
6. Add oyster sauce.
7. Use filling after the dough has risen or after 2 hours when dough was set to rise.
Placing filling to the dough
1. After the dough is ready, divide dough int 24 to 32 balls.
2. Arrange balls on the table and fill each with a tablespoon of filling.
3. Place each filled siopao on 2 inch square of wax paper. Let stand for 1/2 hour.
4. Arrange siopao in a steamer lined with cheesecloth or towel.
5. Steam for 15 minutes.
There you have it! Your very own homemade siopao.