Healthy eating does not have to be boring. It is about eating smart. You don't have to be perfect and you don't have to completely eliminate foods you enjoy to have a healthy diet.
I'll be showcasing some healthy dishes for the next three days. Pot pies are usually associated with meat or chicken fillings. A pot pie is a baked savory pie with a bottom and top completely encased by flaky crusts and baked inside a pie tin to support its shape. A mini-vegetarian curried pot pie in this recipe uses ramekins though.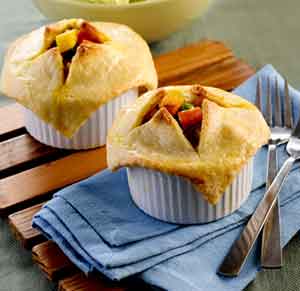 Ramekins are small, cylindrical dishes that are used for baking individually-sized dishes. They can come in any size, but are most often found in 4-, 6- or 8-ounce volumes. Some will have very shallow sides, but most have a rise of about an inch or so, depending on the size of the dish itself.
The mini-vegetarian curried pot pies requires you to make a crust separately so it may be a challenge for first time cooks.
Here goes:
Crust:
2 2/3 cups MAYA All-Purpose Flour, sifted
2/3 cup butter
2 pieces egg yolk
3-5 tablespoons cold water
½ teaspoon salt
Filling
3 tablespoons clarified butter
2 cloves garlic, minced
1 piece onion, sliced
2 cups vegetables, chopped and blanched
(potatoes, carrots, green beans)
½ cup frozen green peas, thawed
1 cup firm tofu, crumbled
2 teaspoons curry powder
salt and pepper to taste
3 pieces eggs
¾ cup all purpose cream
½ cup fresh milk
pinch nutmeg
salt and pepper
parsley
egg wash (milk & egg yolk mixture)
1. Preheat oven to 375°F/190°C. Lightly grease eight 3-ounce ramekins. Set aside.
2. Put the sifted flour in a bowl. Using your fingers or pastry blender, cut the butter into the flour until it resembles coarse crumbs. Make a well at the center. Set aside.
3. In another bowl, beat egg yolks, water and salt. Pour egg mixture into the well and lightly combine with the flour until it forms a dough.
Chill dough for at least 30 minutes for easy handling.
4. Roll out dough on a lightly floured surface until 1/8–inch thick, divide the dough into 8 equal square portions, set aside.
5. Sauté garlic and onion in butter. Add in all the vegetables and cook for 2 minutes or until soft and tender.
6. Mix in the tofu and curry powder. Season with salt and pepper. Set aside.
7. In a separate bowl, beat together the eggs, cream, milk, nutmeg, parsley, salt and pepper. Set aside.
To Assemble:
1. Divide the cooked vegetable mixture into ramekins and pour the egg mixture but do not overflow.
2. Cover ramekins with the square dough – seal edge.
3. Cut a cross at center of crust. Fold cut corner of dough outwards to show filling.
4. Brush with egg wash then bake pot pies for 20-25 minutes or until set and top is golden brown.
Best served warm.
For more recipes, other culinary ideas and course schedule, log on to www.themayakitchen.com.