Remember the Lechon Sinigang from our lechon leftovers? Well, this time around, I prepared the Lechon Sisig from leftover lechon head. Please be aware that this dish is high in cholesterol.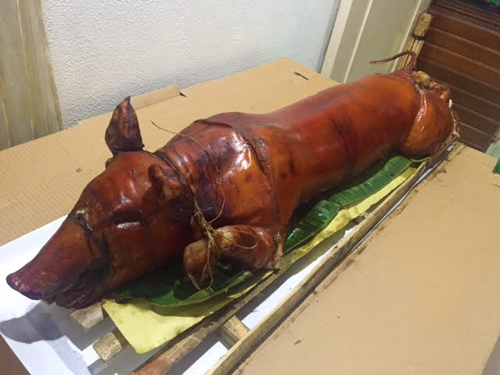 My Lechon Sisig version is similar to the sisig of Trellis which I first tasted over 30 years ago. Trellis is known to be the first to develop Sisig in Manila.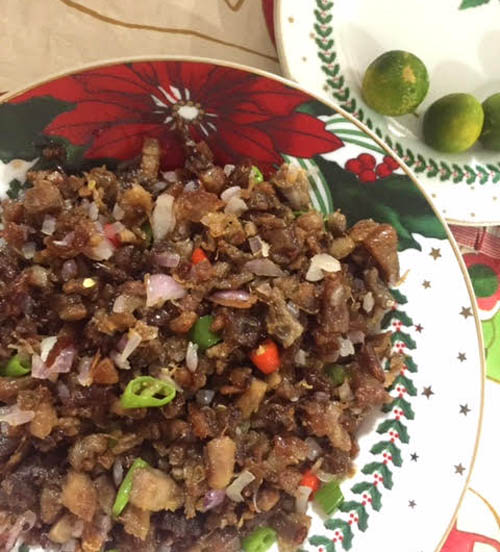 Here is my recipe:
Ingredients
500 grams lechon head, minced (You will get around 10 cups worth of minced skin, ears, snout, cheeks from the Lechon head,)
1 tablespoon minced garlic
2 large yellow onion (I prefer more )
1 tablespoon oil
1 tsp salt
1/2 tbsps soy sauce
3 calamansi
1/2 tsp ground black pepper
1 tsp hot sauce
2 siling labuyo (red and green), cut into pieces for garnishing
Procedure:
1. Heat oil. Saute garlic till brown then add onions and then cook for 2 minutes or until soft.
2, Add the minced lechon meat. Stir.
3. Add the soy sauce, salt, and pepper. Stir. Continue cooking for 5 more minutes.
4. Then sprinkle the siling labuyo. Stir .
5.. Transfer to a platter. Serve with calamansi.