Remember my Humba recipe? Humba is a Visayan staple dish of stewed pork in soy sauce, vinegar and sugar. My sister has her own Humba version in the US which is basically Americanized. This time, let me share to a Humba recipe from XO46 Heritage Bistro, the brainchild of husband and wife restaurateurs Andrew Masigan and Sandee Siytangco-Masigan, as part of Maya Kitchen's Culinary Elite Series 2015 .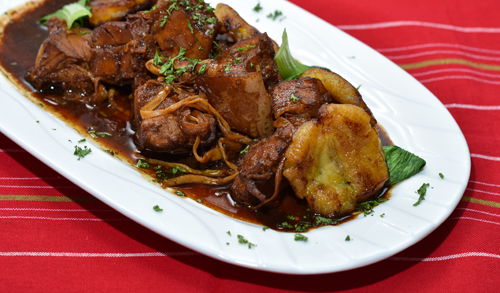 Here is the recipe.
½ kg pork liempo, sliced in big square chunks
¼ cup water
100 m soy sauce
¼ cup dark soy sauce
¼ cup cane vinegar
¼ cup pineapple juice
50 grams garlic
50 grams onions
¼ cup muscovado sugar
100 grams banana blossom
salt and pepper, to taste
blanched pechay, as needed for garnishing
5 pieces fried smashed banana, for garnishing
1. Cook liempo, water, soy sauce, dark soy sauce, vinegar, pineapple juice, garlic, onion, and muscovado sugar for 1 hour until liempo is soft.
2. Add the banana blossom.
3. Allow sauce of humba to thicken. Serve with blanched pechay and smashed fried banana.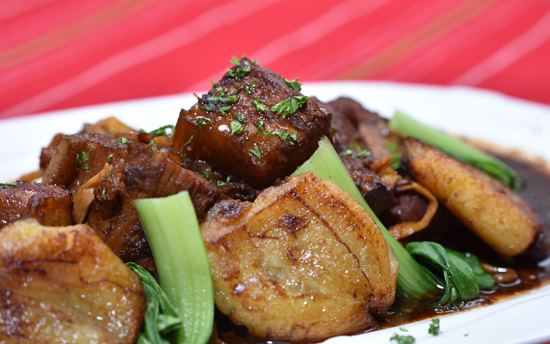 For more information, log on to www.themayakitchen.com or e-mail [email protected].