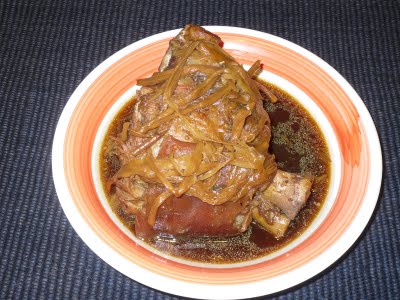 I have shared my own Humba Recipe at the request of a father who wanted to cook for his kids. This time let me share a recipe cooked by my sister, Lorna in Chicago which she calls Lorna's Humba- Pig Hocks as Comfort Food. I bet my sister is missing the Philippine so much like some of you, my dear readers.
This is not the traditional Humba recipe that mothers from the Visayas region of the Philippines teach their children. I've taken the influences from Filipino, Chinese, Indian, and American home kitchens to create my own version of this braised Humba that can take two to four hours' cooking time. Of course, if you use a pressure cooker, the fragrant Humba cooks in half the time. If it's a slow cooker you're using, an overnight process is just as delicious.
Finding the right meat, and I don't mean pork belly either, meant going to my neighborhood Polish deli, Deli 4 U, across the street from my suburban home in Illinois — and enjoying the thick, succulent slabs of not-very-fattening but definitely gelatinous pig hocks. Should I say I am in Pig Heaven? Since there were no dried Azucena flowers (tuberoses) available as a garnish, I used dried lily flowers, an extremely delectable substitute from San Francisco's Chinatown.
According to MonsterGuide.net: "Pork hocks are also called pork shanks, Schweinshaxe, or Eisbein. Pork hocks are sliced from the hind leg or pork foreleg between the knee and the ankle. This is a tough meat as it is a part of a "work" muscle, but it is very tasty though not tender. Although not as popular as pork ribs, it is still a well-liked meat. Pork hocks, and pork in general, are available as natural, or organic, meat."
Before we start, let's review the term, "bouquet gaarni," a remnant from my B.S. Hotel and Restaurant Administration college days at the University of the Philippines in Diliman, Quezon City.
BOUQUET GAARNI: A bundle of spices and herbs, the aromatics, are placed in a square of muslin cloth and tied together with butcher twine ("lambo"). I use a muslin bag sachet normally used for tea and I fill it up with my aromatics. If you don't have any of the above but you have a tea strainer, you can use this, too.
I prefer using a bouquet gaarni instead of mixing the aromatics with the pig hocks because I don't like biting into peppercorns or cardamon seeds. The bouquet gaarni is braised with the rest of the ingredients and is removed before eating.
Bon Appetit!

LORNA'S HUMBA
Equipment: a 16-cup or 4 quart, non-acid reactive saucepan (heavy stainless steel or glass)
Ingredients for Bouquet Gaarni:
4 pieces of Star Anise dried flowers
2 whole cinnamon sticks, split in half (the original length is 3-inch sticks)
6 small bay leaves (or laurel leaves)
1 to 2 tbsps. whole black peppercorns
16 cardamon seeds (whole, unpeeled)
1. In a heavy saucepan, combine the following:
2/3 cups soy sauce (low sodium is preferred)
1 cup white vinegar (Datu Puti vinegar or sukang maasim, made out of cane vinegar and water)
2 cups water
4 to 5-1/2 lbs. pork hocks, thawed and washed
Bouquet Gaarni, perched on the side of the saucepan, and immersed in the liquid mixture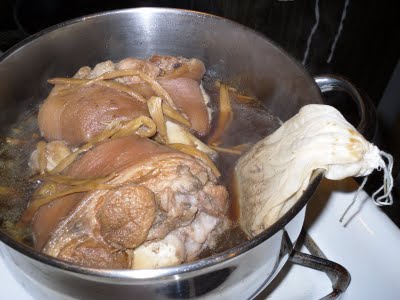 2. Simmer over medium heat for 1-1/2 hours. Do not put the lid over the saucepan. The goal is to reduce the liquid, rendering a glazed, gelatinous sauce at the end of the cooking time.
3. Turn over the pork hocks after the first 45 minutes, for even cooking. Use tongs.
4. After 1-1/2 hours of cooking time, lower the heat to low-medium (simmer), and add 1 cup water and 1/4 cup brown sugar (pressed) or 1/4 cup white sugar. You can also lightly cover the saucepan (or leave a little opening).
5. Add 1/4 cup of dried azucena flowers or dried lily flowers. You could also experiment with dried banana blossoms, if available.
6. Cook for another hour until the meat tests done. The pork hocks should be tender and detach easily from the inner bone. If in doubt, simmer for another 30 minutes. Season with Montreal Steak Seasoning or lemon pepper to taste. You can also add 1 tbsp. of oyster sauce (I use the Mama Sita brand). The sauce should be a rich, glossy, caramel color.
You can blend your own mixture of Montreal Steak Seasoning. Click here for the recipe.
Notes: This makes a great potluck dish! It refrigerates and reheats well. I chose not to use salted black beans because some people develop an itchy feeling in their gums if they are not used to it. Other cooks like to add fried plantain bananas (saba) and cooked hard-boiled eggs with the simmering mixture. Use your imagination!