Every Filipino family has their own version of Beef Pochero just like Adobo and Mechado. A popular dish in this blog is my version of Beef Pochero aka Cocido which is mainly a Noche Buena dish. It makes use of left-over ham from the Christmas celebration. Growing up in Cebu, I recall my mother adding saba . Whole firm Saba bananas are boiled together in the broth. The thing is my daughters don't like the saba taste in the broth.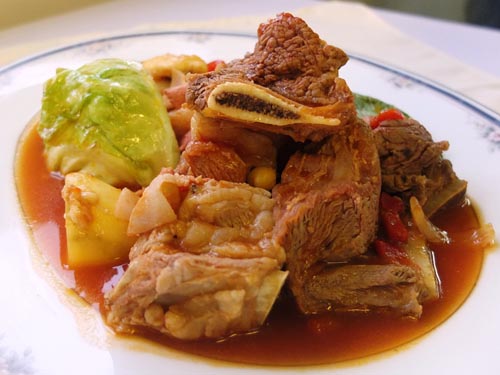 May Reyes-Serrano, the youngest sister of the the women of the Reyes culinary clan demonstrates ripe Saba banana as an ingredient for Beef Pochero. Her recipe requires frying of ripe saba bananas instead of my version of boiling it with the broth. This should be an interesting innovation for me. For the saba banana lovers, try this recipe in your kitchen.
Ingredients:
3 pieces ripe saba bananas; 2 cut in thirds lengthwise, 1 left whole
oil for sautéing
1 piece red onion, finely chopped
2 pieces medium white onion, peeled whole
3 cloves garlic, minced
1/2 cup thick cut bacon, cubed
1 can chopped pimientos, small
1 can diced tomatoes, drained
5 cup beef broth
1/2 kilo beef kalitiran
1/2 kilo beef ribs (with fat)
1 cup tomato paste
2 pieces chorizo bilbao, thinly sliced
2 pieces medium potatoes, peeled and quartered
1 piece medium cabbage, quartered
1 bunch pechay
1 cup cooked garbanzo beans
patis, salt, pepper to taste
Procedure
1. In a pressure cooker, fry banana slices until golden and crispy then set aside.
2. Heat oil and sauté chopped onion, garlic, Bacon, pimiento and tomatoes then add broth.
3. Add beef cuts and whole saba and cook until tender (About 40 mins in a pressure cooker).
4. Remove saba and mash it on the bottom of serving platter.
5. Remove beef and place on mashed saba. Add tomato paste, chorizo, potatoes, cabbage, pechay and garbanzos to broth.
6. Cook until veggies are done. Move veggies to serving platter.
7. Season broth with salt, pepper and patis.
8. Boil broth uncovered until reduced by 1/4. Ladle hot soup onto beef and veggies.
9. Arrange fried bananas on top. Serve with hot rice.