The all time favorite bar cookies are brownies and not just any brownie recipe. There are three types of brownies which is determined on the baking time.
1. Fudgy Brownies– Bake only until a wooden toothpick inserted about one inch from side of pan comes out with a moist crumb. The center of the brownie will often seem unbaked but it will be firm upon cooling.
2. Extra Fudgy – Cool the brownie for only 15 minutes then cover it with aluminum foil and refrigerate.
3. Chewy brownie– Bake until wooden toothpick inserted in the center comes out clean.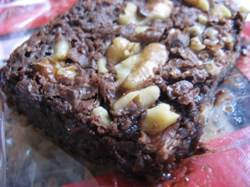 Whatever your preference on the texture of the brownies now depends on your baking time.
There are tons of recipes on brownies out there but here's a simple recipe that I often bake:
Ingredients
1/2 cup butter
1 cup sugar
2 eggs
2 1oz squares unsweetened chocolate, melted **
1 teaspoon vanilla
1/2 cup all purpose flour
1/2 cup chopped walnuts.
** Note- 1 square unsweetened chocolate is equal to 3 tablespoon cocoa plus 1 tablespoon fat
Procedure
1. Cream butter and sugar.
2. Beat in eggs
3. Blend in chocolate, vanilla and flour.
4. Add walnuts.
5. Bake in greased 8 x 8 x 2 inches pan at 325 F about 35 minutes. (Baking time will depend on the desired texture of brownies )
6. Cut into 16 squares.