Pancit Molo is one of the favorite soup of my children. I think it's the garlicky chicken flavored soup that makes it very enticing for children. The recipe is actually quite simple if you don't make your own wanton wrapper. You can easily buy wanton wrapper at your favorite supermarket.
Follow this recipe
Filling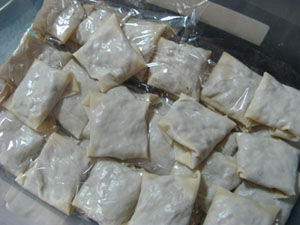 25 pieces 3″ x 3″ wanton wrapper
1/4 kilo ground pork (lean)
1/4 cup chicken, cooked and chopped (keep the chicken brot)
1 egg
1/4 teaspoon pepper
1/3 cup water chestnuts or singkamas, chopped finely
3 Tablespoons, spring onions, chopped
Procedure for the Filling
1. Mix the ingredients thoroughly.
2. Wrap in wanton wrapper.
3. Set aside
Broth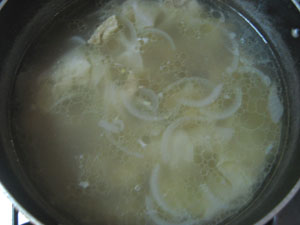 1 tablespoon cooking oil
10 cloves garlic, minced
1/2 onion, chopped
1/4 cup shrimps, diced
1/3 teaspoon pepper
Chopped spring onions for garnishing
6 cups Chicken Broth (used in cooking the chicken for the filling)
Procedure for the Broth
1. Saute garlic in oil till toasted brown. Remove Garlic. Set aside.
2. Add onions till soft.
3. Add shrimps in hot oil.
4. Pour in Chicken Broth and bring to a boil.
5. Drop the stuffed wanton wrapper into the broth.
6. Season according to taste.
7. Cover and let boil for 15 mintes.
8. Serve hot with hot , garnished with the toasted garlic (set aside in number 1) and chopped spring onions.