I often wonder what to do with my ready to cook Pancake mix other than to cook Pancakes. Here is a nifty suggestion for a Father's day special dish that is both tasty and innovative. You might notice that one of the main components of Eggs Benedict is Hollandaise sauce that is often served with steamed asparagus or other vegetables and steamed or grilled fish.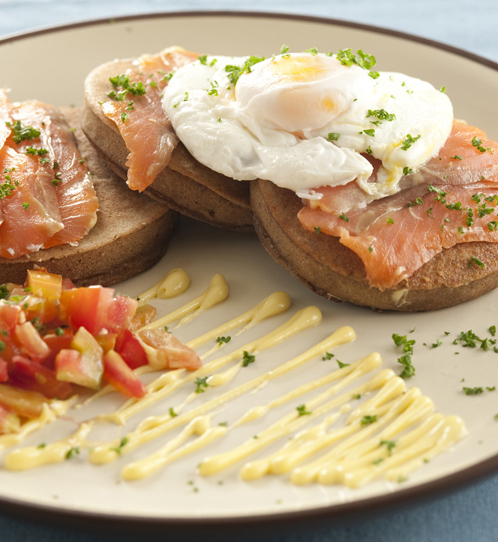 The Hollandaise sauce is a warm and rich yellow in colour with a thick and smooth texture. You should get a delicious combination of butter and egg yolks with a tangy twist of lemon and a touch of spice that goes well with the Salmon. Surprise your dad for Father's day.
Pancake:
1 pack MAYA "Think Heart" Whole Wheat Pancake Mix 200g
1 piece egg
2 tablespoons oil
3/4 cup water
Poached quail eggs
Smoked salmon
Prepare Hollandaise sauce (from prepare your own Hollandaise sauce)
Ingredients
8 oz (225g) of butter
3 large egg yolks
2 tbsp of hot water
just over 1 tbsp of lemon juice
pinch of salt
pinch of cayenne pepper
Method
Melt the butter slowly in a medium-sized saucepan. Once the butter has melted, remove the pan from the heat and leave to one side.
In a small mixing bowl, whisk together the egg yolks.
Whilst continuing to whisk, add the lemon juice, salt and cayenne pepper to the beaten egg yolks.
Next, very slowly to begin with, whisk in the melted butter and the 2 tbsp of water. Continue to whisk constantly.
Return the mixture to the saucepan, heat over a very low heat, still whisking all the time until the sauce thickens.
Serve immediately or keep warm for up to 30 minutes before serving
Preparing the Eggs Benedict
1. Prepare pancake mix as per package direction
.
2. To assemble: Lay 1 cooked pancake onto serving plate, top with sliced salmon, poached egg and hollandaise sauce.
3. Sprinkle some chopped parsley for garnish.
4. Repeat procedure with the remaining pancakes & toppings.
Yield: 6 servings