Maya Kitchen once allowed me to share select recipes to cook for Father's day. This recipe reminds me of my Pastel dishes that I often prepare for the holidays. Preparing the pastry in small portions are lot easier to handle than one whole pie plate. Be careful that your bacon and ham are not too salty and wreck havoc to your recipe.
Happy cooking.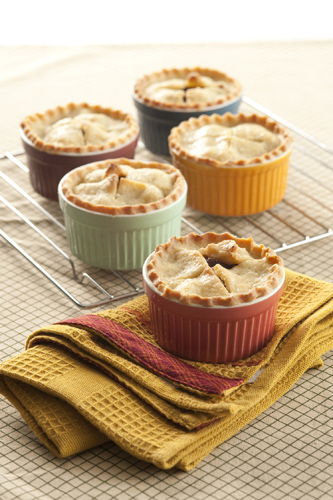 Filling:
1/2 kilo beef tenderloin, cut into strips
All-Purpose Flour
1/2 cup butter
3 tablespoons crushed garlic
1 cup sliced mushrooms
3 tablespoons red wine
1 cup mushroom stock
1/4 cup cubed ham
1/4 cup chopped fried bacon
Pastry:
2 1/2 cups All-Purpose Flour
1 tablespoon garlic powder
1 cup butter (1 – 225g bar)
3/4 cup cream cheese
Prepared eggwash for brushing crust.
Dredge beef in flour. Set aside. Heat butter then sauté garlic. Add beef and cook until browned. Add mushroom and stir fry for a minute. Pour in the wine and mushroom stock. Simmer then add ham, and bacon. Cook until mixture is slightly dry. Cool.
Preheat oven at 350°F/ 177°C. Prepare three – 5 ounces ramekins. Set aside.
In a bowl, sift flour and garlic powder together. Cut in butter and cream cheese. Gather dough into a ball then divide into 2 portions one bigger than the other. Roll out the bigger portion to 1/8-inch thick. Cut into 3-inch rounds. Fit into the muffin pans. Fill with the cook beef mixture. Roll out the remaining dough. Use as top crust for pot pie – make slit at center of crust to serve as steam vent. Brush with eggwash then bake until brown.
Yield: 5 pieces