Each September, Grandparents Month is being celebrated. We know many kids live with their grandparents, "and millions more count on their grandparents every day for the love and nurturing that only grandparents can give."
Why not prepare something special for your grandparents? Crepes are filled with chicken and mushroom.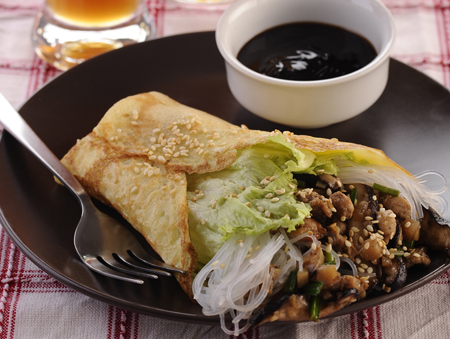 Crepe:
2 pieces eggs
2 tablespoons melted butter
1 cup water
1 cup MAYA Original Fluffy & Tasty Hotcake Mix
Filling:
1 tablespoon olive oil
1 piece small onion, chopped
1 tablespoon garlic. minced
2 teaspoons ginger, minced
150 grams ground chicken
100 grams shitake mushrooms, chopped
¼ cup water chestnuts, chopped
1-2 tablespoons chicken stock
1 tablespoon oyster sauce
1-2 tablespoons light soy sauce
¼ cup chopped chives
½-1 cup pre-soaked vermicelli noodles, pre-blanched
sesame oil
iceberg lettuce
To make crepes:
1. beat eggs slightly then add butter, water and hotcake mix.
2. Stir until mixture is free from lumps.
3. Heat an 8-inch non-stick pan or flat skillet and brush lightly with oil.
4. Pour ¼ cup of the mixture into the pan. Tilt from side to side to cover the pan.
5. Cook until set. Repeat procedure with the rest of the remaining mixture. Set aside.
Filling
1. Heat oil in a pan.
2. Sauté onions, garlic and ginger.
3. Add in chicken and mushrooms and cook for 5-10 minutes.
4. In a small bowl, combine the stock, oyster sauce and light soy sauce then pour into the chicken and mushroom mixture.
5. Add in chives and season with salt and pepper.
6. Remove from fire and drizzle some sesame oil.
To assemble:
1. Spread the crepe on a flat surface,
2. put lettuce leaves and top with chicken and mushroom mixture. Include some vermicelli noodles.
3. Enclose crepe as though making a pocket.
4. Repeat procedure with the remaining crepes.
For more recipes, other culinary ideas and class schedules, log on to www.themayakitchen.com