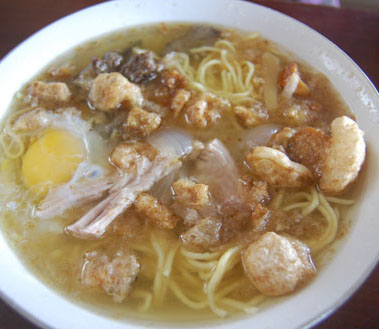 Any batchoy lover knows it is a noodle soup that originated in the district of La Paz, Iloilo City in the Philippines. Ingredients include various pork organs (liver, spleen, kidneys and heart) crushed pork cracklings, vegetables, shrimp, chicken breast or beef loin, shrimp broth, chicken stock and round noodles or miki. The noodles are similar to spaghetti, but are generally a bit finer. Here is a recipe that is innovated a bit for those who want to select the pork organs.
Ingredients
3/4 kilo batchoy (if you are living in the Philippines, you can buy this from a market vendor. The mix is composed of spleen or lapay, kidney or bato. liver or atay, pig's heart and pork tenderloin)
——-
If you are not living in the Philippines or want to remove some organs in the packaged batchoy meat, here are the meat parts that I use
300 grams pork kidney
1/4 kilo pork Lapay (spleen)
1/4 kilo pork tenderloin
200 grams pork liver
1 tablespoon ginger, cut into fine strips
1 head garlic, minced
1 medium onion, minced
5 cups water (or chicken broth if you use chicken meat)
salt and pepper to taste
3 tablespoons patis
200 g. fresh miki, washed
for toppings:
spring onions, chopped
toasted garlic (fried separately)
1/2 cup pork cracklings or chicharon, pounded to your preference
whole raw egg for each bowl serving
(Note: you can remove some organs and replace it with shrimp, chicken breast or beef loin)
Directions
1. Slice the kidney and remove the white parts inside. If left inside, it will emit a slight odor. Rub kidney with salt and wash thoroughly.
2. Slice kidney, lapay, liver, kidney and pork tenderloin into 3/4 inch squares. Slice as thinly. Set aside.
3. In the Kawali, saute garlic. Remove when brown so you can use this for toppings. Then continue to saute the onions, ginger and patis.
4. When onions are transparent, add in the lapay , kidney and liver. Stir for 10 minutes.
5. Add pork tenderloin ( or substitute like shrimps, chicken or beef loin) and stir for another 2 miutes.
6. Add water and allow to boil.
7. Season with salt and pepper. Simmer for 5 minutes.
8. Add the washed miki noodles. Simmer for a minute or two. Don't overcook.
9. When serving in the bowl, add the batchoy, then top with toasted garlic, green onions and pork cracklings.
Add raw egg to the steaming bowl.
Remember if you are squeamish about the pork innards, just remove them and substitute with shrimps, chicken meat or beef loin and slice thinly.
SERVES: 6