The issue of pork is all over the news but if there is one pork that most Pinoys like , it has to be our Pork dishes. Ilustrado, the home of heritage Filipino-Spanish cuisine recently provided glimpse of our country's culinary history as it showcased well loved dishes from our heroes' hometowns at The Maya Kitchen.
Boni Pimentel, Ilustrado president and his chefs demonstrated various recipes. Umbuyan, tinapa flakes sautéed in olive oil and wrapped in pechay leaves has its origins in Manila where Andres Bonifacio was born. Watch out for these recipes in the coming days. For now, let me share Bagnet Ilustrado with KBL Sauce (kamatis, bagoong, lasona).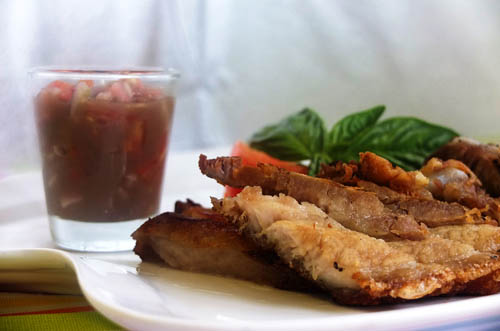 Bagnet with KBL Sauce is an Ilocano version of lechon kawali with kamatis, bagoong and lasona as sauce. Juan Luna and Antonio Luna are the proud sons of Ilocos Norte.
Try this recipe which is is good for 2 persons.
Ingredients:
½ kilo pork belly
½ cup fish sauce (patis)
1 cup vinegar Ilocos or sukang iloko
100 gms. garlic
50 gms. black pepper
2 pcs. bay leaf
4 cups purified water
Sauce:
100 gms. red or green tomato
100 gms. lasuna (small onions from the Ilocos region)
15 gms. ginger
15 gms. chili finger
1/4 of a long neck bottle Bagoong Balayan
Procedure:

1. Combine pork belly with fish sauce, vinegar, garlic, black pepper and bay leaf in a pan and cook for 45 minutes.
2. Simmer until meat is tender.
3. Set aside for 10 minutes
4. Put the meat in the oven at 180 degrees for 30 minutes until it is cooked to medium.
5. Allow to settle and cool.
6. Slice horizontally and deep fry until golden brown. Watch for the skin to become crispy but be careful not to burn it as it will have a bitter taste.
7. Plate and serve with the KBL sauce on the side or in a separate container.
For more information, log on to www.themayakitchen.com or e-mail [email protected].