Back to School Recipes with Samsung and Chef Ernest
Mommies are now busy attending to the school needs of their kids. I am sure they are also thinking of recipes for their "baon". Samsung shared this back to school recipe personally prepared by Chef Ernest Gala. A graduate from the Italian Institute for Advanced Culinary and Pastry Arts, Chef Gala graduated from the Paris Ritz Hotel in France and has worked at the Oriental Hotel in Thailand.
Chef Gala whips out dishes one can easily prepare for your child to bring to school—or make baon , with the help of the brand new Samsung RS803 Side by Side Refrigerator and the Samsung Smart Oven.
Aside from its uniquely large and spacious capacity (the biggest in the "Side-By-Side" Philippine market yet at 28.7 cubic feet) the RS803 has an all-around cooling feature that will surely keep your ingredients fresher for a longer period of time, storing them to their utmost natural prime. Samsung's latest technology can definitely add elegance to your kitchen with its classic timesquare finish without sacrificing energy savings, performance, or durability. This model even sports a digital inverter compressor and is so trustworthy that it comes with a whopping 10-year warranty on it!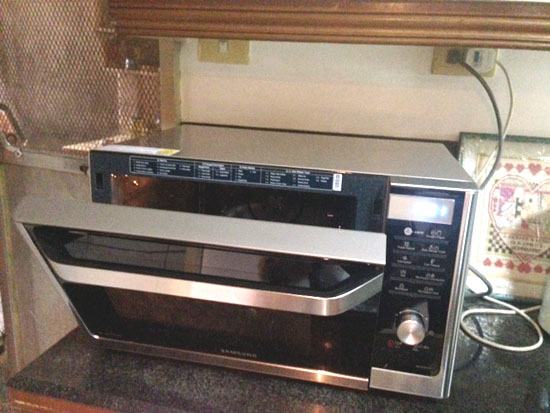 The Samsung Smart Oven is also a definite kitchen must-have. I own one myself and I just love its innovative Slim Fry function.  My Smart Oven breaks away from your typical Microwave Oven by allowing me to fry food to a crisp without the oil! Not only that, but the Smart Oven is also equipped with unique sensors that allow it to identify the condition of the product before cooking. So whether your food is frozen, chilled or fresh, all I need to do is pop it into the Smart Oven and make it do all the work.
With these two new Samsung products, you have it all covered.  From freezing to chilling, and heating to frying, Samsung has all your basic kitchen needs covered. Though I don't own Samsung RS803 Side by Side Refrigerator, my sturdy Samsung refrigerator is serving us well for the past seven years.
Now try one of Chef Gala's Back-to-School Recipes, Pork steaks with Honey Mustard Sauce.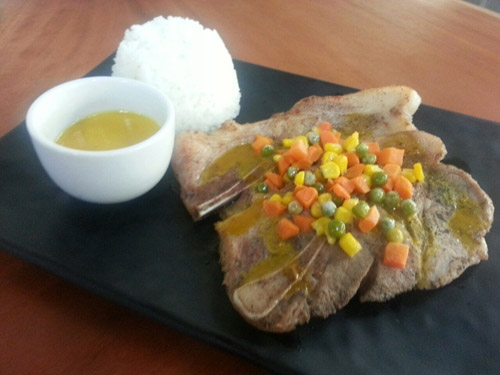 Pork steaks with Honey Mustard Sauce
1) 1 kilo Pork steaks- pound with cleaver or meat mallet for faster cooking.
2) Rub with 1 tbsp. each or rock salt and calamansi, and 1 tsp. pepper. Refrigerate in Samsung Refrigerator for 15 minutes.
3) Pan fry both sides in ½ cup oil .Set aside on a plate.
4) For the honey mustard sauce: Mix in a bowl with wire whisk: 1/2 cup mayonnaise, 1 tbsp. each of prepared mustard and honey.
5) For garnish: 2 cups cooked mixed vegetables-corn, peas, carrots and corn.
6) Prepare 4 to 6 plates with 1 cup white rice per plate.
7) To present:
Put 2 cooked pork steaks.
Top each with 2 tbsps. honey mustard sauce.
Put ½ cup mixed vegetables on top of sauce.
Remember that the less time you spend worrying about the kitchen, the more time you can spend making quality memories with your loved ones.