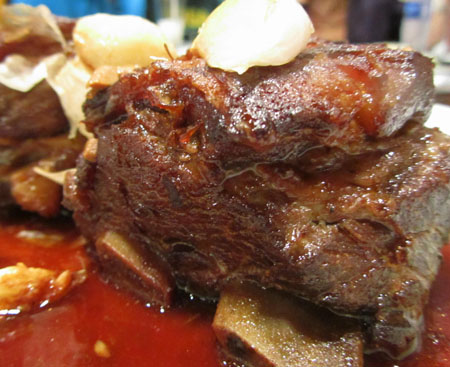 There are so many versions of adobo and each one of them tastes just as good. This adobo version uses buko juice that adds zest to the sauce. The origin of this recipe came from "The Adobo Book" contributed by Achie Diaz de Rivera) but I modified here and there to suit my taste. Of course you can modify this too.
ingredients
1 kilo pork spareribs adobo size
1 garlic bulb with individual cloves removed from cover (leave extra for topping)
1 teaspoon freshly ground black pepper
1 teaspoon dried oregano
1 bay leaf
1/2 cup cane vinegar
Juice of 1 buko nut
salt to taste
1/4 cup olive oil

Procedure:
1. Combine together the pork, garlic, pepper, bay leaf, oregano , vinegar, salt and half of the buko juice.
2. Boil and allow to simmer without stirring under low heat until the liquid is reduced.

3. Add the oil and toast to golden brown.
4. scrape of the bottom of the wok to remove the sticking pieces of meat.
5. Remove excess oil and add remaining half of buko juice.
6. Continue cooking until a sauce is formed.
Serve in a platter with shelled cloves of garlic to add contrast to the brown colored adobo.
Serves 4-6