Even if you're located in the US, you can still make Cassava Cake. Just buy the ingredients at the Filipino Store. This cassava cake recipe is from my sister in San Francisco. It's been tested and eaten with gusto by her family.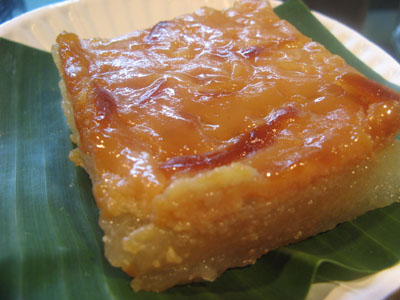 Ingredients:
2 packages grated cassava
1 can coconut milk
1 bottle macapuno strips
2 eggs
2 tsp vanilla
1 can condensed milk
Mix all 5 ingredients and 2/3 of condensed milk.
Bake at 350 degrees 45 min to 1 hour
Spread rest of condensed milk on top, cook for another 5 minutes
(I usually use the whole can of condensed milk and buy another one so I can put more condensed milk at the top to my taste.)
Another Cassava Cake Recipe
2 packs frozen cassava
2 packs frozen buko
2 eggs
2 cups sugar
2 cans (16 0z) coconut milk
1 tablespoon vanilla
1/4 cup melted butter
Procedure:
1. Mix them together and bake it in a greased pan/pyrex for 1 hour at 350 degrees.
2. Remove the pyrex after an hour so you can put the topping.(see below)
Topping:
1 can condensed milk
1 bottle of string macapuno.
Mix together and put on top of cassava, then bake again until topping is brown. Maybe 30 or 45 mins.
Updated
Dolores graciously shared her own version:
2 pkg. of grated cassava
1/2 pkg. of sweetened shredded coconut
1 can of condensed milk
1 can of coconut cream
1 can of coconut juice, 4 eggs
and 2 tbsp. of vanilla extract (optional).
You can substitute the syrup flavor to almond extract or whatever your heart desires.
Mix all ingredients then pour mix on a large square pan or 2 small ones.
Bake for 1/2 hour at 375 degrees then to 350 degrees to 20 more minutes until mixture is firm and light brown on the side.
Take it out of the oven to cool down and cut them in serving squares.
My mom suggested grated cheese on top which is optional and it is yummy!!! Okay, there goes all my secret.