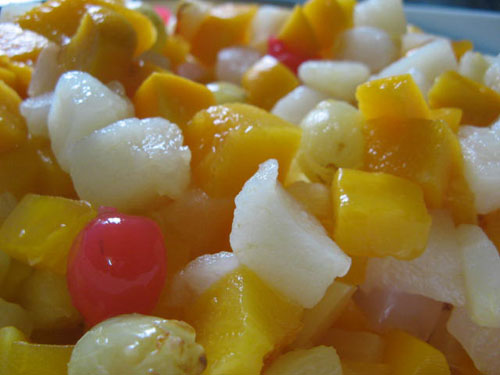 Refrigerator Cake is the first "cake" that my daughters baked. It requires almost no cooking except for heating in a saucepan. The use of fruit cocktail makes it even more attractive to look at. The Refrigerator cake is also such a winning dessert that any kid would be proud to show off to their friends. Let your kid, niece or nephew try this out. Or even you, still a kid at heart.
Ingredients
1 No. 2 can fruit cocktail
3 dozen or more Lady Fingers
1 No. 2 can Peaches , sliced
2 cups evaporated milk
1 condensed milk
4 egg yolks
2 tablespoons flour
1/2 cup sugar
2 tablespoons melted butter
1 teaspoon vanilla
Procedure
1. Beat eggs, sugar, butter, flour
2. Put condensed milk then evaporated milk on the mixture in number 1. Mix well.
3. Heat mixture in low fire.
4. Stir until a light paste is formed. Remove from heat, cool. When cooled, add butter and vanilla.
5. Put layers of lady finger on the bottom of a pyrex pan.
6. Cover the lady fingers with milk mixture from number 4.
7. Add fruit cocktail on top of the milk mixture
8. Continue layering until you reach the top of the pyrex dish.
9. Top with Peaches.
10. Allow to set by refrigerating for 8 hours.