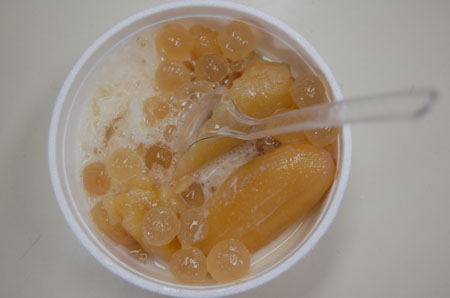 This minatamis na saba with sago is perfect for the hot summer months. Like halo-halo, this is such a respite from the heat. One can even feel chilled after taking a cup of this yummy dessert in a hot humid weather.
What do you need?
6 pieces firm saba (not soggy)
1/4 cup brown sugar
1/4 palm sugar or (panocha)
1 tablespoon honey
1 cup sago
Evaporated milk
Crushed ice.
Cooking the sago
1. Soak sago pearls in water for 30 mins.
2. Boil water in a saucepan and add the sago.
3. Boil the sago cook for about 5 minutes.
4. Cover the saucepan with a lid and let stand for 30 minutes.
5. Run cold running water on the sagos to cool the sago and keep the sago from being overcooked.
6. Drain the sago in a colander.
Cooking the saba
1. slice the bananas into 4 parts
2. Boil the saba bananas in sugar and 1 cup water.
3. Cool when cooked.
4. Add saba into a bowl.
5. Add sago.
6. Add crushed ice and milk.