We are all familiar with pancakes with maple syrup. Pancakes can also be savory. Maya Kitchen through Chef Peng King taught us how to prepare Scallion pancakes. A scallion pancake "is a Chinese savory, unleavened flatbread folded with oil and minced scallions (green onions). Unlike Western pancakes, it is made from dough instead of batter. Variations exist on the basic method of preparation that incorporate other flavors and fillings.
Scallion pancakes are served both as a street food item and as a restaurant dish. They are also sold commercially, either fresh or frozen in plastic packages (often in Asian supermarkets)."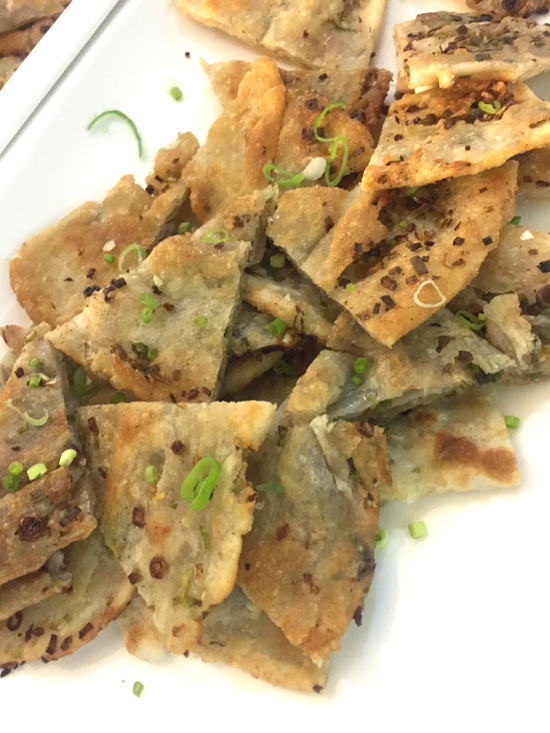 The challenge here is forming the dough and rolling it but with practice I am sure you will get it. Here is the recipe of Chef Peng King:
2 cups Maya all-purpose flour
1/8 teaspoon Chinese five-spice powder (or 1 tsp if you want a stronger flavor)
1 teaspoon salt
1/8 cup hot water
3/4 cup cold water
1 cup finely chopped scallion (wash and drain well)
Vegetable oil
Sauce:
1/8 cup ginger strips
1/2 cup soy sauce
Mix well and serve hot.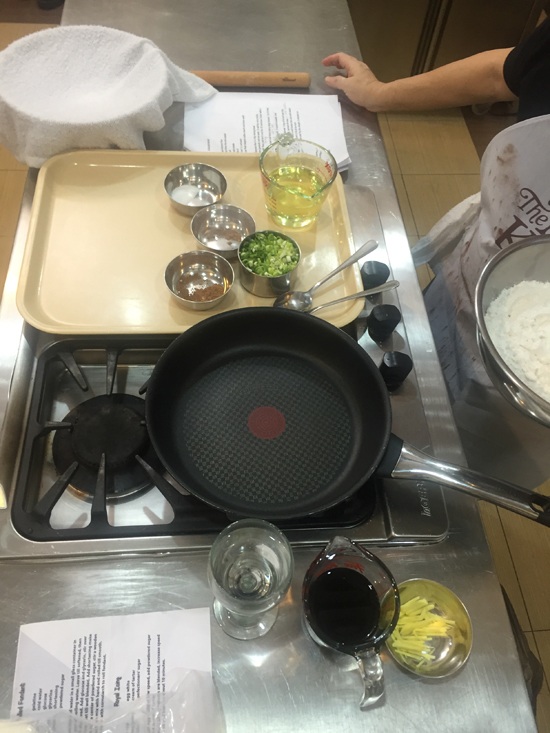 Procedure
Sift all-purpose flour in a big mixing bowl. Add water gradually and mix well.  It will be very sticky.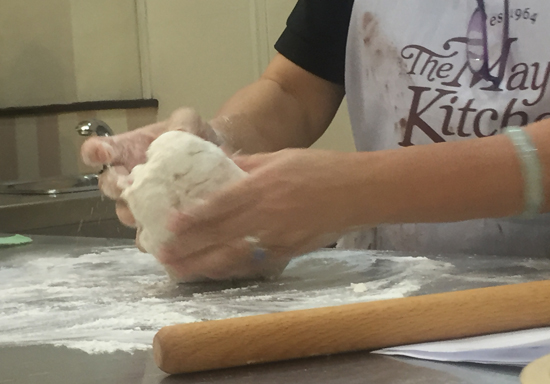 2. Sprinkle with flour and let it rest for 25 minutes . Cover with a damp cloth.
3. After 25 minutes is over, knead dough into a ball . Cut dough into 3  parts. The dough tends to pull back but keep rolling. Roll the ball as thin as possible.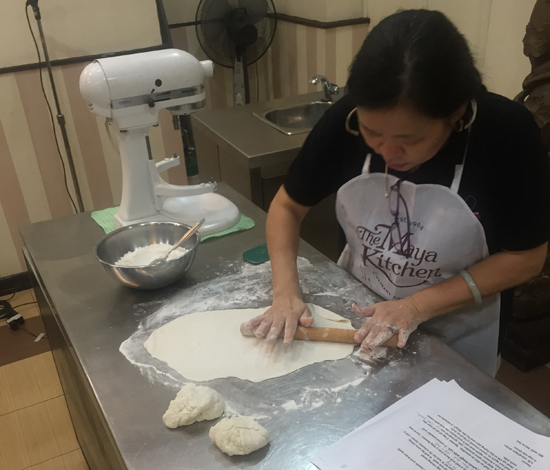 4. Sprinkle the whole dough with salt, 5-spiced powder and scallion.  Spread two teaspoons of oil all over the dough. Form into a long baston.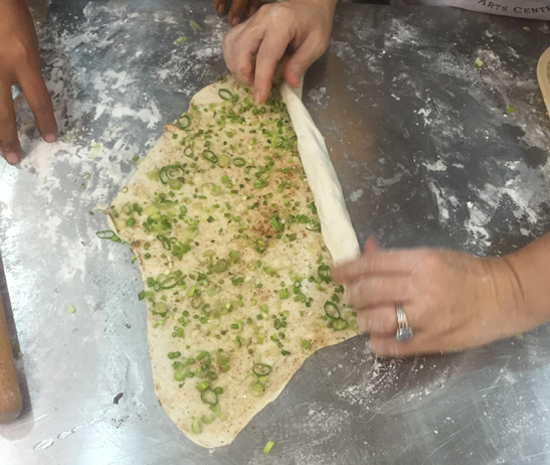 5. The baston looks like this.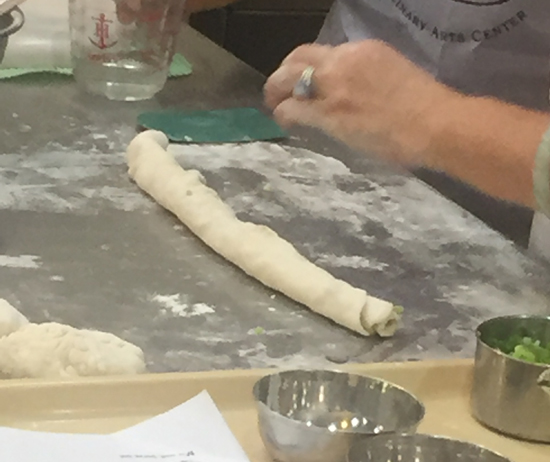 6. Coil the baston and fasten the end with water. You will roll this coil again to a round shape.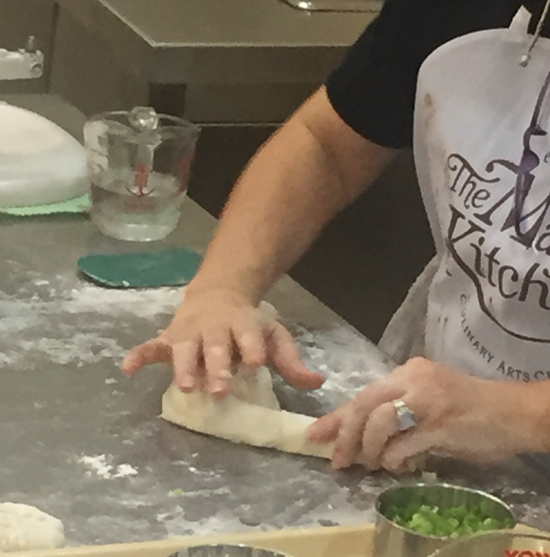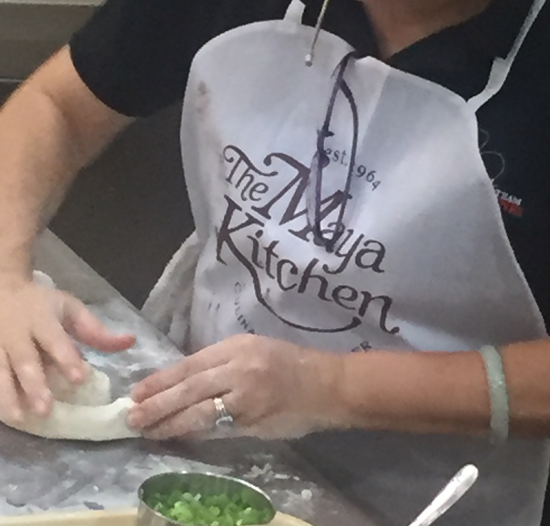 7.  Roll out again in round around 1/16 of an inch.  Heat up oil in the frying pan and fry the dough , two minutes on each side.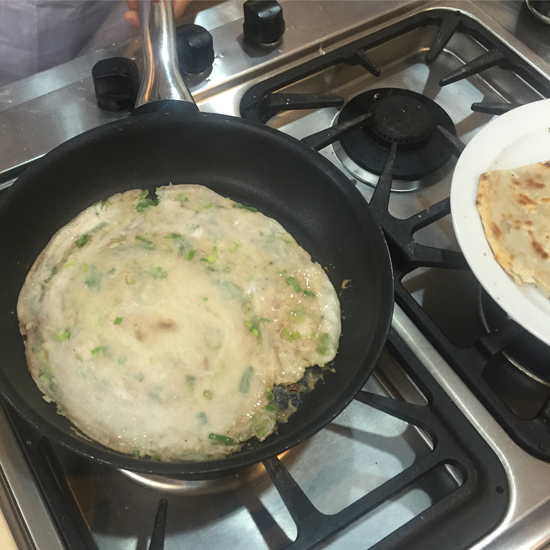 It looks a bit toasted on some parts.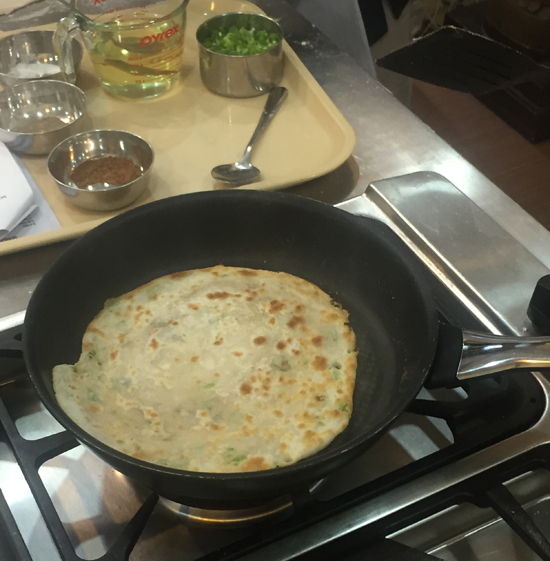 If you cut the scallion pancakes, you can see the layers. Now you know why you have to roll twice.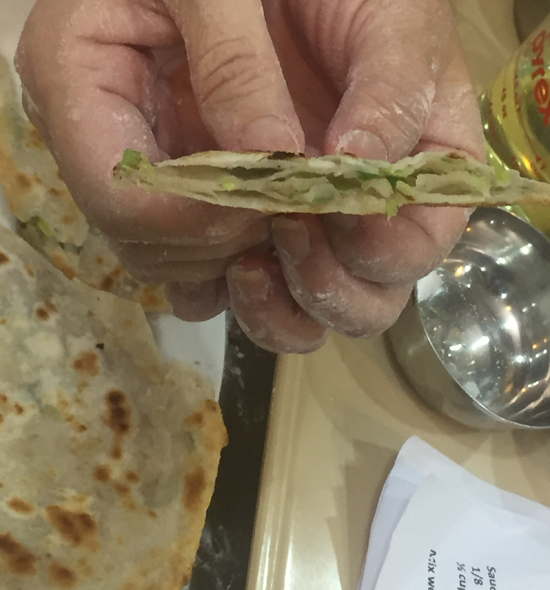 Serve with ginger-soy sauce.