I have been missing out the cooking demos over at the Maya Kitchen. Since my husband does a lot of cooking these days, I asked if he could attend Mandarin Oriental Manila Executive Chef Rene Ottlik cooking demo on tapas with his very own creations like Frittata, Sweet Pork, Orange Olive Tapenade and White Balsamic Dressing; Gazpacho; Crispy Chicken Croquettes with Garlic Aioli; Smoked Salmon Tartar, Cucumber Sour Cream and Black Pepper Crisp.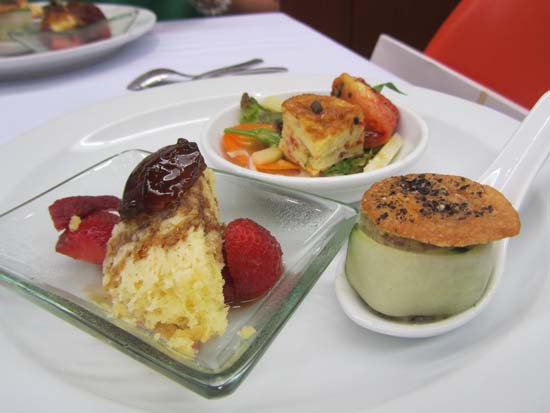 Though my husband enjoyed the tapas demo, he thought some of the dishes were a bit complicated because it needed so many ingredients. I have a keen interest in tapas because these can be served during meetups with friends instead of having heavy dinner. Tapas are snacks, canapés or finger food that originated in Spain. Tapas come in many different forms but I will show you the croquettes recipe shared by Chef Ottlik. I have cooked croquettes in the past and the trick is in the frying. Over-frying or under-frying can disintegrate the whole croquette.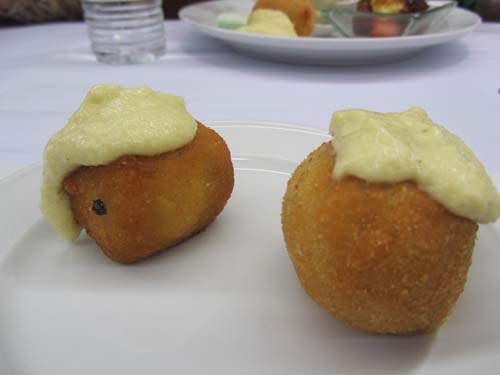 Ingredients:
400 grams chicken, boiled and finely shredded
200 ml Olive oil
100 grams Maya All-Purpose flour
300 ml milk
30 grams garlic roasted
30 grams shallots, roasted
salt pepper, nutmeg
50 grams parsley, finely chopped
additional MAYA all-purpose lour
egg, beaten
400 grams bread crumbs
oil for deep fat frying
Garlic Alioli
Chicken stock
garlic
lemon juice
additional olive oil
Directions:
1. Boil the chicken well in advance and keep the cooking liquid (Chicken stock)
2. Heat up in a pot the olive oil and stir in the flour, saute for a while.
3. Add the milk slowly and keep whisking until the mixture becomes very thick.
4. Keep simmering the mixture for 20-30 minutes while continuously stirring.
5. Add the shredded chicken, roasted garlic, roasted shallots. Season with salt, pepper, and nutmeg ( it will be a very thick mixture).
6. Simmer for 10 more minutes and add the parsely.
7. Pour the mixture onto a tray and chill in refrigerator for several hours or overnight.
8. Cut out rectangular pieces and roll to cylindrical shape.
9. Roll each peace in flour , egg and bread crumbs.
10. Chill for an hour and deep fry golden crispy. Serve on the side with the gazpacho.