Before Mommy and Daddy opened up the bakeshop sometime in 1965, one of Mommy's early baking teachers was Mrs. Noval, who lived in Banawa. As a kid, I do recall going with Mommy to this home. Memories of Refrigerator Cake that Mommy made might have been influenced by Mrs. Noval. One of my favorite recipes that mom used to bake was Torta. Let me share one version here.
2-1/2 cups all-purpose flour, sifted
3 tsps. baking powder
1/2 tsp. salt
8 egg yolks
1-1/4 cups sugar
3/4 cups milk
1/2 cup pork lard (use Crisco shortening)
1/4 cup melted better
1/2 tsp. anise seeds
1 egg, slightly beaten
cottage cheese, cut in strips
sugar
1. Sift together the flour, baking powder, and salt. Set aside.
2. In a big bowl, combine egg yolks and the 1-1/4 cups sugar. Stir until blended. Set bowl over a saucepan (or double boiler, Lorna's note) containing about 2 inches hot water (bowl should not touch water). Set saucepan over low heat and stir the mixture gently until lukewarm. (Do not allow water to boil).
3. Remove bowl from saucepan and beat the egg mixture, preferably with a mixer, for 8 minutes at medium speed, or by hand with a rotary beater, until the mixture is light, fluffy, and cool.
4. Blend in 2/3 of the flour mixture alternately with milk (starting with the flour mixture and ending with the flour mixture, Lorna's note).
5. Fold in gently the remaining flour mixture together with the lard, butter and anise seeds.
6. Pour into paper-lined torta tins (use waxed paper or kitchen paper), 2/3's full, and bake at 350 degrees Fahrenheit for 30 minutes or until light brown. Remove from the oven.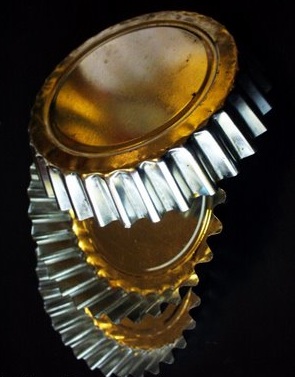 7. Brush tops with slightly beaten egg, arrange strips of cottage cheese, and sprinkle with sugar. Return to the oven and continue baking until topping is dry (about 5 minutes).
8. Remove from tins and cool on rack.
Note: I remember that for our tortas at the bakeshop, we would add the cheese only before we finished baking. Then, we would tip over the baked products on a wire rack or let it rest on the racks. Then, we would brush the tops with melted butter, and dredge the buttered tops over a plate filled with sugar.