I got introduced to Hainanese Chicken rice when my daughter's friend from Malaysia visited the Philippines in 1997. I loved the taste of the delicately poached chicken infused with ginger and rice cooked in chicken stock served with and fresh ginger, chilli sauce, and soya sauce. Since then, I look for Hainanese chicken rice whenever I visit Singapore or Malaysia. I learned more about the dish during the Singapore Food Festival that they even shared their very own Hainanese Chicken rice recipe. Hainanese chicken rice is a dish of Chinese origin, and is most commonly associated with Hainanese, Singapore and Malaysia.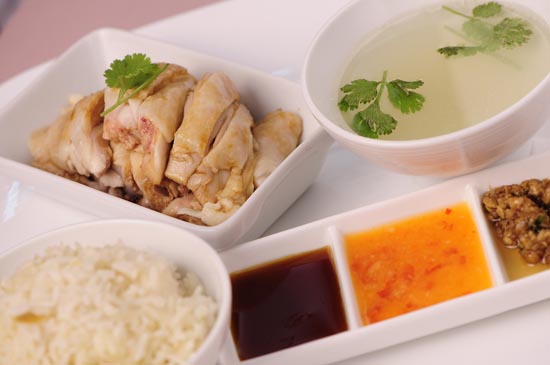 It cannot be helped that there are many regional variations. A few months back, there was Malaysian Cuisine demo by Heritage Hotel Executive Chef Alexander Chong at the Maya Kitchen. See his Hainanese Chicken rice variation and compare it to Singapore's Hainanese Chicken rice recipe.

Ingredients – Serves 4-6
Chicken
1 fresh chicken
6 slices fresh ginger

Chicken Stock
1kg chicken bones from 1 whole chicken
3 pieces ginger
Chicken Rice
2 ½ cups long grain rice
120g chicken fat
50g butter
50g ginger paste
50 g garlic paste
1-2 tsp salt to taste
3 ½ cups chicken stock (from the boiled chicken)
2 pandan leaves
Chilli Sauce
200g fresh red chillies, seeds removed
80g garlic
100 ginger
3 tsp chicken stock (from the boiled chicken)
200g Pineapple
½ cup Calamansi juice to taste
1 ½ tsp sugar
Salt to taste
Ginger Sauce for Dipping
75g ginger
2 tsp sesame oil
1tsp oyster sauce
Chicken Soya Sauce
3 ½tsp soya sauce
2 tsp chicken stock (from the boiled chicken)
1 ½ tsp sesame oil
Chicken Soup
Chicken stock (from the boiled chicken)
Seasoning with chicken stock (powder)
50g shredded cabbage
20g spring onion, chopped
Method:
1) Fill a pot large enough to fit the whole chicken with water and bring to boil with ginger. When the water boils, turn heat off and place the chicken into hot water and cover for 45 minutes. Remove the chicken from the pot and place the chicken into ice water. Set aside chicken stock. Remove the chicken from the cold water, drain and de-bone the chicken and cut into bite-sized pieces on serving plate.
2) For chicken rice, wash the rice and drain well. In a pot, fry chicken fat until oil is released. Add the butter then fry well with the ginger and garlic paste. Place the rice into a pot and add in chicken stock & pandan leaves then season with salt. Transfer rice into an electric rice cooker or pot. Cook the rice about 25 minutes or until done.
3) For chilli sauce, place the chilies, garlic and ginger, pineapple into blender and blend until it becomes a paste. Add chicken stock, calamansi juice, sugar and salt to taste. Note: The chili sauce in a covered container will keep for a few days in the refrigerator.
4) For ginger sauce, place the ginger in the blender and blend until it becomes a paste. Add sesame oil, oyster sauce and salt to taste.
5) For Chicken Soya Sauce, mix together the soya sauce, chicken stock and sesame oil.
6) For Chicken Soup, you will need to boil the remaining chicken stock with the chicken bones for an hour; season with chicken powder. Add the shredded cabbage in the stock for a short while and lastly, add the spring onion before serving.
For more information, log on to www.themayakitchen.com or e-mail [email protected] or visit The Maya Kitchen Culinary Center every Tuesday to Saturday at 8F Liberty Building, 835 A. Arnaiz Avenue (Pasay Road), Makati City or call 8921185 / 892-5011 local 108.