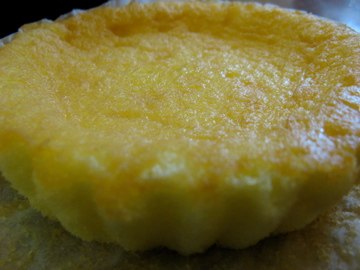 One of mom's specialties in her Sally's Bake Shop was Special Mamon or what Americans commonly call as Yellow Sponge Cake. Customers raved about the creamy and soft texture of mom's Special Mamon. My sister shared this Mamon recipe which reminds me of Goldilock's special mamon recipe. According to my sister, this is Minna Picache Cruz's Special Mamon recipe and a friend of Sylvia Reynoso-Gala. I hope you like it.

Ingredients
8 egg yolks
8 egg whites (separate the whites from the yolk in different bowls)
1/2 cup sugar
1/3 cup water
1 Tablespoon Baking Powder
1/2 Teaspoon Salt
1 3/4 cups sifted Cake Flour
1/3 cup melted Butter
1/3 teaspoon Orange Extract
1/4 teaspoon Lemon Extract
1 teaspoon Cream of Tartar
3/4 cup sugar
Procedure
1. Beat in a mixer at high speed until thick: 8 egg yolks (at room temperature), 1/2 cup sugar, and 1/3 cup water.
2. When you cannot feel the sugar granules from the mixture anymore, at low speed — add 1 tbsp. baking powder, 1/2 tsp. salt, 1-3/4 cup sifted cake flour, 1/3 cup melted butter (cooled down), 1/4 tsp. orange extract, and 1/4 tsp. lemon extract.
3. In a separate bowl, beat 8 eggwhites with 1 tsp. of cream of tartar at high speed. Gradually add 3/4 cup sugar and beat until stiff (about 4 minutes).
4. Fold in the yolk mixture into the whites.
5. Grease 14 big mamon molds or 20 small molds with softened or melted butter on all sides.
Note: I prefer softened butter. This way, I can control how much butter I want to grease the pans with.
6. Pour the mamon mixture into the greased molds, 3/4's full. Thus, the resulting mamon will be high and soft.
7. Bake mamon at 350 degrees Fahrenheit for 12 to 15 minutes.
8. When done, brush the mamon with softened butter and roll in a plate of sugar. You can also add grated cheese.
Other Notes:
1. Put extra butter, melted, at the bottom of the molds.
2. When you beat the eggwhites, you can change the direction of your beating BUT let 1 minute elapse before changing the direction of the beating.
3. Do procedure no. 3 first (the egg whites).
Try it. You'll love the sweet, buttery and soft texture of this Special Mamon.