Chef Myrna Segismundo talked recently at the Maya Kitchen about what she observes here in the country and in travels around the world. Adobo received a lot of back and forth reactions between her and the audience. This chef not only loves Filipino food but has a profound respect for the cuisine. Chef Myrna Segismundo of Restaurant 9501 shared some recipes for all of you. And let us start off with CHicken Inasal.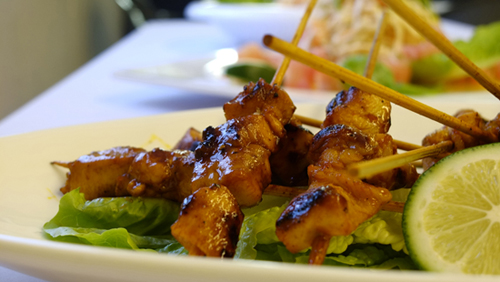 (Serves 4)
350 grams Boneless chicken breast (skinless), cut into 1 x 1 x ¼ inch pieces
4 cloves Garlic, minced
½ tsp Black peppercorns, cracked
Juice from 1 lemon or lime
¼ cup Vinegar (palm, cane or white)
2 tbsp Annatto water
12 pcs. Skewers/barbecue sticks
Sinamak vinegar

PROCEDURE:
In a bowl, combine chicken meat, garlic, pepper, lemon juice, vinegar, annatto water and salt. Cover and marinate chicken overnight.
Remove chicken from the marinade. Thread in skewers. Cook marinade for basting the chicken during cooking. Set aside.
Grill skewered chicken over hot coals until all sides are cooked, basting occasionally with the cooked marinade. Serve warm with sinamak vinegar.

For more information, log on to www.themayakitchen.com or e-mail [email protected].