Chef Patron Inez Vargas Javellana from the famous Vargas Kitchen dropped by The Maya Kitchen recently and shared delightful recipes for the Holidays. Aside from fruit cake, one can choose other alternatives like Rum Cake. A rum cake is a type of dessert cake which contains well, rum. Wikipedia says rum cakes are a traditional Christmas dessert, descended from the Christmas pudding introduced by English settlers. Traditionally, dried fruit is soaked in rum for three months, then added to dough prepared with sugar which has been caramelized by boiling in water. The result, also known as "black cake", is similar to a fruitcake, with a lighter texture. It has been proven possible to become intoxicated from consumption of excessive amount of rum cake, some rum cakes such as Tortuga contain even more than five percent of certain grain alcohols.
Chef Javellana shares this Rhum Cake recipe which you can surely try during the Holidays.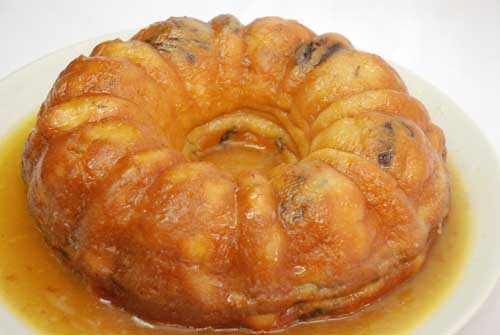 1/2 cup pecans, halved
1 1/2 cups granulated white sugar
1/2 cup butter, softened
3 tablespoons + 1/2 cup canola oil, separated
1 3/4 cup MAYA All Purpose Flour
1/4 cup MAYA Cornstarch
4 teaspoons baking powder
1 teaspoon salt
1 cup vanilla pudding
3/4 cup whole milk
4 large eggs
3/4 cup Myer's dark rum
1 tablespoon pure vanilla extract
For the rum syrup:
1/2 cup butter
1/2 cup water
3/4 cup granulated white sugar
1 teaspoon salt
1/2 cup dark rum
Special Equipment: One 10-15 cup Bunt pan
1,Preheat oven to 325 degrees. Grease and flour bunt pan, and drop halved pecans into the bottom of the pan. Set aside.
2. In the base of a mixer, cream the 1 1/2 cups granulated sugar and the 1/2 cup butter. Add the 3 tablespoons oil, flour, cornstarch, baking powder and salt combining until evenly distributed. (Mixture will look like fine crumbs.) Mix in the pudding mix.
3. In a separate bowl, whisk together the eggs, milk, rum, vanilla extract and remaining vegetable oil. Add to the dry mixture and mix well until combined. The batter will be smooth, thin and pour easily.
4. Pour into the prepared bunt pan and bake for 50 to 60 minutes, or until a tester inserted in the cake comes up clean.
5. Let cool in pan for 10 minutes, then invert onto a rack. Let cool for 20 to 30 minutes.
6. While the cake cools, prepare the rum syrup: In a large saucepan with high sides, combine the butter, water, granulated sugar and salt. Cook over medium heat until the butter completely melts and the sugar dissolves. Let reduce slightly, keeping an eye on it so it doesn't boil over. Remove from the heat and stir in the rum (it will bubble).
7, Wash and dry the bunt pan, then place over the cool cake and invert the cake back into the pan. Pour the hot rum syrup all over the cake and let soak for 8 hours (overnight). In the morning, invert the cake back onto a serving platter. Keeps covered for 1 week at room temperature.