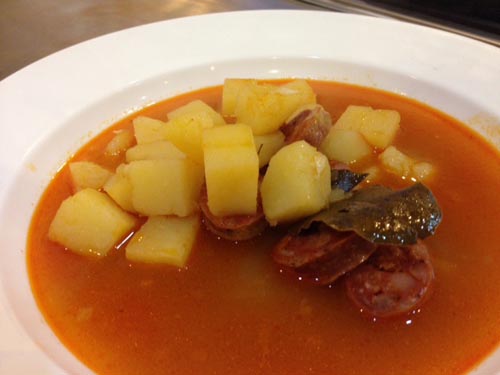 What do you usually prepare for noche buena? I know some households cook the usual arroz caldo or sopas. Chef Fernando "Fern" Aracama shares Patatas Riojana which he learned when he recently visited Spain. " It is a relatively simple soup that has chunks of potatoes, fresh Spanish chorizo sausages, onion, garlic and Spanish paprika. This is guaranteed to be a brothy and filling dish that will warm you during the chilly night of Christmas Eve.
The best thing about this recipe is its simplicity. Everything is cooked in one pot, and can be done in under 30 minutes. However the cutting and preparation takes around thirty minutes. Remember, the potato should be slightly mushy. You will certainly love each chunk of potato with its sweet, smoky aroma from the Spanish chorizo.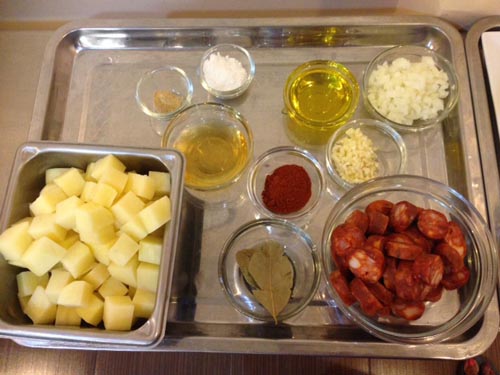 3 tbsps. Olive oil
1/3 cup chopped white onions
1 tbsp. chopped garlic
2 pcs chorizo , sliced 1-inch pieces (buy from Alba, steam first , chill then slice, )
1 tbsp paprika (smoked paprika or pimentón which you can buy in gourmet stores)
2 pcs. Bay leaf
¼ cup white wine (dry)
600 grams potatoes, peeled and cut into large chunks (1 to 1 1/2 inch chunks)
1.5 liters flavorful chicken stock, bring to a summer separately
1 tsp ground white paper
to taste – sea salt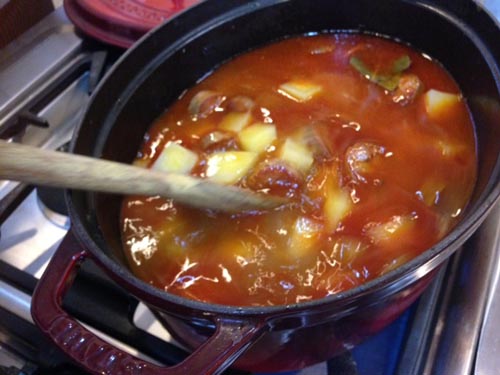 1. In a pot, warm the olive oil and add the onions. Cook over medium heat until the onions are soft. Add the garlic and the chorizos. Render some of the fat from the chorizos.
2. Add the paprika and bay leaf. Cook for a few moments and then add the rest of the ingredients. Cover and cook until the potatoes are done
3. Taste and adjust seasoning. Lightly mash the potatoes with a ladle. This will add texture to the soup.
4. Serve hot.
For more information, log on to www.themayakitchen.com or e-mail [email protected].