The Baklava is a scrumptious pastry. Who does not like this rich, sweet pastry made of layers of filo pastry filled with chopped nuts and sweetened with syrup or honey. I love baking more than cooking and I was delighted to be invited to this class on Greek dishes. Unfortunately, I overslept. I missed Cyma Greek Taverna Executive Chef Robby Goco who shared some Greek recipes at The Maya Kitchen recently. The good thing is my friend Tess sent me the recipes which I would also like to share with you.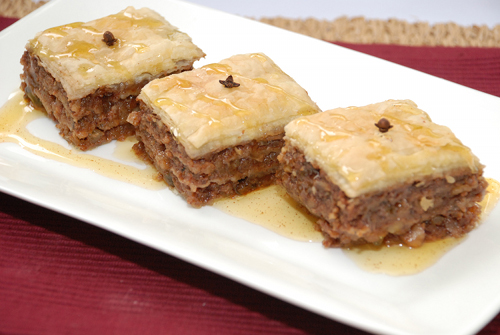 Watch out for the series of other Greek recipes. Chef Robby demonstrated other well loved Greek dishes of salad, appetizer, pasta, porridge and dessert with a generous sprinkling of extra recipes to help the home cook prepare a delightful Mediterranean spread.
Here is the Baklava recipe good for 8 to 10 persons.
Phyllo pastry 20 sheets
Butter
Filling
Walnuts 500 g
Cashew nuts 100 g
Pistacio 100 g
Bread crumbs 200 g
White sugar 4 cups
Cinnamon 30 g
Syrup
White sugar 1 cup
Honey 1 cup
Cloves 1 teaspoon
Cinnamon powder 1/8 teaspoon
Lemon 2 pieces
Prepare Filling
1. Toast all nut until aroma is released but not brown
2. Mix nuts with bread crumbs, sugar and cinnamon
Prepare Syrup
1. Mix all ingredients in a pot
2. Bring to a boil
3. Remove from heat and allow to cool
Assemble
1. Spread melted butter onto the bottom of a food pan
2. Lay 4-5 sheets of phyllo pastry, spread with melted butter
3. Add filling and lay another layer of phyllo pastry and brush with melted butter
4. Add two more layers
5. Bake in a 325° F / 163° C oven for approx 1 ½ hours
For other class schedules, culinary tips and recipes log on to www.themayakitchen.com or email [email protected]