Taking a break from the usual Pinoy Cuisine and trying out Greek this time. Cyma Greek Taverna Executive Chef Robby Goco demonstrated well loved Greek dishes of salad, appetizer, pasta, porridge and dessert with a generous sprinkling of extra recipes to help the home cook prepare a delightful Mediterranean spread at The Maya Kitchen. The other day, I shared a scrumptious dessert , the Baklava.
Here is a pasta dish that you might want to try out the "Garides Saganaki Pasta". Garides means shrimp and Saganaki means cheese so imagine the flavorful combination with pasta.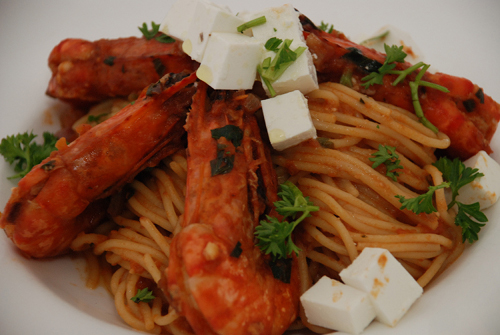 Ingredients

Whole shrimp, 26/30 8 pieces
Salt and pepper
Canola oil 50 ml
Red onions 1 piece
Garlic 3 cloves
Tomato, local (chopped) 2 pieces
Chili flakes ¼ teaspoon
White wine 30 ml
Pomodoro sauce 300 ml
Spaghetti 500 g
Feta cheese 100 g
Italian flat leaf parsley 5 g
Lemon 2 pieces
Extra virgin olive oil (optional) 30 ml
Procedure
1.Season shrimps with salt & pepper. In a sauté pan, sear shrimps on a hot oil until it changes its color and set aside
2. In the same pan, sauté onion and garlic until aroma is released
3. Add tomatoes, chili flakes and deglaze with white wine.
4. Add pomodoro sauce and add pasta. Mix until the sauce is well distributed
5. Place on a plate, put the shrimp on top and add feta cheese and chopped parsley.
6. Serve with lemon wedge and garnish with parsley.
Pomodoro sauce
Canola oil 2 Tablespoons
Garlic 2 cloves
Tomato fresh 5 pieces
Canned tomato 1 liter
Tomato paste 3 Tablespoons
Salt to taste
Pepper to taste
Sugar to taste
Procedure
1. Heat oil on a pot
2. Sauté garlic until aroma is released
3. Add the tomatoes and tomato paste
4. Simmer until thick and flavorful
5. Season with salt, pepper and sugar.
For other class schedules, culinary tips and recipes log on to www.themayakitchen.com or email [email protected].