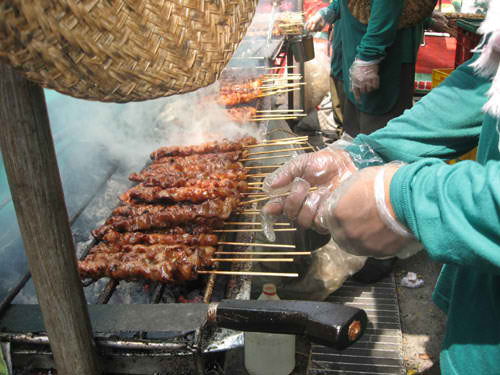 Pork barbecue is a fast selling food item. It's easy to cook and convenient for the hungry customer. The only thing I dislike about grilling the pork barbecue is the smoke. In our old neighborhood, I told the maid to grill just outside the gate. Now some passerbys often think we are selling barbecue. Hehe, maybe I will sell them one of these days. Anyway, I prefer my barbecue to be a bit sweet. Here's my recipe for Pork Barbecue Marinade:
2 kilo pork slices (liempo)
1 bottle 7-UP
1 cup brown sugar
1/2 cup soy sauce
1/2 cup vinegar
2 Tablespoons minced garlic
2 Tablespoons hot sauce
2 Tablespoons worcestershire sauce
3 Tablespoons salt
Black Pepper

convert this post to pdf.