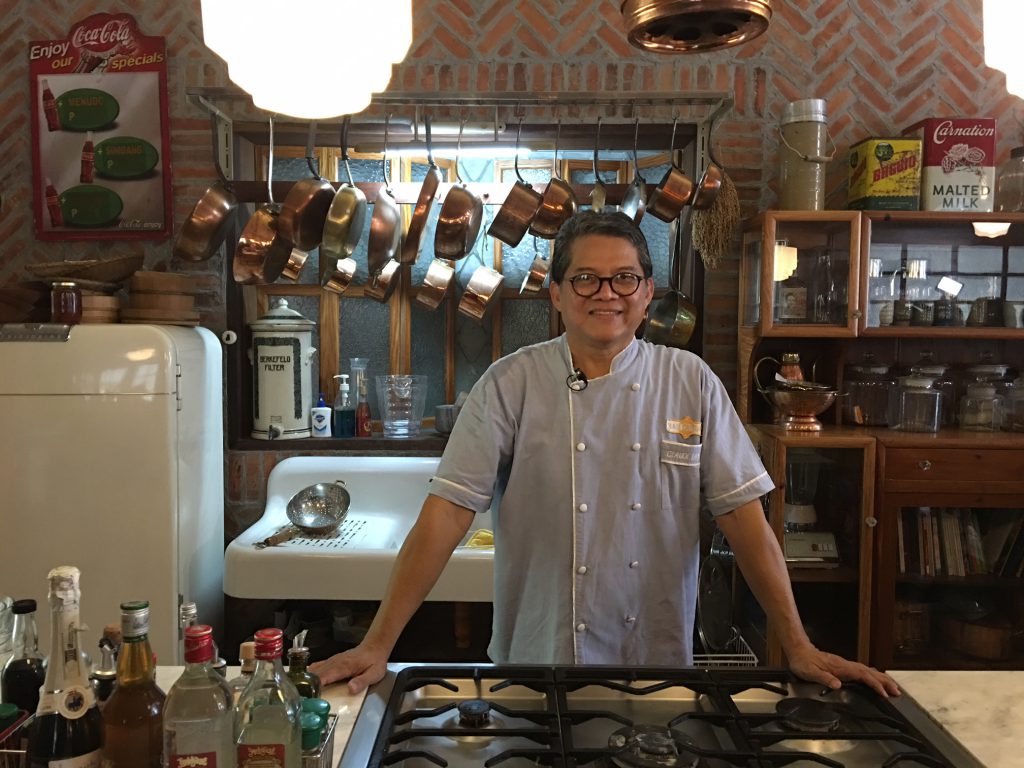 I must admit that when my sister, Noemi Dado, Pinoy Food Blog's visionary, asked me if I could attend the Press Launch for "Chasing Flavors," Lifestyle TV Philippines' newest show that premieres on Saturday, June 3, 2017, 9:00 pm, on SKYcable channel 52, I did not hesitate, enthusiastic co-blogger that I am. Chef Claude Tayag, the "rock star" chef of CHASING FLAVORS, was a bleep in my foodie universe. I had seen one of Uber-Chef Anthony Bourdain's TV shows that showcased some of the Philippines' most popular cuisines. Chef Claude (pronounced as "Cloud") was one of the resource persons featured in one episode.
Generally, I prepare for a writing assignment with some research on my subject. This time, I decided to come in cold. Although I am a corn-fed and raised Cebuana/Filipina, I sought to experience this adventure from an Overseas Filipina's point of view. I texted my former managing editor from Filipinas Magazine, Gemma Nemenzo, who is one of PositivelyFilipino.com's prime movers, to find out if she knew Chef Claude. Gemma replied, "Yes, we had him as a special guest at the 2013 Filipino American International Book Festival. Please give my regards!"
I have also tasted the cuisine of Pampanga yet I never made an effort to study its finer nuances. Noemi gave me Chef Claude's book, "Food Tour," a culinary journal, so I could ask the chef to autograph it. "It's a gift from my husband," Noemi told me.
Page 2 of the book, "He Said, She Said," captured my attention. Claude's tongue-in-cheek humor was so familiar, something I could relate to. During a group interview at the press launch, when I found out that both of us shared the same alma mater, the University of the Philippines, Claude became the typical alumnus. He asked me, "What's your student number?" We broke out in laughter when we found out that we had the same first two digits of our student numbers, i.e. we belonged to the same generation. But I am digressing… Moving along!
The blog post is categorized accordingly:
1. A video slide show of Pinoy Food Blog's experience during the Press Launch of CHASING FLAVORS (almost seven minutes of "show and tell")
2. A documentation of the Press Launch's activities, including Chef Claude Tayag's food demonstrations of Lechon Tacos and Lechon Sisig, anecdotes, and morsels (no pun intended) of culinary history and information
3. A supplementary content curation of post-press launch research on videos and articles about Chef Claude Tayag
I also made an effort to place asterisks (*) on Filipino terms to help the uninitiated cook in the Filipino kitchen.
Thank you to Earl Moreno, Digital Marketing Executive of Creative Programs, Inc. (part of the ABS-CBN family), for inviting PinoyFoodBlog.com to the Press Launch.
Dacal a salamat, Kayabe!
Lorna Lardizabal Dietz
For Pinoy Food Blog
HIGH RESOLUTION VIDEO: Press Launch of CHASING FLAVORS

Continue reading Chasing Flavors with Chef Claude Tayag →