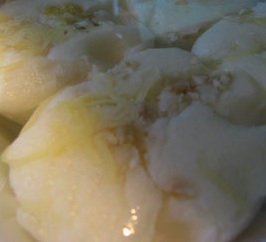 I have featured a Puto Recipe made from all-purpose flour for a quick and easy way to prepare puto. I am sure you also want to know the traditional and old-fashioned way of preparing puto. Here is one recipe that makes use of Galapong Bigas.
Ingredients
6 cups Galapong Bigas (see method of preparing Galapong Bigas)
1 1/2 tablespoons baking powder (optional since galapong bigas already has trapped yeast to make puto rise)
1 3/4 cups refined sugar
1 teaspoon anise seed
1 1/2 cups coconut milk (see procedure on Coconut milk preparation)
grated cheddar cheese (for topping, optional)
salted egg (for topping, optional)

Procedure
1. Mix the galapong bigas, sugar, anise seed. Add the coconut milk. Beat using a wire whisk.
2. Prepare muffin pans lined with banana leaves.
3. When muffin pans are ready, pour mixture.
4. Steam for 25-35 minutes. Do not over-steam so that the crust of the puto is not tough.
5. Top the puto with grated cheddar cheese or salted eggs, a few minutes before puto is cooked.
Yield: around 3 dozens.