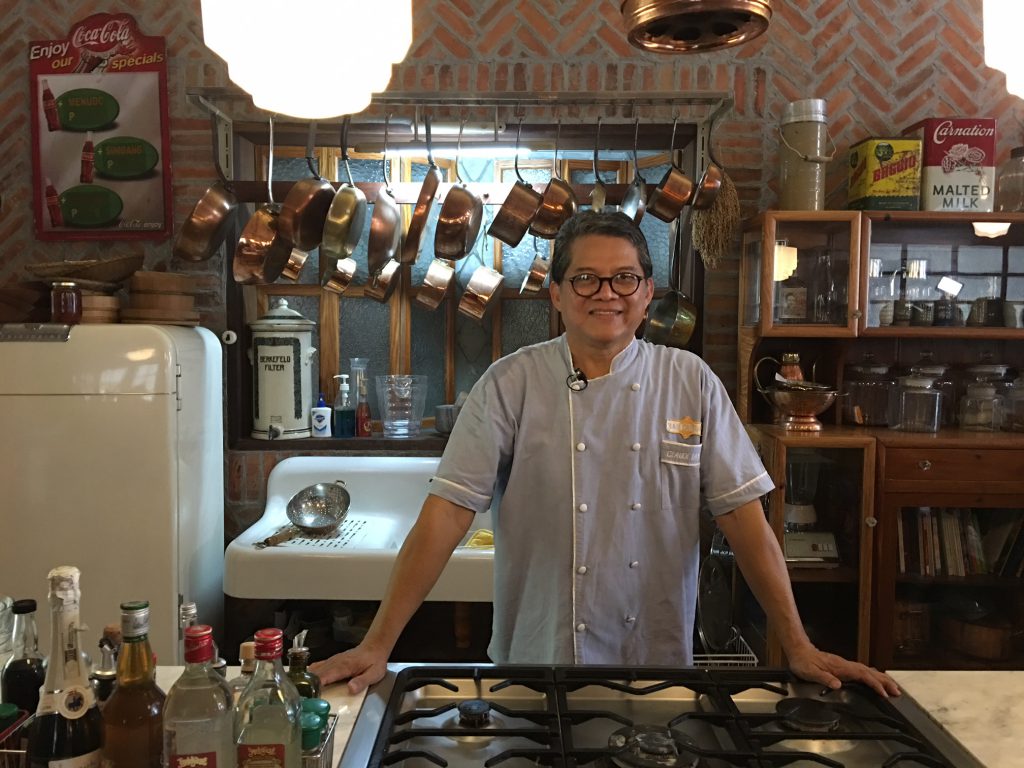 I must admit that when my sister, Noemi Dado, Pinoy Food Blog's visionary, asked me if I could attend the Press Launch for "Chasing Flavors," Lifestyle TV Philippines' newest show that premieres on Saturday, June 3, 2017, 9:00 pm, on SKYcable channel 52, I did not hesitate, enthusiastic co-blogger that I am. Chef Claude Tayag, the "rock star" chef of CHASING FLAVORS, was a bleep in my foodie universe. I had seen one of Uber-Chef Anthony Bourdain's TV shows that showcased some of the Philippines' most popular cuisines. Chef Claude (pronounced as "Cloud") was one of the resource persons featured in one episode.
Generally, I prepare for a writing assignment with some research on my subject. This time, I decided to come in cold. Although I am a corn-fed and raised Cebuana/Filipina, I sought to experience this adventure from an Overseas Filipina's point of view. I texted my former managing editor from Filipinas Magazine, Gemma Nemenzo, who is one of PositivelyFilipino.com's prime movers, to find out if she knew Chef Claude. Gemma replied, "Yes, we had him as a special guest at the 2013 Filipino American International Book Festival. Please give my regards!"
I have also tasted the cuisine of Pampanga yet I never made an effort to study its finer nuances. Noemi gave me Chef Claude's book, "Food Tour," a culinary journal, so I could ask the chef to autograph it. "It's a gift from my husband," Noemi told me.
Page 2 of the book, "He Said, She Said," captured my attention. Claude's tongue-in-cheek humor was so familiar, something I could relate to. During a group interview at the press launch, when I found out that both of us shared the same alma mater, the University of the Philippines, Claude became the typical alumnus. He asked me, "What's your student number?" We broke out in laughter when we found out that we had the same first two digits of our student numbers, i.e. we belonged to the same generation. But I am digressing… Moving along!
The blog post is categorized accordingly:
1. A video slide show of Pinoy Food Blog's experience during the Press Launch of CHASING FLAVORS (almost seven minutes of "show and tell")
2. A documentation of the Press Launch's activities, including Chef Claude Tayag's food demonstrations of Lechon Tacos and Lechon Sisig, anecdotes, and morsels (no pun intended) of culinary history and information
3. A supplementary content curation of post-press launch research on videos and articles about Chef Claude Tayag
I also made an effort to place asterisks (*) on Filipino terms to help the uninitiated cook in the Filipino kitchen.
Thank you to Earl Moreno, Digital Marketing Executive of Creative Programs, Inc. (part of the ABS-CBN family), for inviting PinoyFoodBlog.com to the Press Launch.
Dacal a salamat, Kayabe!
Lorna Lardizabal Dietz
For Pinoy Food Blog
HIGH RESOLUTION VIDEO: Press Launch of CHASING FLAVORS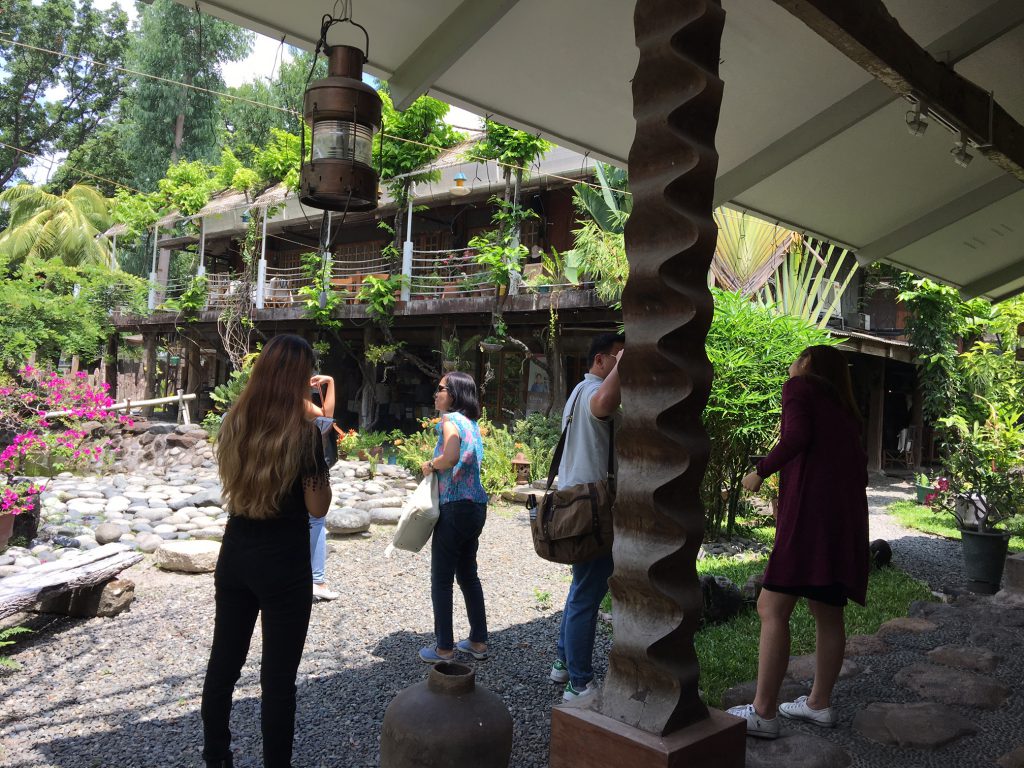 Our team of invited media practitioners and bloggers who made the 1-1/2 hour trip to Bale Dutung in Angeles City, Pampanga, arrived on time for the lunch hour. Bale Dutung (or The Wooden House) is a reservations-only restaurant owned by Chef Claude Tayag and his spouse, Mary Ann. It is also their home. From the security checkpoint of the gated Villa Gloria Subdivision, our van made an immediate left at the first street, and at the end of the T-intersection, we turned right. It was impossible to miss Bale Dutung at the next corner.
I walked past a beautiful and lush landscaped garden that looked like a quiet doorway to "foodie indulgence." The building had a patina of something old. I didn't know just how old. Apparently, reclaimed wood from some historical buildings were given new life in this multi-purpose abode. Bale Dutung, the dream house, was built in 1991 to serve as a permanent home of Claude's paintings, sculptures, and memorabilia. The first floor was the designated public area while the second floor became the private quarters.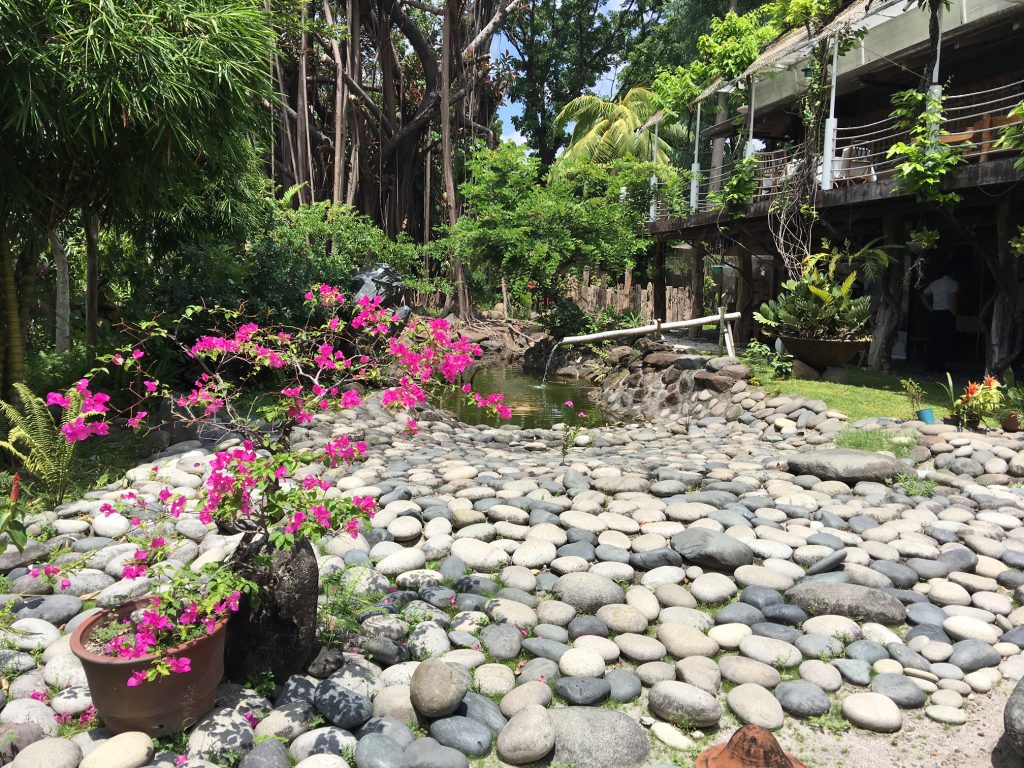 Chef Claude Tayag mingled among us (and signed my sister's book) before we proceeded on a tour of Bale Dutung. An architecture student from the University of the Philippines who eventually decided on an Economics degree, Claude was better known as a painter during his aprés-college years. Claude's wanderlust also took him to several countries on a shoestring budget, resulting in many epiphanies of gastronomic and cultural delights which he documented in his culinary journals. I paid attention to the furniture that he had personally designed for Bale Dutung as well as memorabilia and accessories that complemented the heritage atmosphere of the restaurant. As the ninth of 12 children, Chef Claude received his culinary training in his family home where everyone was taught to be self-reliant. The 1970s found many budding chefs like Claude cooking Pancit (noodle dishes) or Nilaga (stews) at 4:00 am after a night of disco dancing. Chef Claude also devoted his weekends to cooking experiments.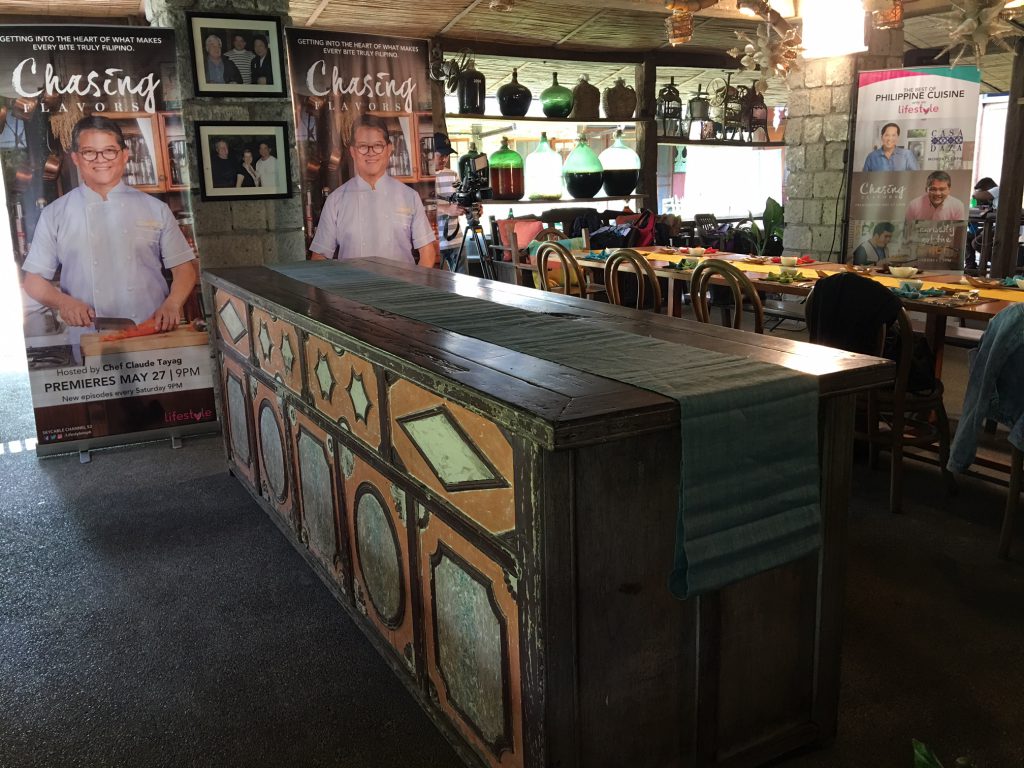 Chef Claude's introductory talk gave us many insights.
The theme of our lunch was FIVE WAYS LECHON or LECHON FIVE WAYS. On the menu were the following:
Lechon Tacos (food demonstration)
Lechon Sisig (food demonstration)
Sinigang na Lechon (a gelatinous, hearty broth simmered in tamarind, lemongrass, chilis, and bagoong*)
Grilled Pork Ribs with Eggplant Salad
Asadong Lechon
*bagoong – a seasoning made with a paste or sauce of small fish and prawns which have been salted and fermented
One of Bale Dutung's main attractions is its Lechon Fridays.
The open air dining room has an ALMAZEN, Claude's term for the venue that caters to Spanish-influenced Filipino tapas he offers, aka small plates. "Almazen" was inspired by a popular children's chant, Penpen de Sarapen, or in his case, Penpen de Almacen (a "warehouse" or loosely defined as a "bodega"). A reservation means a minimum party of 12 people.
An enclosed, air-conditioned GALLERY is located at the inner recesses of Bale Dutung. Eight or more people can avail of its private dining pleasures.
I found out that guests thoroughly enjoy their three-to-four-hour dining occasion at Bale Dutung — well worth the wait!
Chef Claude initially did not envision having a restaurant in his family's sanctuary. Mary Ann and he regularly invited friends over for lunch or dinner. It was only when some of Chef Claude's favorite guests asked to pay for their meals, explaining to him that they wanted to bring their friends to Bale Dutung, did he agree to a reservations-only private dining destination that was dependent on the couple's travel schedule.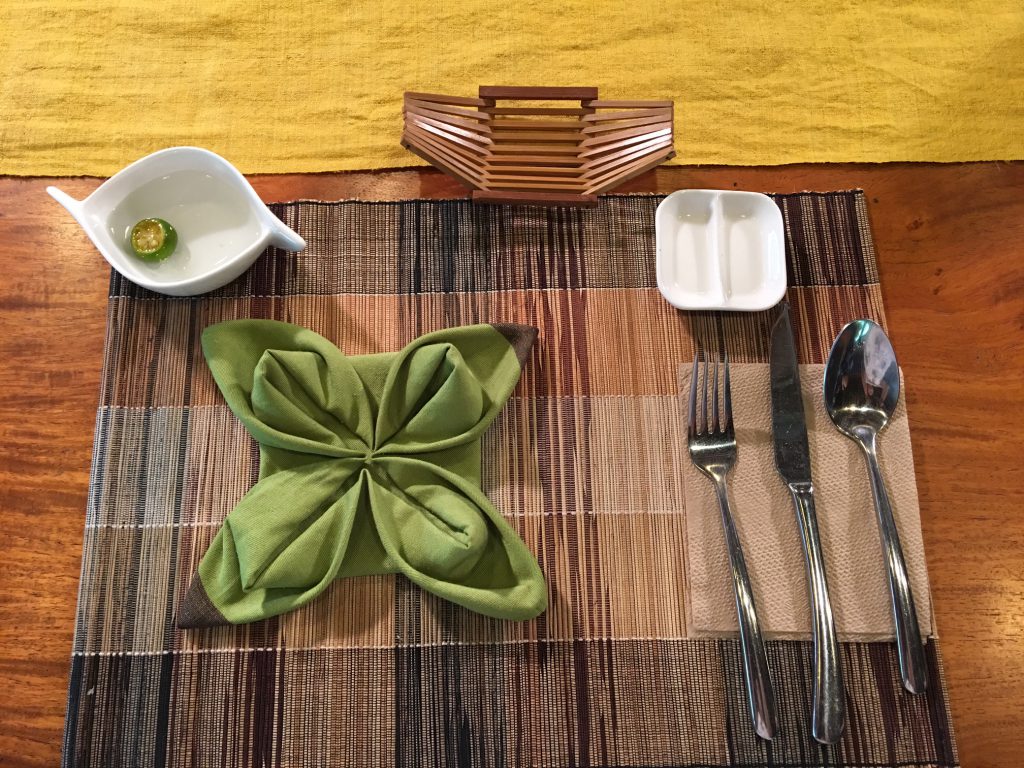 We were escorted to his TV studio kitchen that was housed in a separate building next to the restaurant. Claude's preparation island and kitchen were strategically located as the first point of interest by the entrance. Across the kitchen, there was a comfortable living room setting, suitable for intimate conversations and interviews. On one wall, a set of six landscape paintings, circa 1970s, provided the studio's distinctive artistic character.
"Which landscape did you paint?" I asked him during our pocket interview.
"Bottom right," Claude responded, referring to the sixth painting at the lower right section of the wall.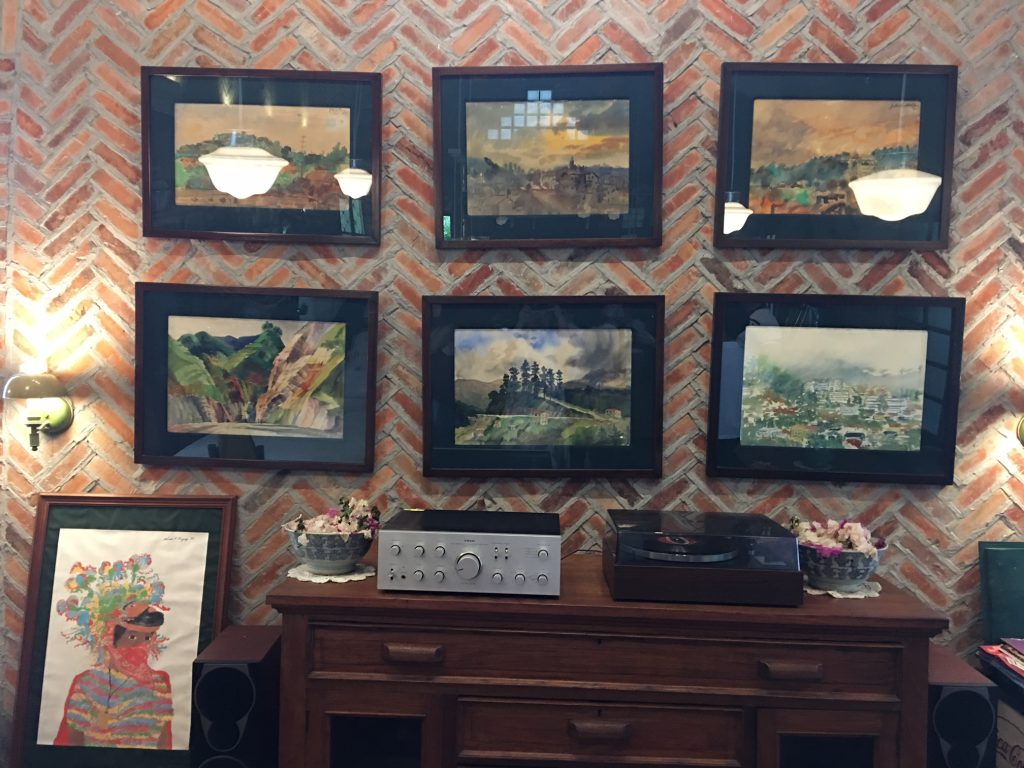 Our next stop was the "lechonan" right outside CHASING FLAVORS' TV studio kitchen. The charcoal-fired roasting spit is a manually-operated rotisserie for the Philippines' signature dish, LECHON (aka roasted pig).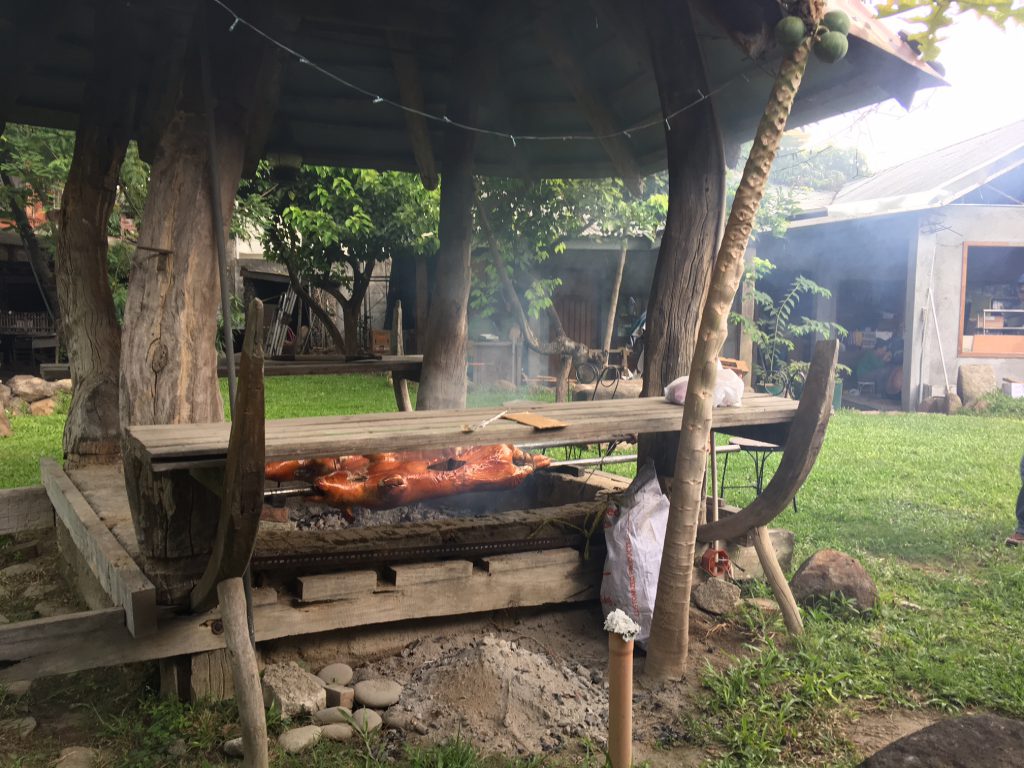 Chef Claude mentioned that before the advent of the gated community, the self-sufficient kitchen garden was a commonplace section of the home. He called it "from backyard to table," referring to having a family's needs met in the backyard — fruits and vegetables. Neighbors easily asked each other for missing ingredients to complete their cooking. The only items bought in the local marketplace were meat and seafood.

Chef Claude Tayag demonstrated his first recipe: LECHON TACOS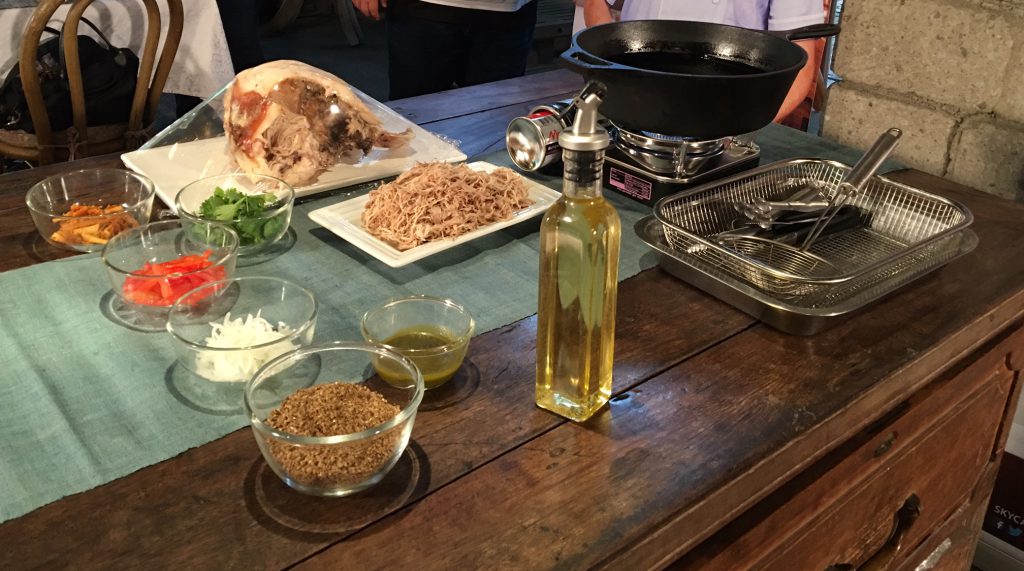 A stack of soft flour tortillas with condiments (such as cilantro, tomatoes, kimchi, and onions) and a sauce (that was meant to be the topping) were ready for assembly at the buffet table. Chef Claude's Oriental Sauce is composed of processed coriander, Thai basil, patis (Filipino fish sauce), calamansi (calamondin), and garlic.
Using the same principle of cooking Adobo Flakes, which is about pulling apart cooked adobo meat (flaked or shredded meat) and deep fat frying the meat in small batches in a dutch oven, Chef Claude assembled the following:
LECHON TACOS
Ingredients:
A slab of cooked lechon meat (belly) or tender pork roast
A plate of finely shredded pork meat (from lechon or pork roast); pull meat little by little between your two hands into slimmer-than-julienne-sized strands; longer strands of meat
A bowl of a dry rub, called a Lechon Rub (processed rock salt, pepper, and coriander) for the shredded pork
Equipment:
A cast-iron dutch oven
Cooking oil for deep fat frying
Strainer for shredded pork
A collecting tray for cooked shredded meat
Kitchen tongs
1. Shred the meat. Set aside.
2. Heat the cooking oil in the dutch oven. To test if oil is ready, sprinkle some water onto the oil. If the oil sizzles and hisses, it isn't ready. When the oil is "quiet" upon contact with drops of water, it is ready.
3. Sprinkle Lechon Rub generously on your shredded meat and mix well.
4. Deep fat fry small batches of the shredded meat until crispy and brown. Use kitchen tongs to turn over the meat for even cooking.
5. Strain the meat and set aside for assembling Lechon Tacos.
6. Remember to add spices after cooking the meat.
7. For building your own Lechon Tacos, from the bottom to the top: a soft flour tortilla, shredded deep fat fried pork (about 2 to 3 tablespoons), your choice of condiments, and Oriental Sauce. Fold into half — and enjoy!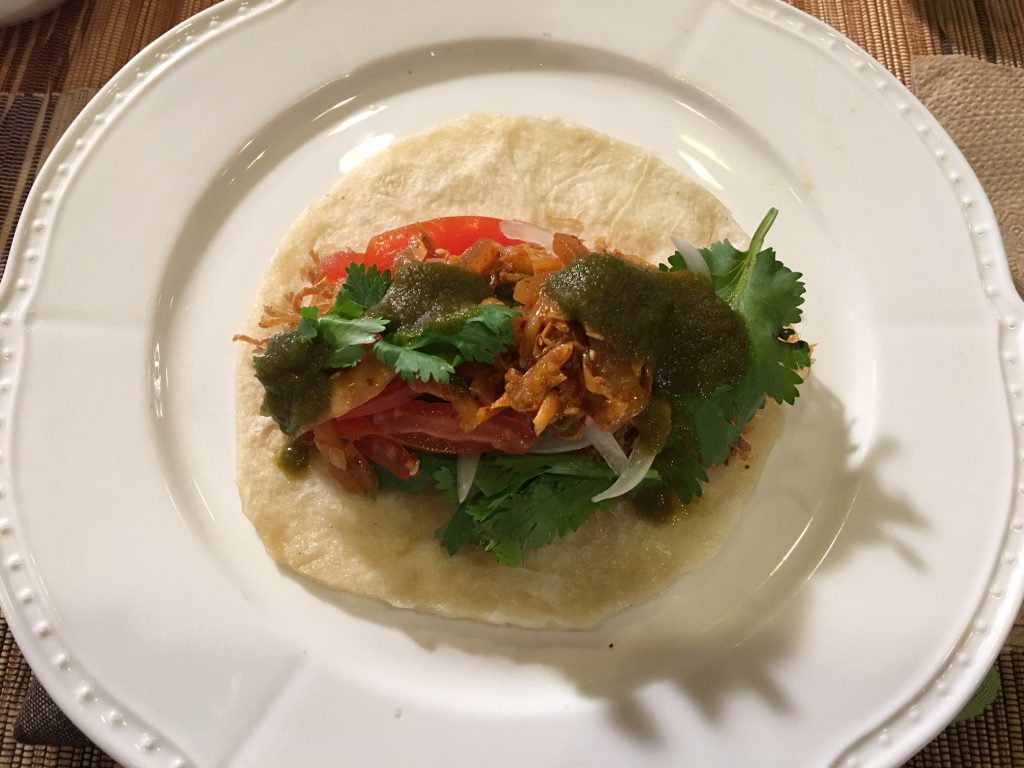 NOTES:
– Vegetarian Tacos are available by eliminating the cooked shredded pork and adding more kimchi. Chef Claude's Kimchi is slightly sweeter due to the addition of diced Fuji apples.
– The deep fat fried pork strands can be stored in an enclosed container inside the refrigerator for about two weeks.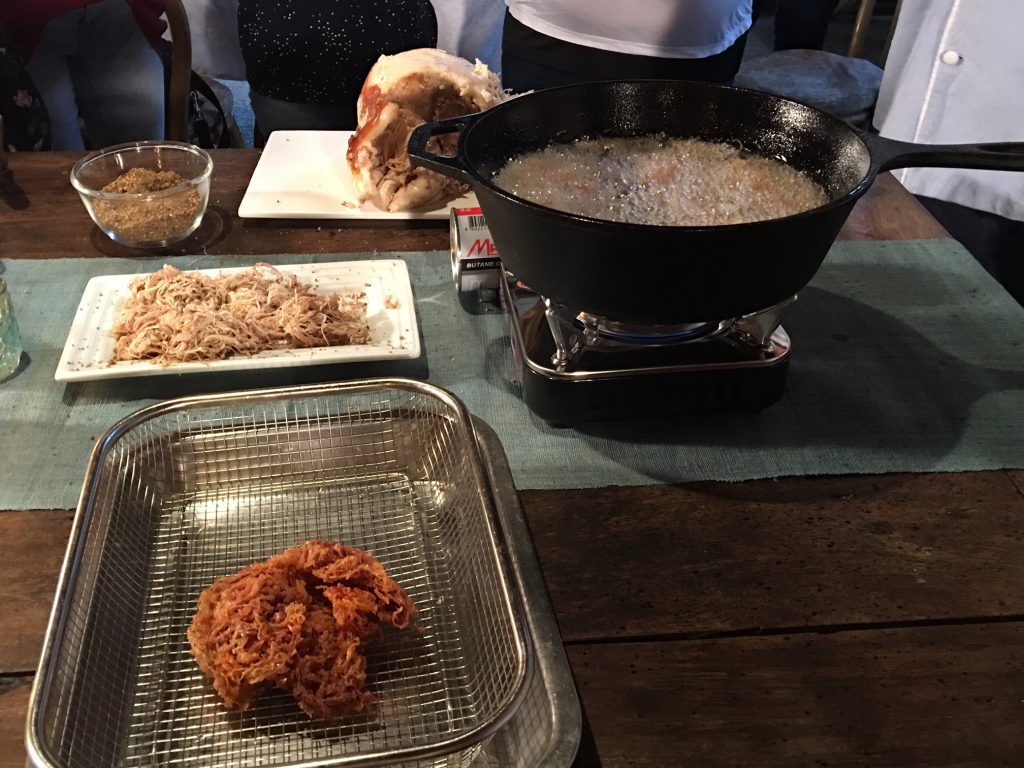 The highlight of the Press Launch was the presentation of the Lechon which Chef Claude carved to perfection. The crispy, glistening lechon skin was what everyone wanted. Homemade liver sauce accompanied these tasty bites of foodie paradise.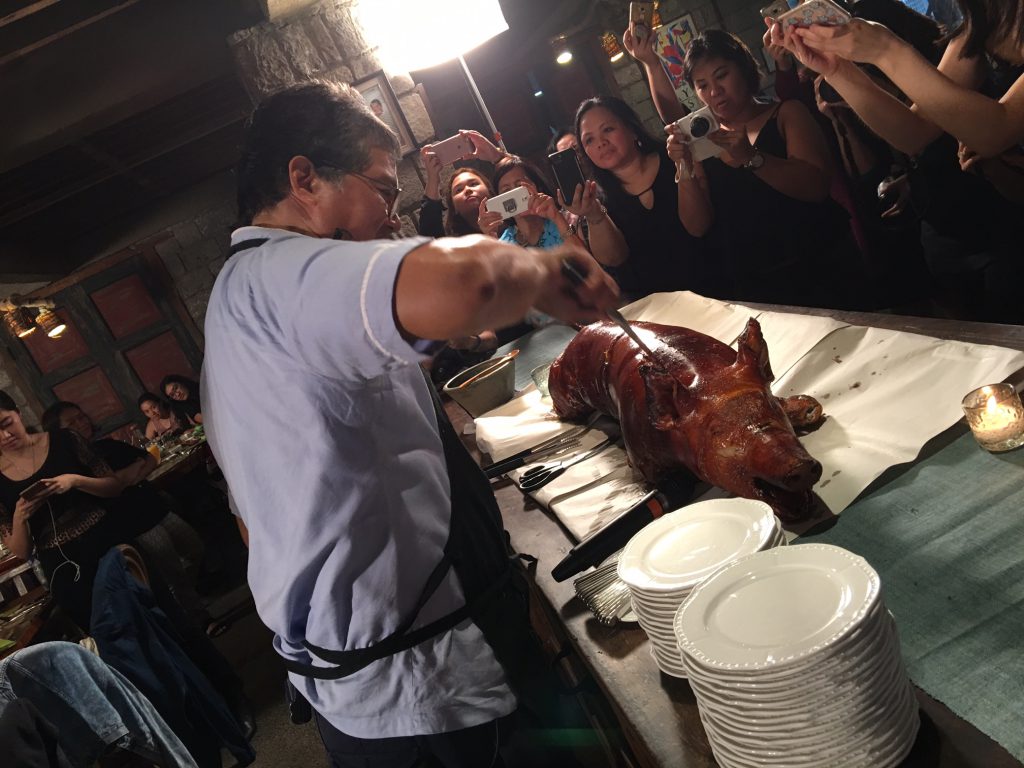 On page 55 of the second edition of LINAMNAM, Eating One's Way Around the Philippines, Chef Claude Tayag and Mary Ann Quioc explain why Bale Dutung offers LECHON FIVE WAYS.
What Filipino fiesta or party would be complete without the whole roasted pig? At Bale Dutung, the revered aromatic lemongrass/garlic-stuffed lechon is saved from ending up as the usual drab paksiw* na lechon.

It's been our family tradition never to serve lechon chopped up in a chafing dish. That robs you of the fun! It should be served whole, and everybody awaits the go-signal for the skin to be served, with the sweet/sour liver sauce on the side. Then, the soggy skin, the belly, and all the fatty parts are whisked off to the kitchen, cut and pulled into strips, seasoned with our lechon rub, then deep fried until all the fat is rendered. This becomes crispy lechon flakes served on a soft tortilla to be topped with sliced tomatoes, onion, cilantro, and kimchi (homemade with Chinese cabbage and Fuji apple) as condiments. A citrusy-minty green Claude'9 Oriental Sauce is dribbled over it.

The ribs are then charcoal-grilled, likewise seasoned with lechon rub, and basted with our inasal* marinade. It is accompanied by a grilled eggplant, tomato, green mango, and salted egg salad. All the trotters and spinal bones are thrown in a cauldron of boiling broth of sinigang or nilaga. To the lechon's loin is also added the requisite sinigang veggies of kangkong*, okra, gabi*, and green chilies. And for the coup de grace, the head is made into sisig, with the brain served on the side for good measure.
*paksiw – a Filipino style of cooking, whose name means "to cook and simmer in vinegar"
*inasal – generally, a marinade of lime, pepper, vinegar, and annatto
*kangkong – aka swamp cabbage
*gabi – aka taro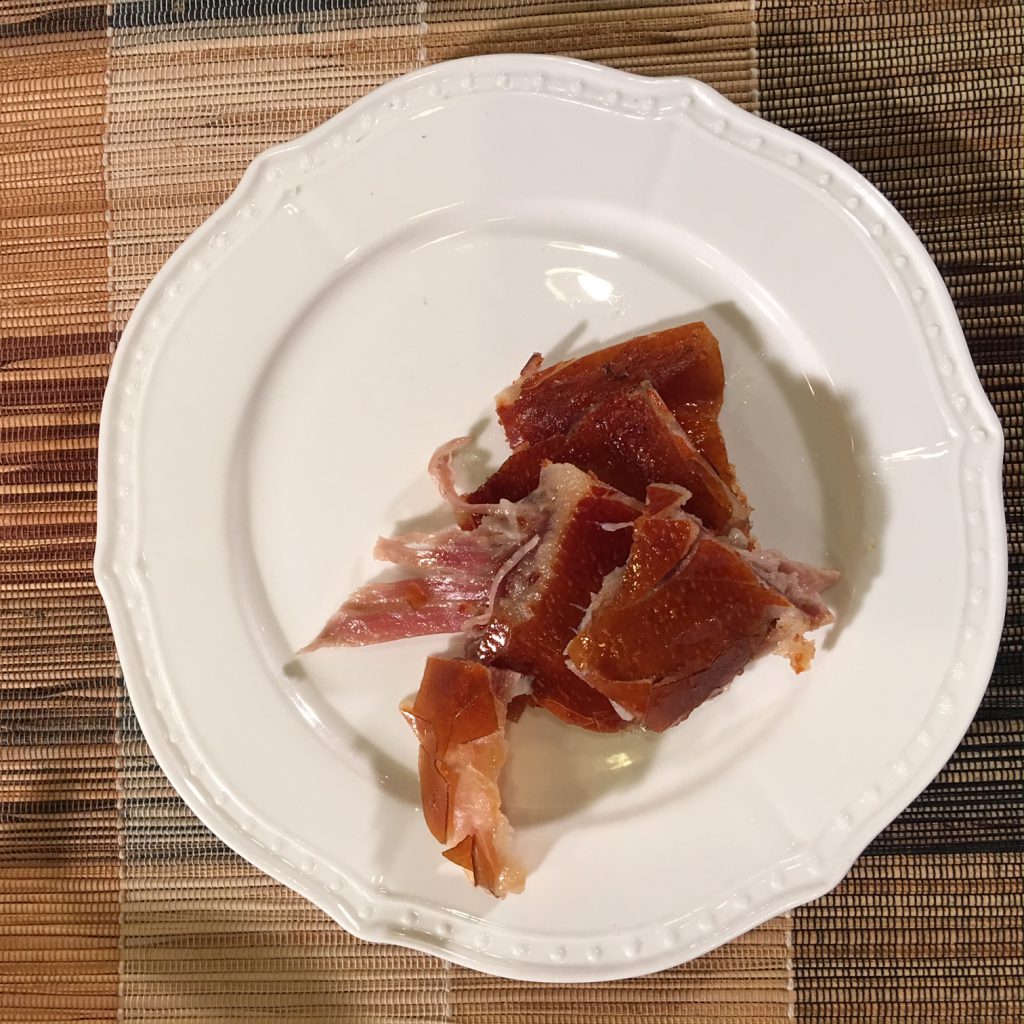 Chef Claude Tayag demonstrated his second recipe: LECHON SISIG.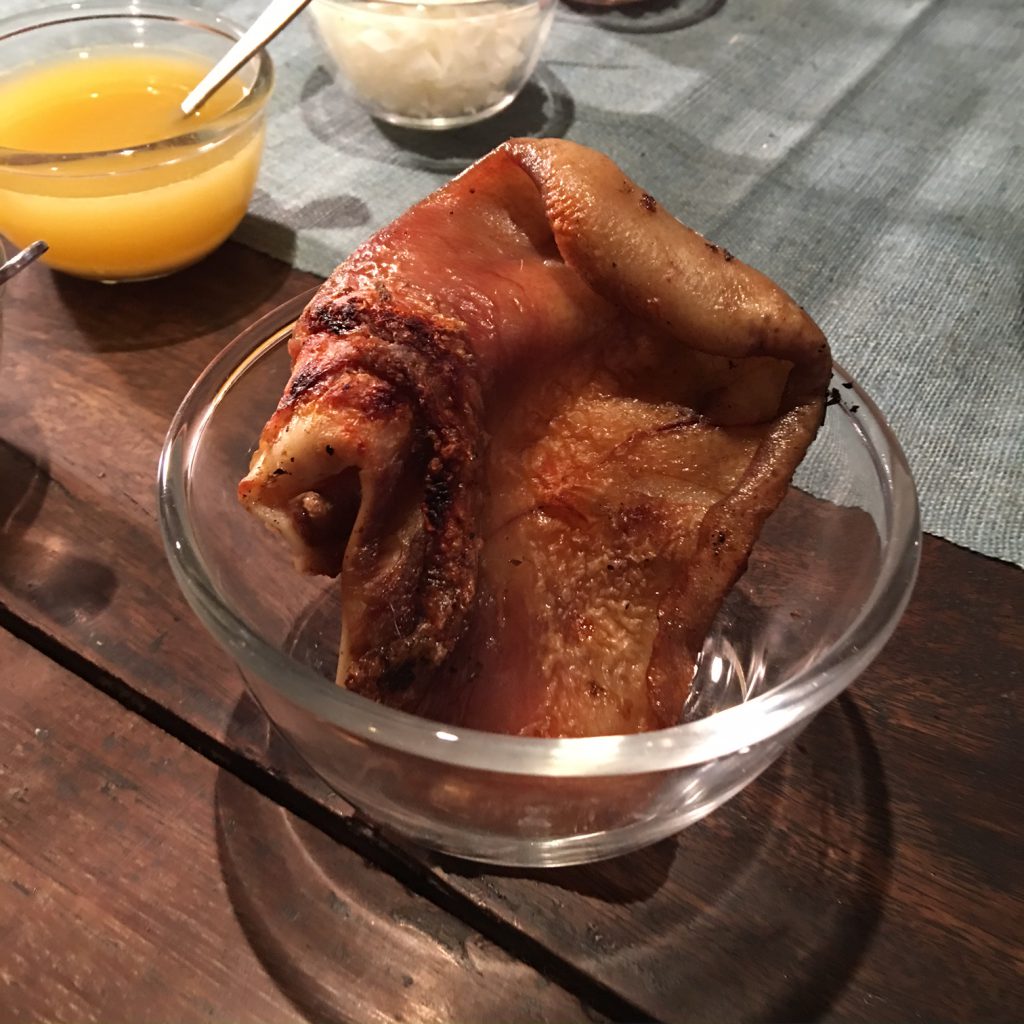 On pages 46-47 of the second edition of LINAMNAM, Eating One's Way Around the Philippines, Chef Claude Tayag and Mary Ann Quioc write about the origins and evolution of SISIG as one of the Philippines' most popular dishes — which originated in Pampanga.
SISIG MATUA: BOILED PIG'S HEAD, SOAKED IN VINEGAR

AKA Kilawin Baboy of the Tagalogs, the sisig in its original version is simply boiled pig's head, sliced and flavored with sukang sasa (see "Sour notes," page 296), onions, salt, pepper, and chili. According to the Center for Kapampangan Studies of Holy Angel University, sisig has evolved from the most basic salad of fresh fruits (i.e. green papaya, green mango, or green guava) dipped in vinegar, salt, pepper, and garlic, which appeared in a Pampango-Spanish dictionary by Fray Diego Bergano way back in 1732. Back then, it originally referred to a vinaigrette salad, an acidic salad of unripe fruit. During that era, it was common for women to nibble on fruits dipped in vinegar and salt in the early stages of pregnancy (paglilihi). As the pregnancy progressed, the expectant mother would be fed a concoction of boiled pig's ears soaked in vinegar (same as kilawin baboy). The cartilage was believed to help make the growing fetus's bones stronger. How it became a favorite pulutan of the menfolk on a drinking spree is anybody's guess (perhaps to celebrate the arrival of the newborn baby?).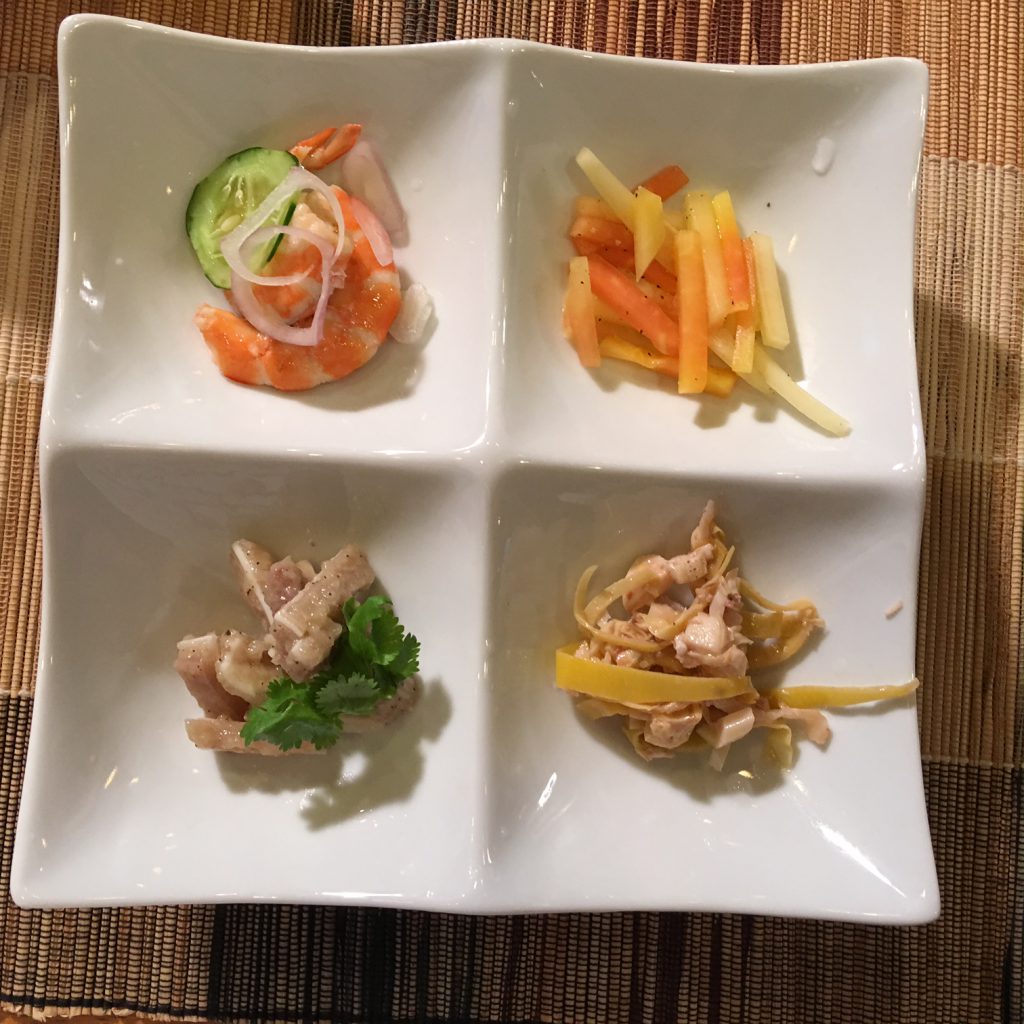 SIZZLING SISIG: GRILLED PIG'S HEAD SERVED ON A HOT PLATE

This is a fine example of how one person in recent memory has steered the culinary landscape of a locality, with one dish then spreading like a pandemic throughout the archipelago. No respectable Filipino eatery worth its fat will be without sisig, that yummy cholesterol-laden Pampango pulutan* served on a sizzling plate. In its present popular form, it is basically a concoction of pork ears, cheek, and jowl, first boiled, then grilled over charcoal until almost charred, chopped and mixed with broiled chicken liver, onions, and kalamansi, and spiked with fresh chili, the version that most of us are familiar with these days.

Aling Lucing Cunanan of Angeles City is credited with having invented the present-day version of sisig in the mid-1970s, doing a makeover on the sisig matua, grilling further the boiled pig's head and mixing it with chopped chicken liver. Another local establishment, Sisig Benedict (owned and operated by the late Benedict Pamintuan), gave sisig a new presentation, serving it on a hot skillet for that crunchy finish. But even then, sizzling sisig was only popular among the locals and the accidental tourists.

It wasn't until Trellis Restaurant (refer to page 97) opened in Quezon City in 1980 (originally set up by Claude's brother Mario, located behind the City Hall, on Kalayaan corner Matalino Streets) that many Metro Manilans had their first taste of this Pampango delicacy. It started the restaurant/grill genre bandwagon, and the sizzling craze caught on. In some joints in the metropolis, it is served with a raw egg that will cook on the hot plate (making it an ulam* to be eaten with rice), or is mixed with mayonnaise and what have you. For the more health-conscious, cholesterol-free variants have been concocted (what the heck are you removing the fun for?!) out of squid, tuna, shrimp, tofu, or chicken.

Nowadays, it seems that just about anything served on a sizzling plate is called sisig. But nothing beats the genuine article, in all its artery-clogging uric acid-elevating glory.
*Suka – vinegar
*Pulutan – Filipino appetizers or finger food eaten when drinking liquor
*Ulam – dish
LECHON SISIG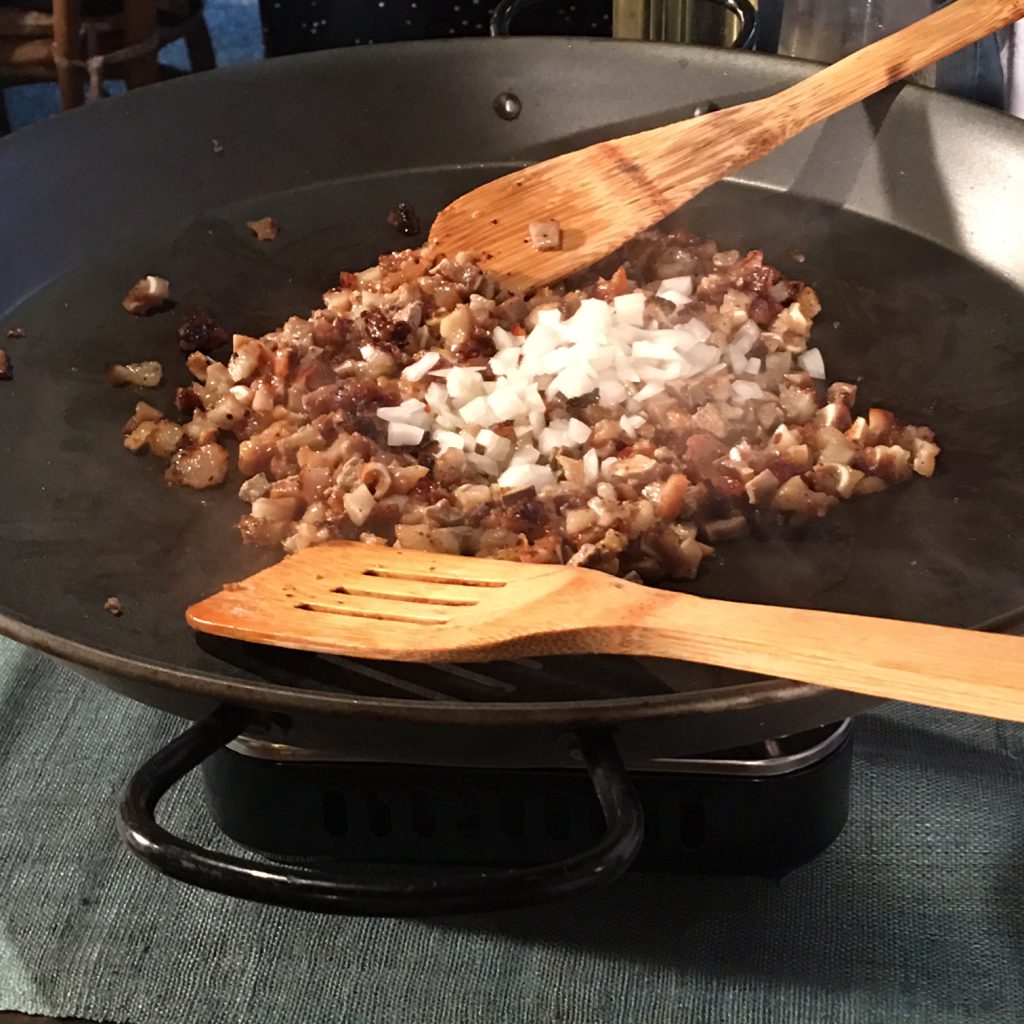 Ingredients:
Pig's ears or selected parts of the roasted pig's face/head including cheeks and jowl, finely chopped
Mixture of pineapple juice and water, for boiling the pig's face
Chicken liver, boiled and finely chopped
1 tablespoon or more of finely chopped chilis (sili labuyo), or according to taste
1/2 cup white onions, chopped, or according to taste
White vinegar; start with 2 tablespoons and increase according to taste
Salt and pepper to taste
Calamansi slices as a condiment to the lechon sisig
There were no measurements discussed during the food demonstration. This is what I observed.
1. Boil the lechon's ears (or parts of the pig's face) in a mixture of pineapple juice and water.
2. Chop the pig's parts and chicken liver finely into "sisig-size" pieces (see photo).
3. Cook the chopped pig's parts in a cast-iron skillet. Add the chopped chicken liver.
4. Add the chopped onions and finely-minced chilis.
5. Add white vinegar, starting with 2 tablespoons, adding more if needed. The acid is always added last.
6. Serve in a sizzling platter with your choice of condiments.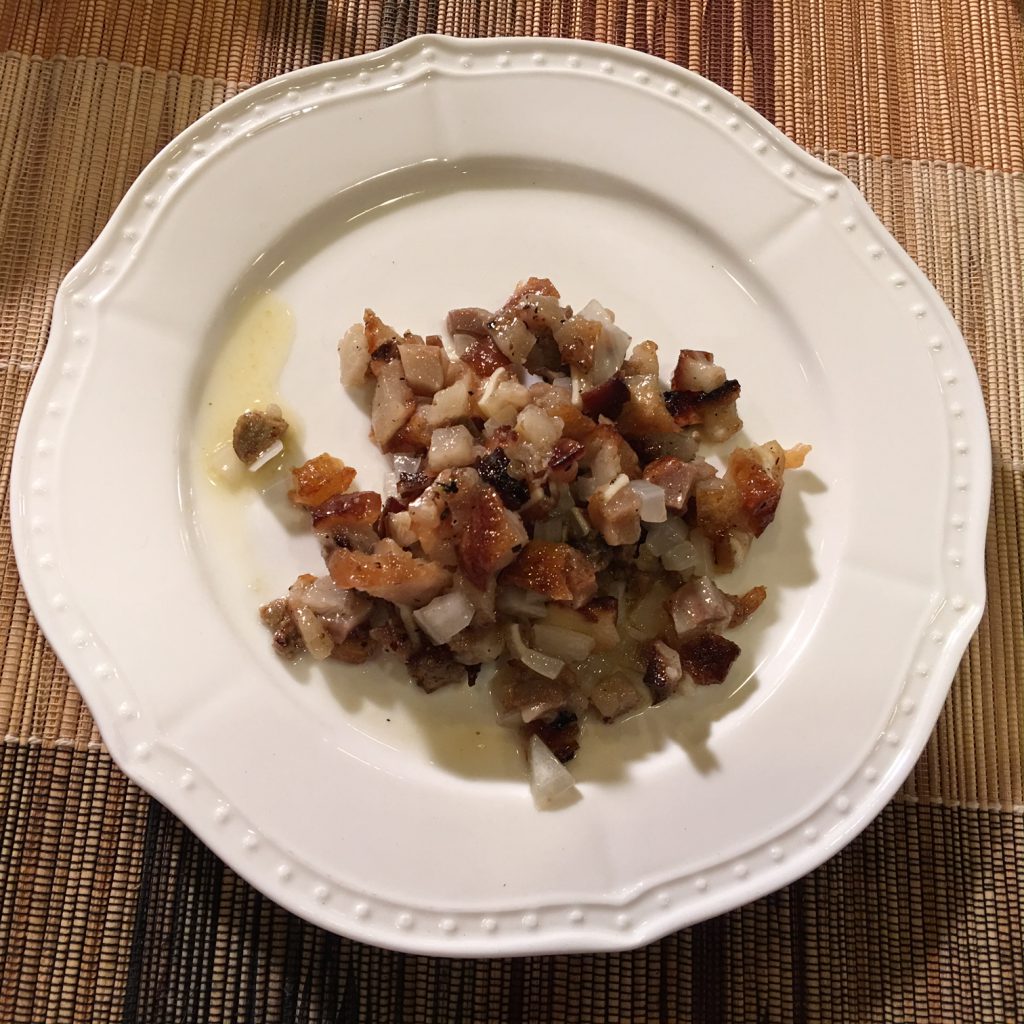 NOTES:
According to Aling Lucing's daughter, the accidental development of sisig was the result of having overcooked pig's ears which Aling Lucing "corrected" by adding vinegar.

THE OTHER LECHON-BASED DISHES: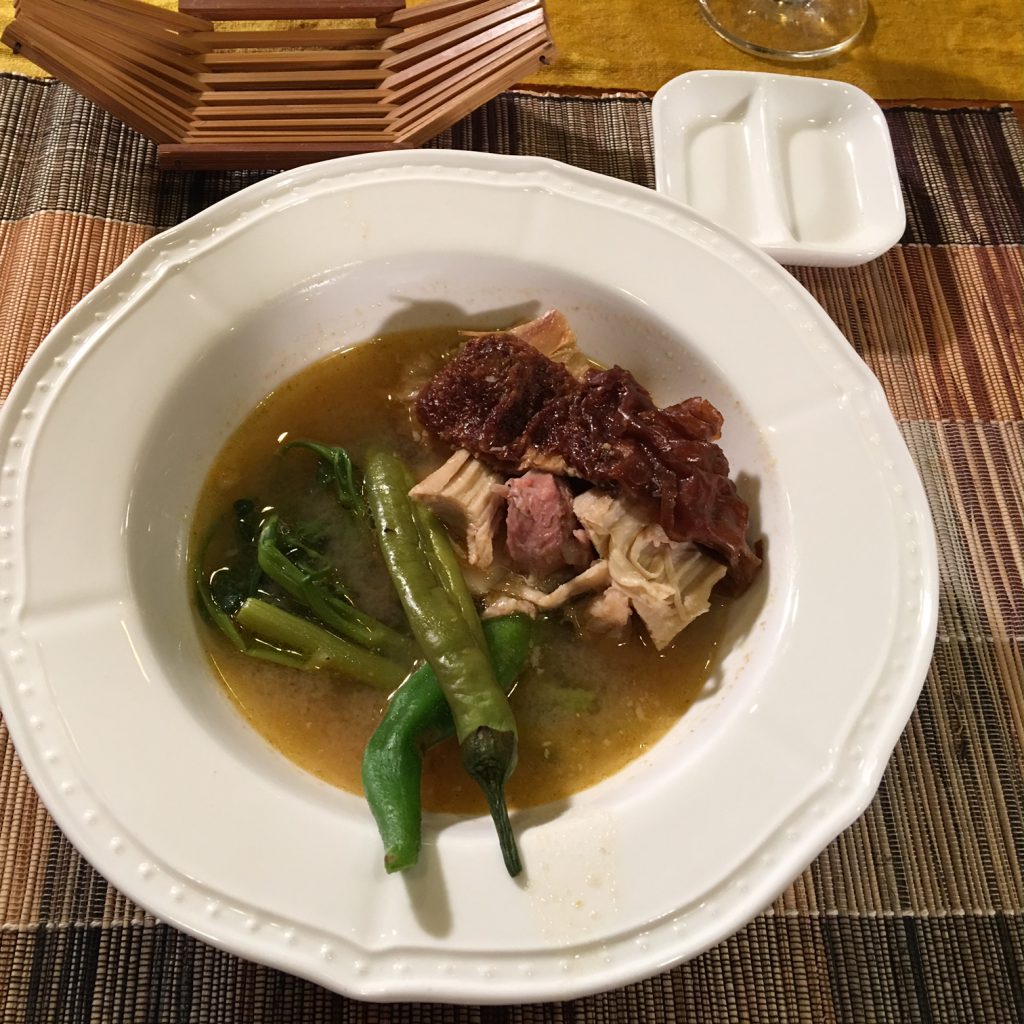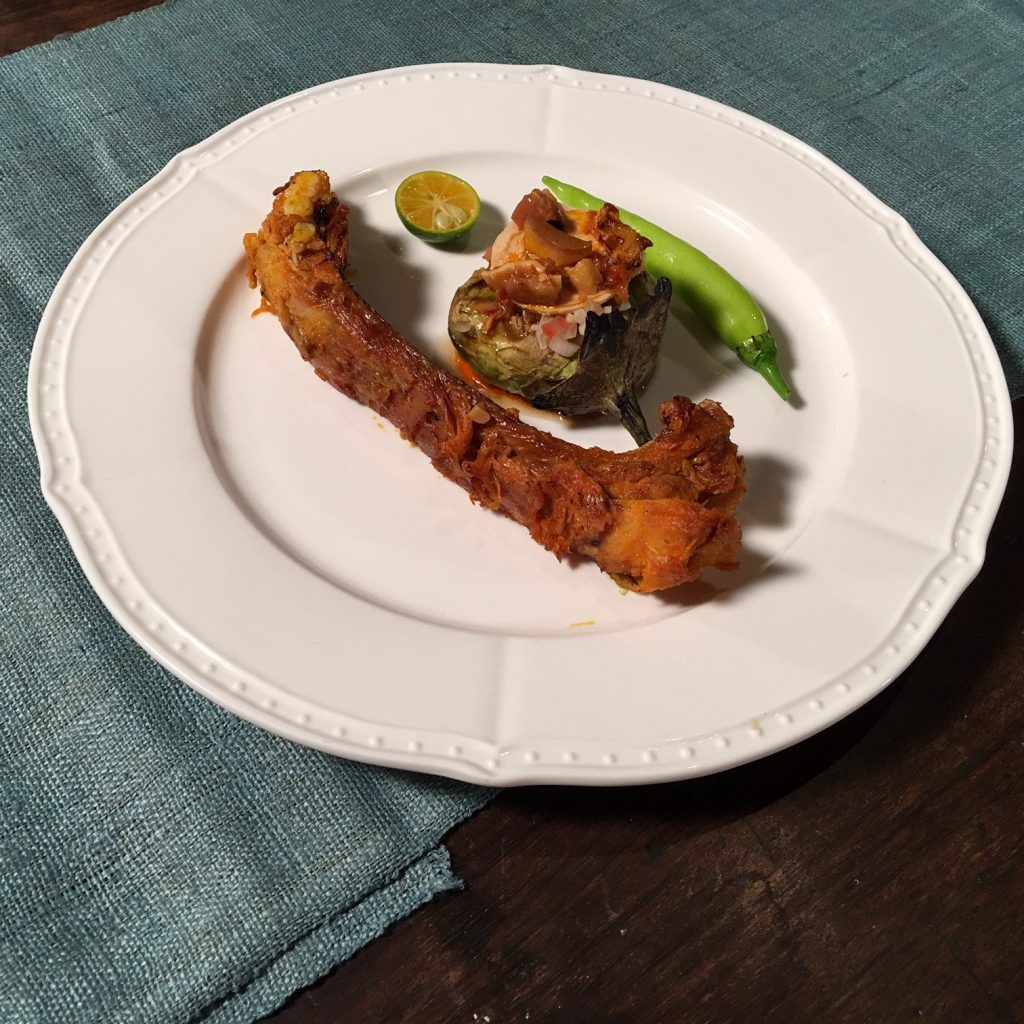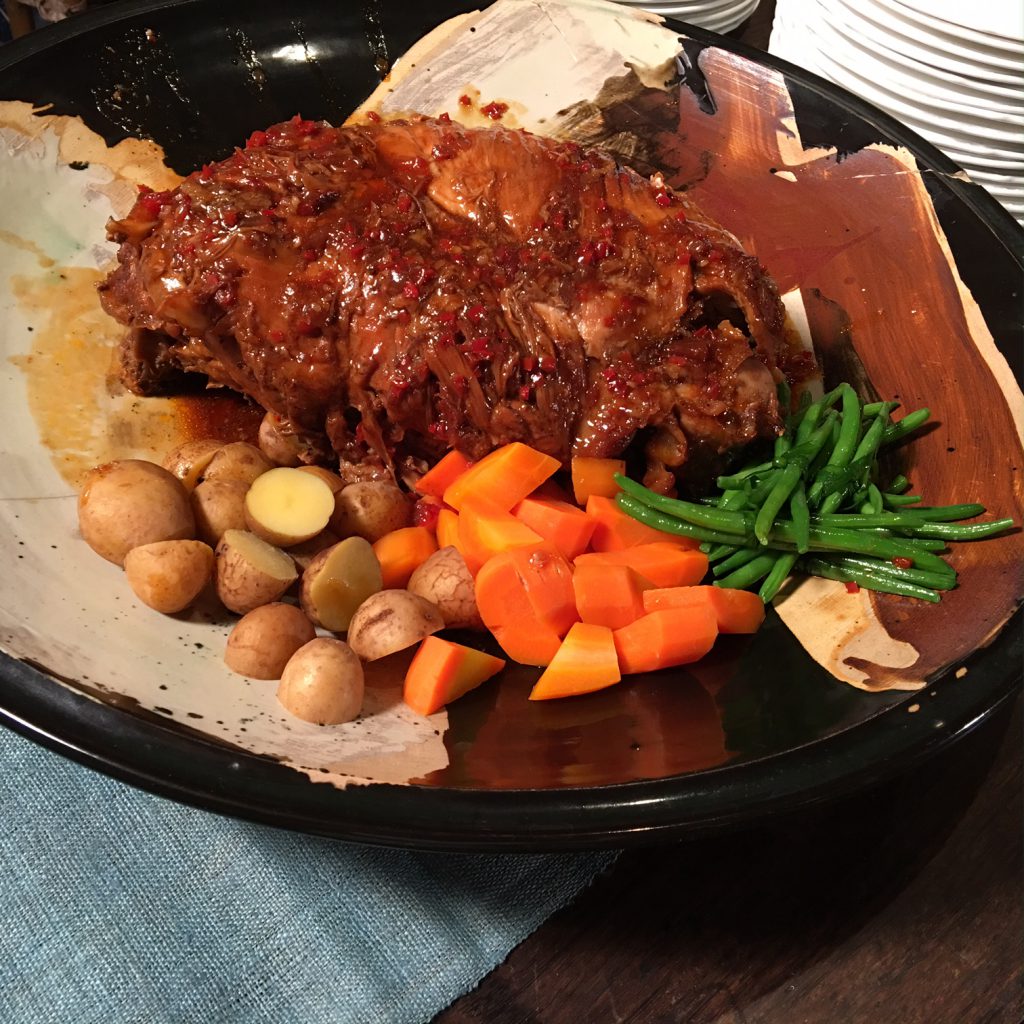 CLEARING THE PALATE DURING LUNCH:
Chef Claude Tayag had three palate cleansers available for us before, during, and after the FIVE WAYS LECHON meal.
1. Ginger-Infused Lemongrass Tea, sweetened with honey and spiked with calamansi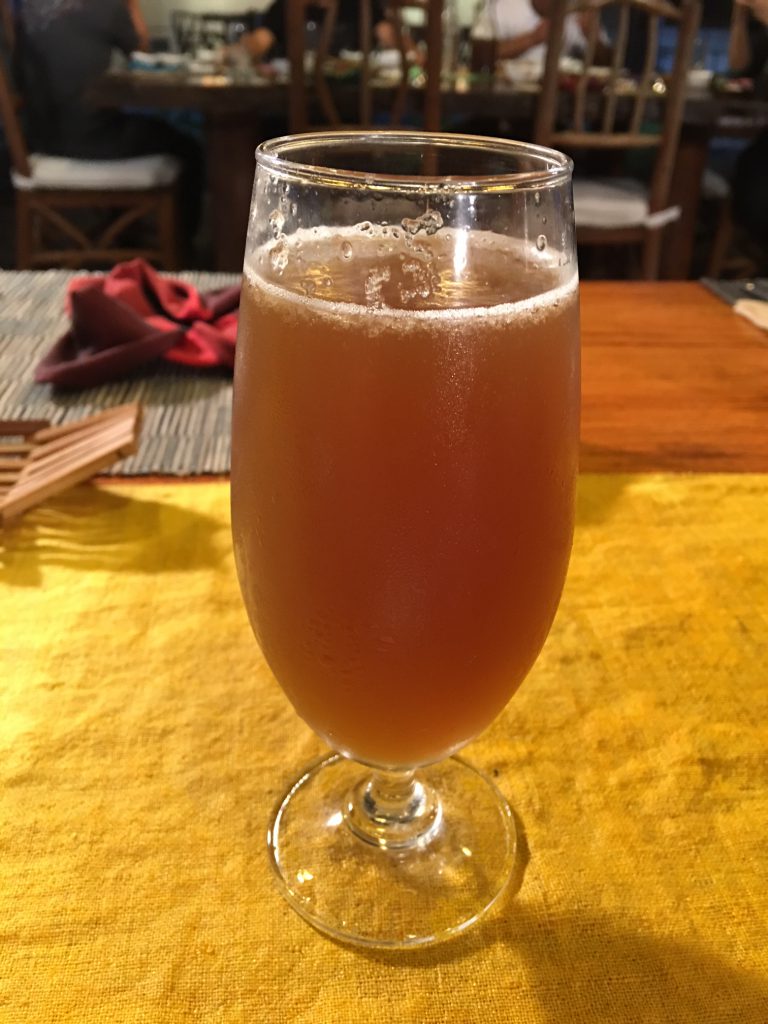 2. Bloody Mary Lolly, a refreshing lollipop, a pickled cherry tomato that has been injected with a mixture of vodka, tabasco sauce, and Lea & Perrins Worcestershire Sauce; garnished with a small chunk of celery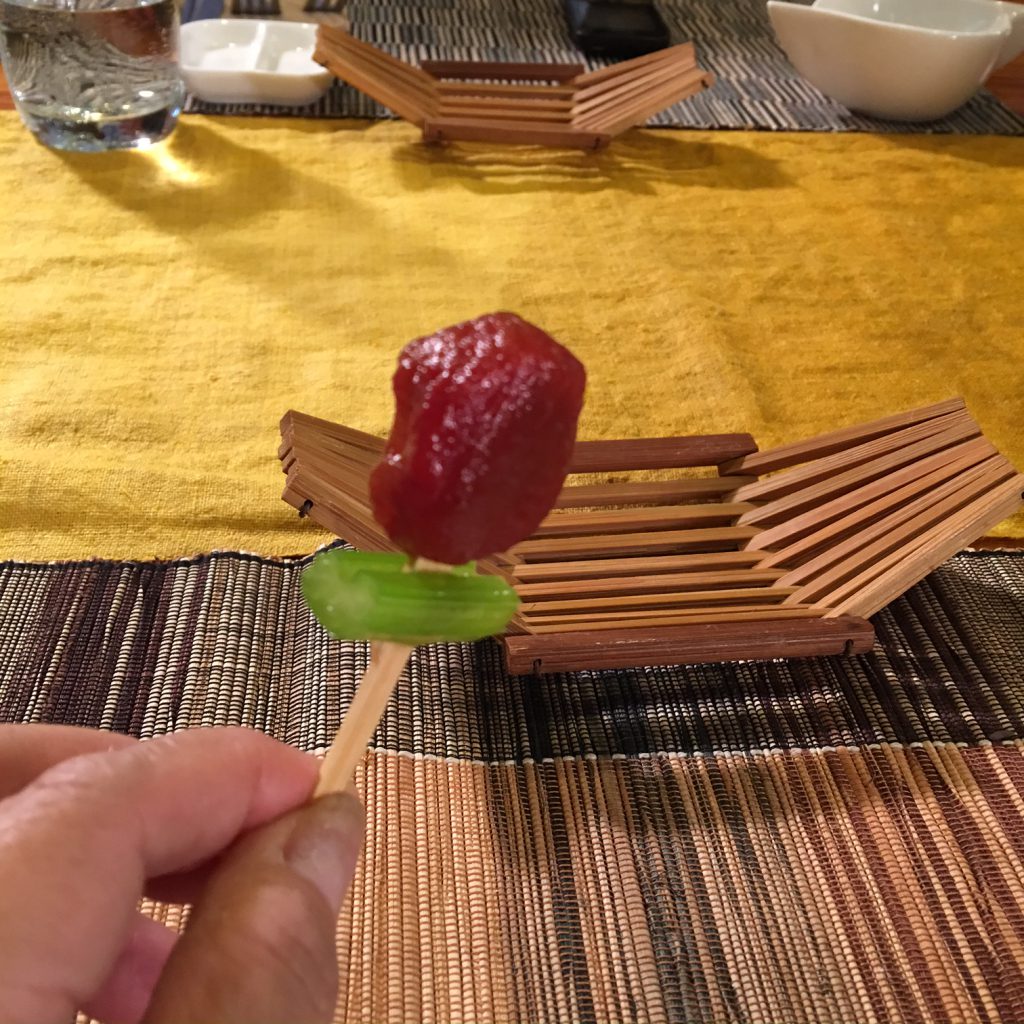 3. Buko-Melon Sherbet, a fruited ice made with young coconut and melon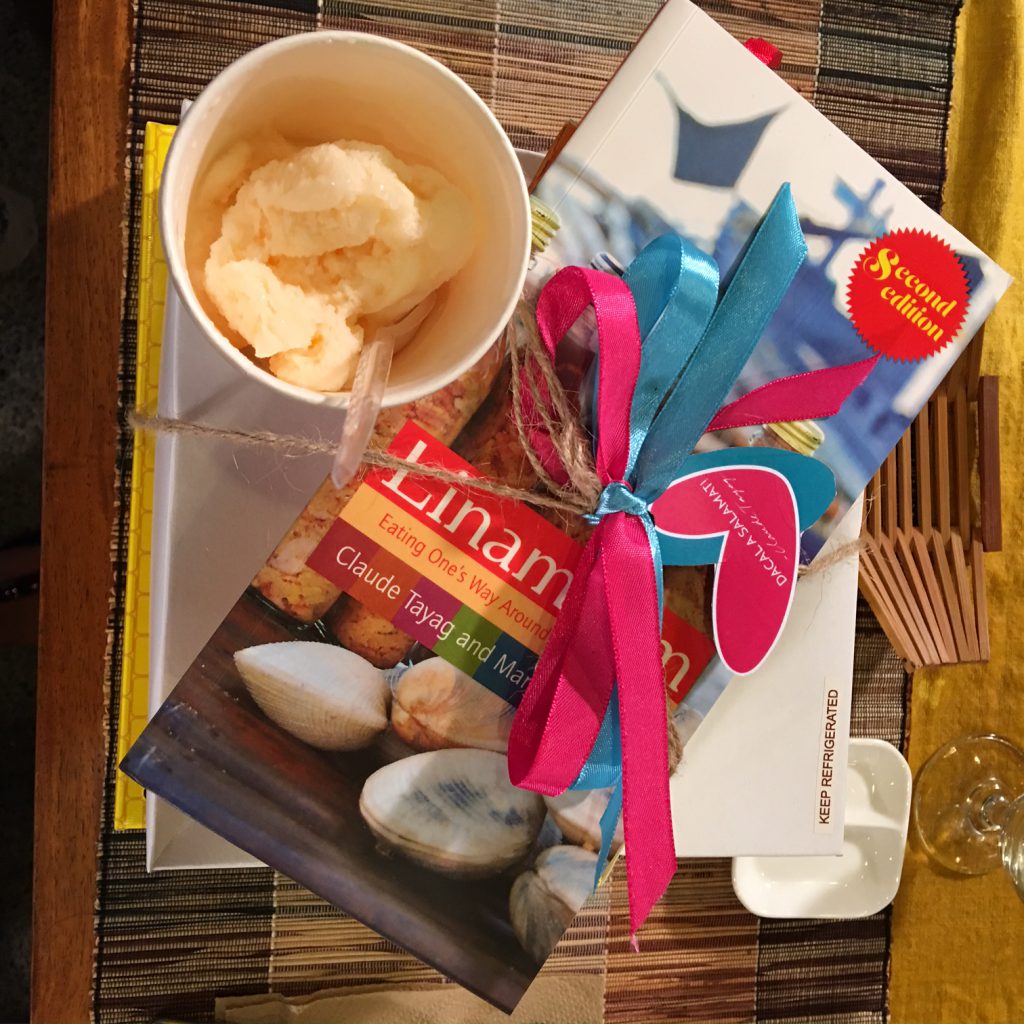 The Ensaladang Pako (or Fiddlehead Fern Salad) with a honey and calamansi dressing was delicately crunchy, proving to be an appropriate contrast to the rich, exuberant flavors of the Lechon dishes.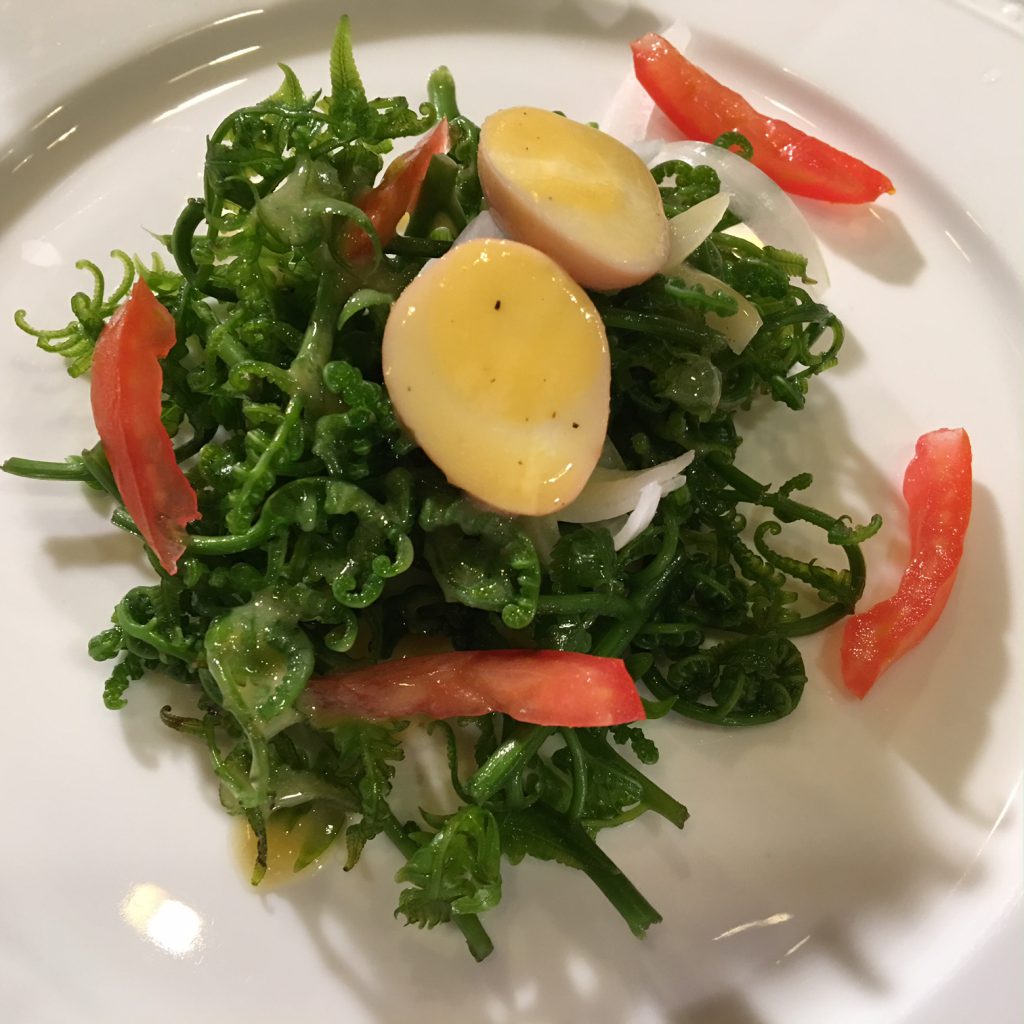 By the time our press launch and lunch ended, we didn't know how we could eat anything sweet after the Buko-Melon Sherbet. Our hosts thoughtfully boxed our dessert items — from ensaymadas (sugared Filipino-style brioche) and cheese bread buns, to Sapin-Sapin (a native delicacy made with glutinous rice flour and coconut) with our very own handy culinary travel guide (second edition), "Linamnam," by authors Chef Claude Tayag and Mary Ann Quioc. Sub-titled as "eating one's way around the Philippines," Linamnam promises to be any foodie's resourceful companion in regional gastronomic adventures.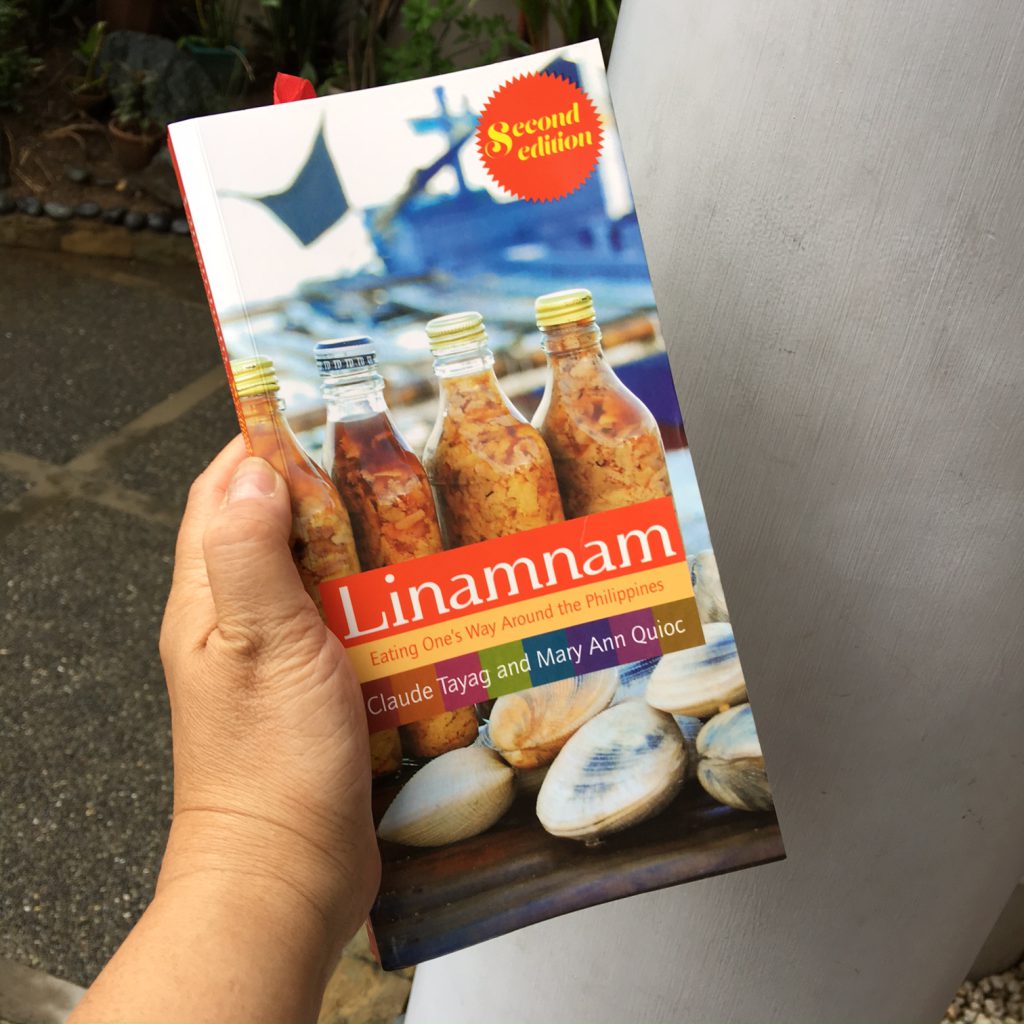 Chef Claude, it has been my pleasure and privilege to find out all about you and your incredible contributions to the Philippines' evolving culinary scene. More power to you in CHASING FLAVORS!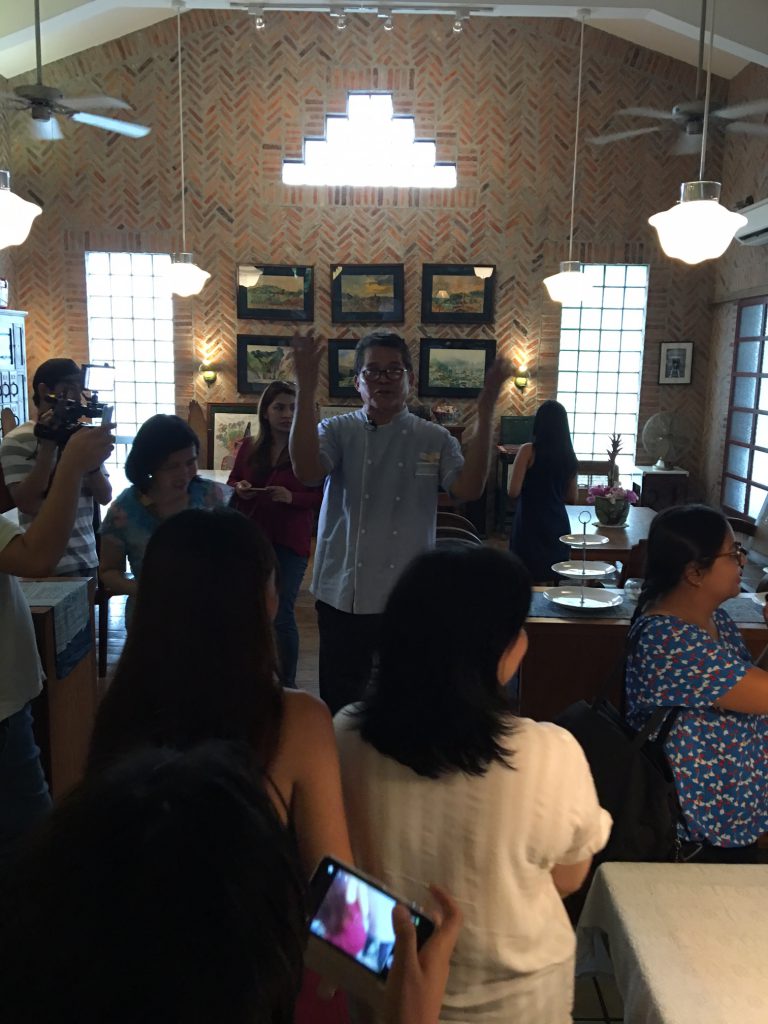 CONTENT CURATION:
Shortened link: http://tinyurl.com/chasingflavors