Today is the day before Christmas eve or the noche buena. Before I share this recipe, let me greet you my valuable readers for being part of my simple food dishes. Here is my greeting card to all of you.
I created a video greeting for all of you and to share our Christmas through the years in three different homes, starting in Pasig, then Makati then back to Pasig. L was 12 while M  was 11 years old with another girl and 2 boys from the Manila Children Choir. The choir conductor chose only 5 children for this recording but with recent technology, it sounds like they are a big group of kids.
The card template is a bit off-tangent with the music but it's cute. Pasko na Sinta ko is actually a love song but the melody is very poignant.
Merry Christmas and Happy Holidays from the kitchen of the Dado family to your kitchen.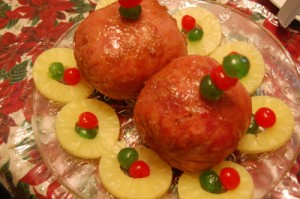 My daughter hosted the Man Blog Christmas party at our house last year and she decided to prepare fiesta ham so it would really feel like a Christmas dinner. She didn't want to use the pre-packaged sauce that came with the ham so she looked around the Internet for a simple ham sauce recipe she can make on my own. Eventually, she came across a recipe for a beer sauce that she modified a little bit. The beer sauce turned out to be a huge hit among her friends. By the time the party was wrapping up, the ham was completely gone – pineapple garnish, sauce and all!
She still needs to make a couple of adjustments to the recipe; I think it needs more sugar and more beer. But this is the beer sauce recipeshe used for the Christmas party.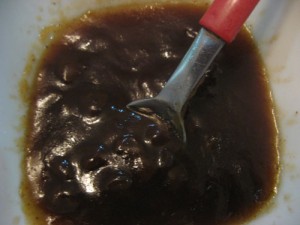 Beer Sauce for Fiesta Ham
1/4 cup firmly-packed brown sugar
1 1/2 Tablespoons cornstarch
1/8 teaspoon salt
1 cup beer
1/4 cup raisins, cut in halves
1/2 teaspoon cloves (reduce if you don't want it too spicy)
1/4 teaspoon cinnamon
1 Tablespoon butter
Melt the cornstarch in water. Combine brown sugar, cornstarch, and salt in a saucepan. Stir in beer and raisins. Slowly mix in cloves and cinnamon to taste. Cook for ten minutes, then stir in butter. Serve the sauce very hot!