I cooked Sinigang na Hipon using the synchronized cooking function of my Tiger Tacook Rice Cooker JBV-B18F. You will love the convenience.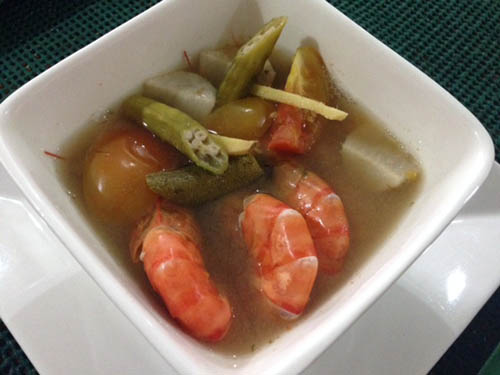 In a recent #SoMoms event with Tiger, the well-loved brand of our moms, I got introduced to a whole lot of new small appliances The Tiger Tacook is one of them. So how did I cook this using the TaCook? Well, the TaCook rice cooker can cook side dishes using high temperature steam generated when cooking rice. The TaCook comes with an orange cooking plate for cooking the side dish, an inner pan for rice, and the microcomputerized rice cooker.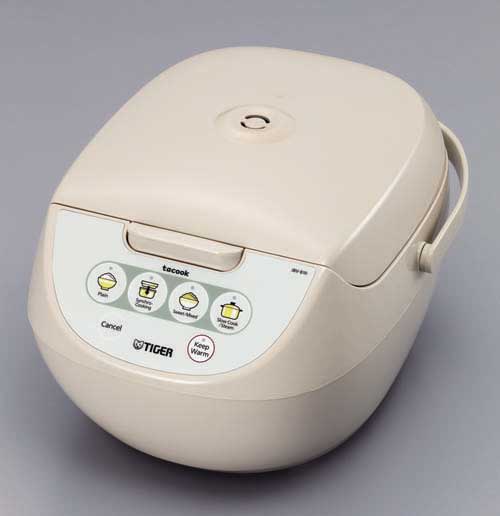 Prepare the ingredients first. The TaCook can synchro-cook for two people but rice can be prepared for more than four people. A bonus is the TaCook came with a recipe book . The Shrimp sinigang is titled "Sour Shrimp soup".
Ingredients:
Shrimp (head and shell on)- 150 grams
Satoino (Taro or Eddoe corm )- 40 grams (I used gabi)
Okra, cut diagonally- 40 grams
Tomato, cut into wedges- 40 grams
Ginger – 3 slices
Garlic, sliced – 1 piece
Soup
Tamarind water – 2 tablespoonsn ( I added more though)
Fish sauce – 1 teaspoon
Water- 120 ml
How to make tamarind water
1. Put the tamarind fruits in three times their volume of lukewarm water
2. Knead the fruits by hand until they turn into paste.
3. Remove seeds and peels before use.

Method
1. Place, the shrimp satoimo, okra, tomato, garlic and ginger on the cooking place. Pour well-mixed soup evenly over the ingredients.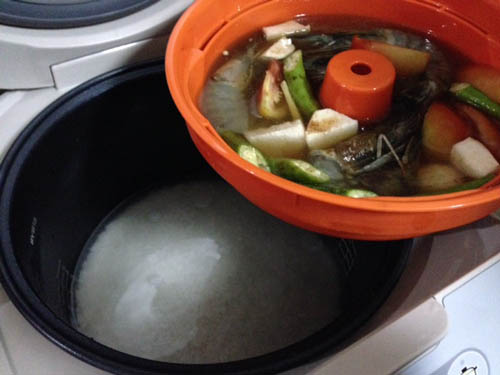 2. Put the washed rice and water in the inner pan, and set in the rice cooker.
3. Set the cooking plate in the inner pan. Press the [Synchro-cooking] key.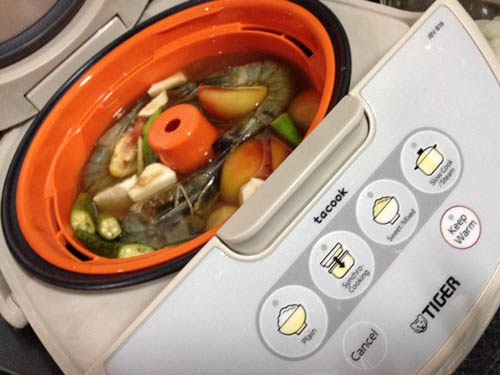 4. When cooking is completed, mix well and transfer to the bowl.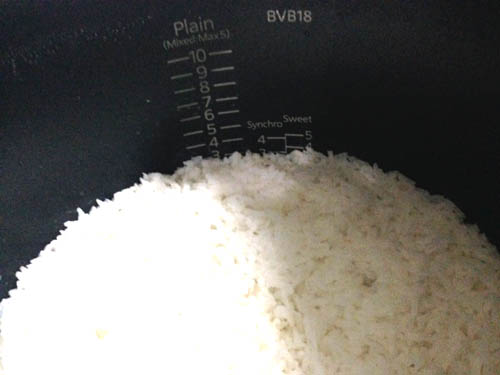 The rice is cooked. The sinigang is read to eat. It is that simple! This is ideal for a couples, solo dwellers or those who are too busy and want to cook their food and rice at the same time.
You can also watch this video:
Micro computerized cooking allows me to enjoy multi rice cooking, slow cooking and even steaming. In slow cooking, it can keep boiling for 180 minutes at longest maintaining 92 C high temperature. Steaming is great way of cooking and I can set steaming for 60 minutes at its longest time.
Tiger also presented their other kitchen appliances that moms will surely find useful.
The Electric oven/toaster (2,500.00 pesos)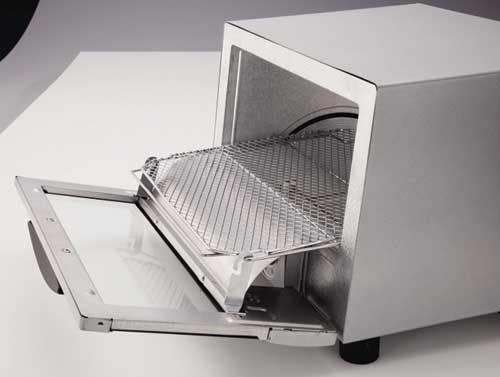 Grill grill (5,999.75 pesos) that you can use for Shabu-shabu
The Griddle plate is convenient for steaks or grilling meats. Both the deep pan and undulate plate are coated with a non-stick coating that allows far-infrared heat conduction.
The deep pan can also be used over an electric or gas stove top. Both the deep pan and undulate plate are easy to wash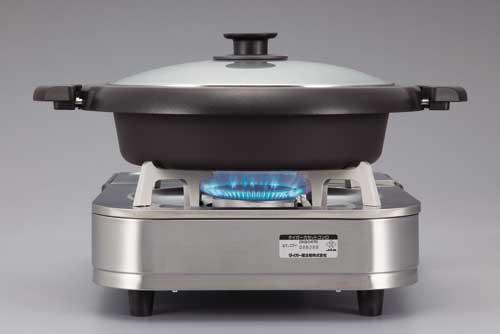 An cordless kettle (3,199.75 pesos) with safety features , in cases where the kettle falls to its sides.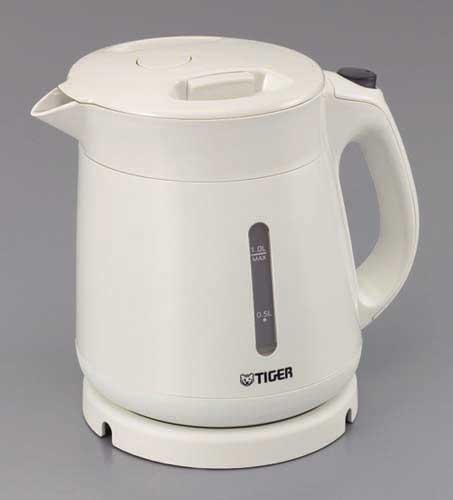 The Tacook rice cooker SRP is (5 cups) – 4,799.75 (10 cups) – 5,499.75
If you're interested in buying a Tacook and other Tiger kitchen appliances for yourself, just head off to Rustan's, Landmark, SM and Robinson's. Take note that the Tiger appliances are not in a special stall in SM department stores unlike Rustan's, Landmark and Robinson's.
Available at SM Department Store – AURA,BACOOR,CUBAO,FAIRVIEW,LAS PINAS,MAKATI,MOA,MANILA,NORTH EDSA,ORTIGAS,SAN LAZARO,STA. MESA,BAGUIO,BACOLOD,CEBU
LANDMARK – MAKATI,TRINOMA
ROBINSONS DEPARTMENT STORE- GALLERIA,ERMITA,MAGNOLIA
METRO GAISANO- MARKET- MARKET, ALABANG,AYALA
ANSONS MAKATI
FISHERMALL
RUSTANS MAKATI,TOWER
TIONGSAN HARRISON BAGUIO CITY
LING CHAO MERCHANDISING TEL# 244-0344,REPUBLIC EMPORIUM TEL#244-0370,FAIR AND SQUARE TEL#241-3272,WORLDWIDE TEL#241-3447,AEY COMMERCIAL TEL#244-0135,COMMUNITY COMMERCIAL TEL#733-6372,FRIEND ANN MERCHANDISING TEL#734-4300,J AND R APPLIANCE TEL#242-1576, NEW SIN KIAN HENG TEL#733-2129
You can read my other mommy friend's post like Patty, "The Tiger we all Know".