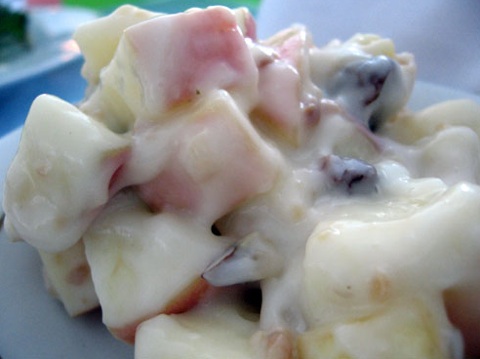 I like this tangy sweetish salad. According to Wikipedia, the origins of the Waldorf Salad came from well, Waldorf-Astoria Hotel.
A Waldorf salad consists of julienned apple and celery, chopped walnuts, grapes, and mayonnaise or a mayonnaise-based dressing. The salad was first created around 1893 at the Waldorf Hotel in New York City (the precursor of the Waldorf-Astoria Hotel which opened in 1931)
There is an elegant ring to the salad. Prepare this salad and place over a bed of lettuce.
Here is the recipe:
Ingredients
8 apples, unpeeled (remove cored, chopped into chunks, around 6 cups)
2 tablespoons Kalamansi juice (or lemon juice)
1/4 cup raisins
2 stalks celery, chopped
1/2 cup walnuts (chopped but not too fine)
1/3 cup mayonnaise
1/3 cup yogurt (plain)
2 tablespoons white sugar
lettuce
extra walnuts for toppings

Directions
1. Prepare the apples. Cut them into bite-sized chunks and enough to make up 6 cups. Sprinkle the kalamansi juice over the apples. The kalamansi juice prevents the apples from turning brown.
2. Place raisin in a bowl and add enough water to plump them up. Let the raisins sit for a few minutes, so water gets absorbed. Drain. Set aside.
3. Chop the celery and walnuts separately.
4. Mix apples, raisins, walnuts coating all of the ingredients with the mayonnaise.
5. It is best to chill it overnight so flavors seep in.
6. Arrange lettuce on individual salad plates. Mound the waldorf salad mixture on top of the greens, and sprinkle with the walnuts.
Serves 12.