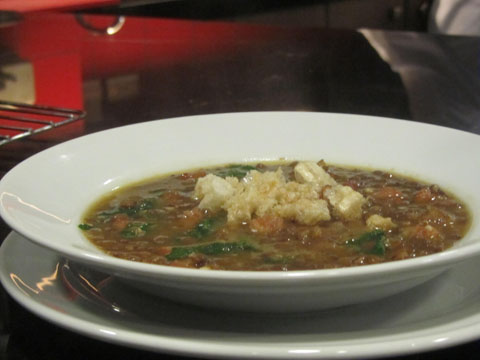 I know some of you miss Chicharon or Pork Cracklings. Here is a recipe from Chef Jill Sandique where she featured a soup recipe using lentils and pork cracklings. This recipe is not about pork cracklings though. The US Dry Bean Council (DBC) and USA Dry Pea and Lentil Council (DPLC) wants to change the way people see the humble peas and beans as just side dishes or add-sons. Peas and beans can actually be healthy main ingredients of yummy dishes. It is one reasons that the DBC and DPLC partnered with Chef Sandique.
Chef Jill believes that US dry peas, lentils and chickpeas are protein-rich and packed with fiber and carry antioxidants and high amounts of folate.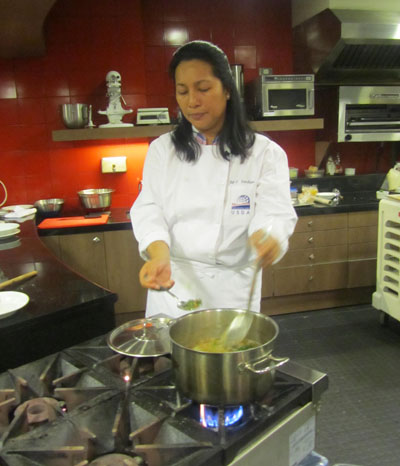 Chef Jill shows one way of preparing US Lentils as a main ingredient:
Ingredients
1/2 cup bacon, chopped
2 tablespoons canola or olive oil, optional
2 tablespoons minced garlic
3/4 cup chopped onion
1/2 cup chopped tomato
100 grams pork, cubed
100 grams shrimp, peeled and chopped
pork, chicken or shrimp stock (water may do) as needed
1 pack U. S. lentils, about 400 grams
2 to 4 cups spinach, washed and trimmed
salt and pepper to taste
To serve
Pork Cracklings
olive oil
red wine vinegar
Method
1. In a pot, cook bacon until slightly golden. Add oil if necessary.
2. Add the garlic, onion and tomato. Saute well. Add pork then shrimps.
3. Pour in stock or water. Bring in to boil then simmer for 10 minutes.
4. Add the lentils. Cook until done. Add the spinach and cook just until wilted. Season with salt and pepper. Transfer to a service.
5. Serve hot with pork cracklings, olive and red wine vinegar.