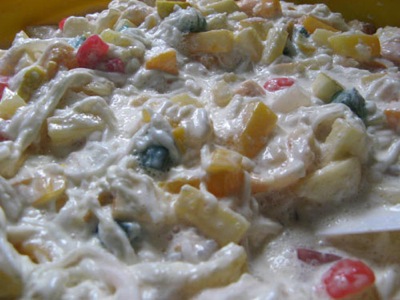 This recipe is so Filipino! It reminds me of the parties we hosted — and memories of my mother testing recipes we loved. This one is a particular favorite but I cannot remember which cookbook this came from. This recipe is very similar to my Buko Fruit salad sans the spaghetti noodles.
SPAGHETTI-BUKO SALAD

1 package pre-cut spaghetti (8 ozs.)
1-1/2 cups young coconut (buko), shredded
1 cup pineapple tidbits
1 (#2-1/2) can fruit cocktail
1/4 cup pickle relish
1/2 cup condensed milk
1 (6 oz.) heavy cream, chilled
1/3 cup cashew nuts, chopped
1. Cook spaghetti noodles as directed. Drain and arrange in a salad bowl. Chill.
2. Meanwhile, drain shredded coconut, pineapple tidbits, fruit cocktail, and pickle relish. Combine with cooked spaghetti and nuts.
3. Mix the condensed milk and chilled heavy cream thoroughly and pour over spaghetti mixture. Toss lightly until well blended.
4. Serve cold on a bed of lettuce.
Makes 6 to 8 servings