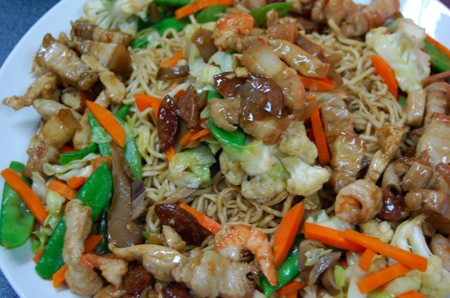 Traditonal Pancit canton is a dish that signifies long life, can give you luck and at the same time protect you against coronary heart diseases when sauteed in olive oil. Like I mentioned in the previous Pata Tim recipe, Olive oils contain unsaturated fat that are less oxidized compared to regular cooking oil. Oxidized cholesterol from cooking oil sticks to artery walls and form plaques that often lead to heart attacks and strokes.
Whenever I make Pancit canton, I don 't have any standardized measurements. Good thing that I attended a cooking session with Dona Elena and they showed how cooking with olive oil is healthier. Here is the Pancit canton recipe:
Ingredients
4 tablespoons Dona Elena Pure Olive Oil
1 piece red onion, medium, sliced
2 tablespoons minced garlic
100 grams pork liempo, cut into strips
100 grams chicken breast, cut into strips
2 pieces chinese chorizo
100 grams shrimps, peeled and deveined
5 pieces Shiitake mushrooms, sliced
1 piece carrot, sliced
2 cups snow peas (sitsaro)
1 piece cauliflower
2 cups cabbage, sliced
4 tablespoons Good life Oyster Sauce
2 tablespoons Good life Sesame Oil
250 grams Good life Pancit Canton Noodles
to taste salt and pepper

Procedure
1. Heat the olive oil and saute the onions and garlic.
2. Add the pork strips, chicken strips, Chinese chorizo, and shrimps and saute until tender. Add 2 tablespoons of the Oyster sauce and toss the meats well in the sauce. Remove from the heat and set aside.
3. Add the vegetables and saute until tender. Add the remaining 2 Tablespoons of Oyster sauce then toss the vegetables in the sauce. Remove from wok and set aside.
4. Add the chicken broth and the oodles and let simmer until noodles are tender and some of the stock is absorbed.
5. Put back the other ingredients in the wok and toss with the noodles.
6. Season with sesame oil, salt and pepper.