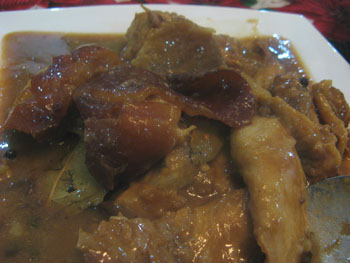 We had a lot of leftovers of Lechon (Roasted Pig). What did we do with the leftovers? Well, we cut them up to small pieces and placed them in freezer bags for storage. The following day, I cooked Lechon Paksiw which is just as delicious.
To cook Paksiw, follow this recipe:
Ingredients
1 kilo of leftover lechon meat (with skin)
1/4 cup vinegar
1/2 cup water
1/2 cup lechon sauce (Use Mang Tomas Lechon Sauce or the sauce provided by the Lechon supplier)
1/2 head garlic, crushed
1/2 cup brown sugar
1 teaspoon pepper corn
1 laurel or bay leaf
1. Mix together the above ingredients except the bay leaf.
2. Boil.
3. Lower heat, simmer until the meat is tender.
4. Add more water as needed.
5. Add the bay leaf.
6. Serve Hot.
What I like about Lechon Paksiw is the skin.