One of my favorite dish at Sentro 1771 is Fresh Smoked Fish Spring Rolls. I am delighted that Vicky-Rose Pacheco from Sentro shared this recipe of fresh lumpia made of tinapang bangus, salted egg, mustasa, onions and tomato during a demo at the Maya Kitchen. It is the smoked tinapa that gives the tasty flavor of this all-time favorite lumpia. You will find out it is easy to prepare too. These spring rolls add a nice touch to any cocktail menu.
Try it.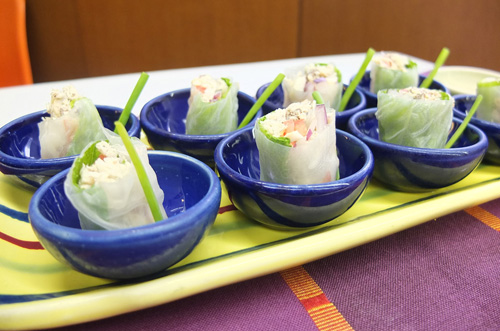 2 pcs rice paper wrapper
2 pcs mustasa leaves, washed & trimmed
100 grams bangus tinapa flakes
15 grams tomato strips, fleshed out
10 grams red onions, thinly sliced
½ pc salted egg, sliced into 4 wedges
2 stalks spring onions, cut into 2-inch lengths
Procedure
1. Prepare a wide a bowl and pour in a little water. Take a piece of rice paper wrapper and moisten in the bowl. Lay on a clean board. Do the same with the other one.
2. Lay down the mustasa on top at the center.
3. Distribute 50 grams of tinapa flakes on the mustasa, lengthwise.
4. Place some tomato strips on top, then follow with the onions.
5. Place 2 wedges of salted egg on top.
6. Roll the rice paper wrapper tightly, folding the sides and do the same with the other one.
7. Trim off the ends and cut into 4 equal pieces. Garnish with spring onion.
For more information, log on to www.themayakitchen.com or e-mail [email protected].