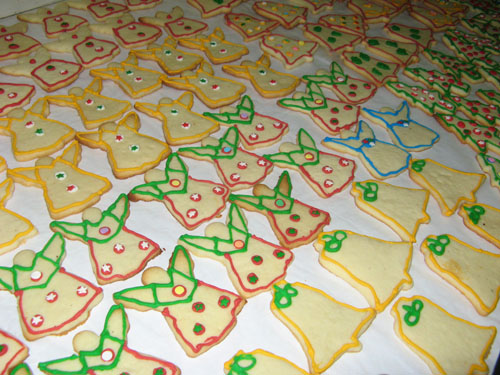 Baking sugar cookies are not my cup of tea. It's labor intensive. I'd rather bake bar cookies because they are so much easier. You dump all the dry, wet, mix and voila, one gets a yummy cookie. Not with sugar cookies. Whenever I bake sugar cookies, my kids know it's a labor of love. It's the love that makes me continue on with this tradition even if they are now adult children. Let me share with you the Christmas Sugar cookies that have been a continuing Christmas tradition for the past twenty years in my family. You can even prepare sugar cookies weeks ahead before you give them to your friends and relatives. Just store them in a cool, dry container.
If you are located in Manila, Philippines, you don't have to go far to Divisoria to buy your ingredients. You can purchase at Chocolate Lover.
NOTE: The Christmas Sugar Cookie recipe can be used only for your personal use and cannot be posted in your website, blog or any other site, form or means without my WRITTEN permission
Ingredients for Cookie dough
4 cups sifted all purpose flour
2 tsp. baking powder
1/4 teaspoon baking soda
1/2 teaspoon salt
1 cup soft butter
2 cup sugar
2 eggs
1/4 cup milk
1 tsp vanilla
1/2 tsp lemon extract
1/4 teaspoon nutmeg
Procedure
1. Sift together flour, baking powder, soda, nutmeg, and salt.
2. In a large bowl combine butter, sugar, eggs and flavoring.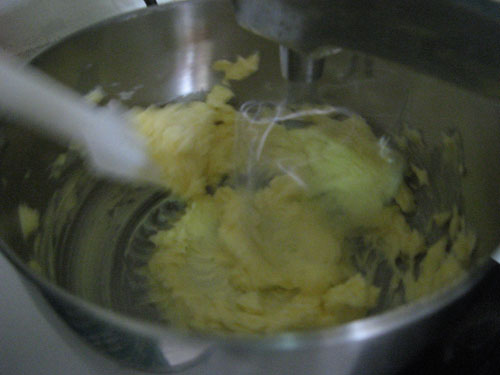 3. Cream on Speed no. 7 for 2 minutes.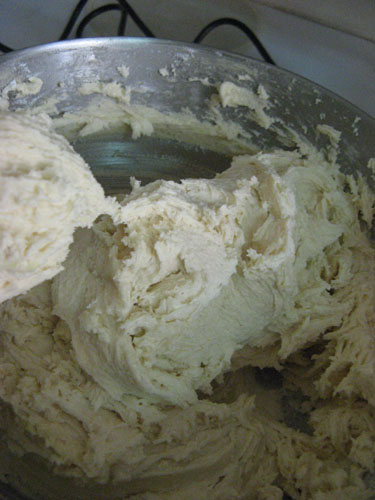 4. Turn to speed no. 3.
5. Add milk and flour mixture gradually beating until blended (3 minutes)
6. Refrigerate dough until easy to handle
7. Set oven to 375 F to preheat
8. Grease Cookie Sheets
9. Roll dough on lightly floured board (Tip: in this case, I rolled straight onto the cookie sheet)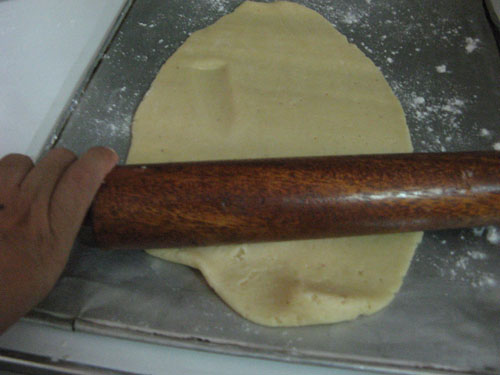 10. For crisp cookies roll to 1/8 inch thick
For soft cookies, roll to 1/4 inch thick
(Note: I prefer crisp cookies because I can hang them on garlands)
12. Cut with floured cookie cutter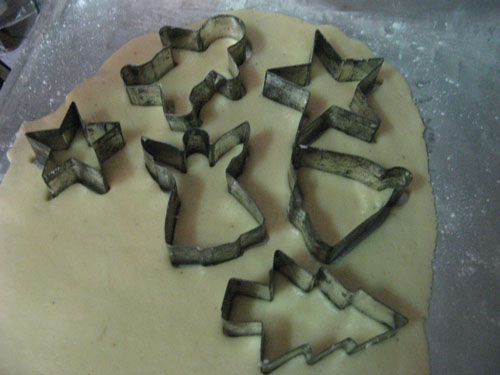 13. Place on prepared cookie sheets, brush with milk (optional)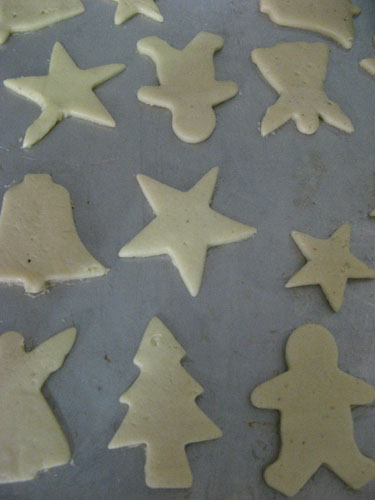 (note- since I rolled it on the cookie sheet, it makes dough handling easier)
14. Bake at 375 F for 10-12 minutes until edges become light brown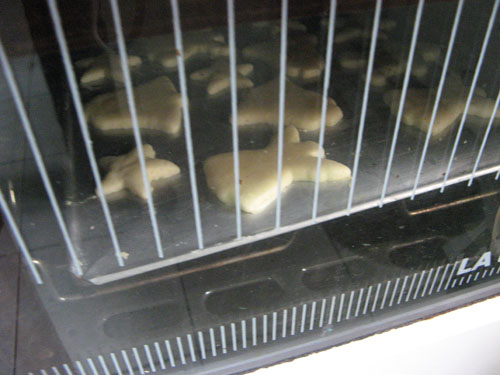 15. Remove from cookie sheet and cool on brown paper or paper towelling.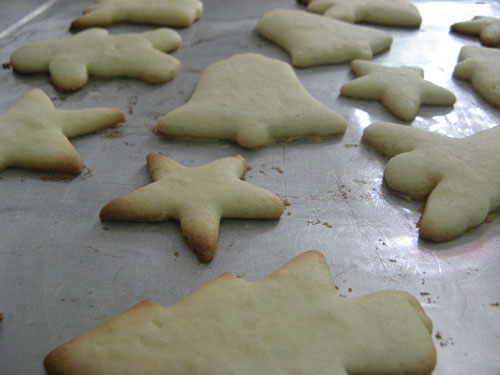 Some of the cookies tend to burn easily if the rolled dough is thin.
YIELD: 10 dozen 1/8 inch thick cookies
Icing for decoration
3 Egg Whites (1/3 cup)
3 to 4 cups Confectioners Sugar
(this yields around 4 cups of icing which you can use for Christmas cookie decorating)
Procedure
1. Beat egg whites until stiff.
2. add 1/4 tsp cream of tartar
3. Add confectioner sugar until well blended
To decorate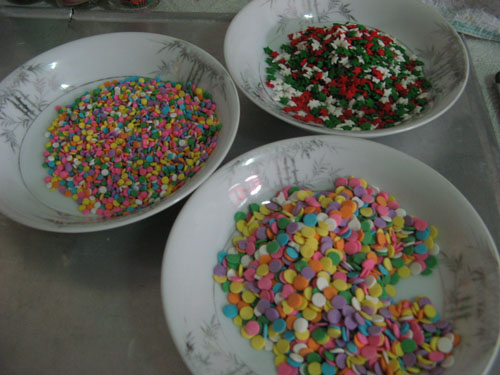 You will need sprinkles, icing and imagination. I assume you know how to use an icing tip. If not, then I will have to teach it in another entry.
Prepare sprinkles. I buy my sprinkles from "Chocolate Lovers"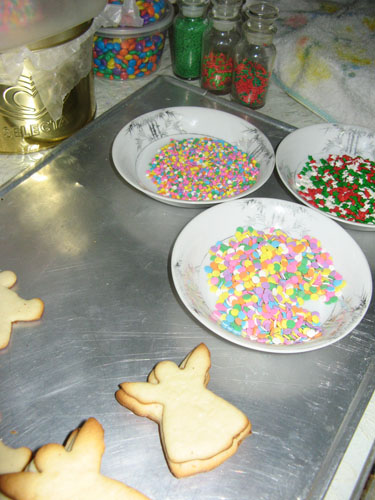 Just outline the shapes, or ice and add sprinkles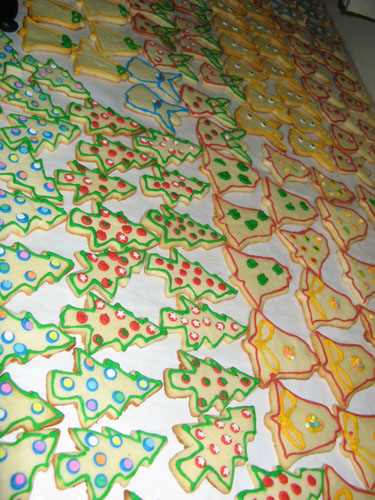 After the icing has set, I wrap the cookies individually and hang them on the Christmas garlands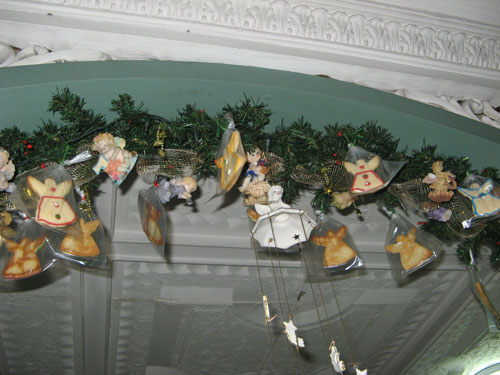 I am not an expert in decorating cookies. For more ideas , watch this video:
Contact address of Chocolate Lover– to buy baked ingredients
45 P. Tuazon Blvd. corner
C. Beniztez St. Cubao
Quezon, 1109 Philippines
(632) 411-7474
(632) 724-5752
(632) 724-4964