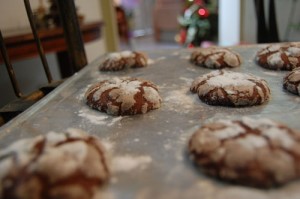 I associate Chocolate Crinkles with Christmas gift giving. These cookies have an attractive light and dark contrast perfect for an interesting addition to a cookie tray or for serving by themselves, any time of year! This year, I decided to bake Chocolate Crinkles with our native tsokalate , the tablea (Chocolate Tablets). Growing up in Cebu, the tsokalate drink is the standard drink on our noche buena. You can just imagine the tsokolate aroma as you bite each cookie.
The original recipe used for Chocolate Crinkles is based on Betty Crocker, mom's favorite recipe book. I replaced the oil with lard as it is much easier to manipulate. Hope you enjoy baking this easy recipe.

1/2 cup lard (instead of vegetable oil)
4 oz Tablea (native chocolate) or unsweetened baking chocolate, melted, cooled
2 cups granulated sugar
1 teaspoon vanilla
1 teaspoon Almond Extract
4 eggs
2 cups all-purpose flour
2 teaspoons baking powder
1/2 teaspoon salt
1/2 cup powdered sugar (for rolling the dough)
1. In large bowl, mix oil, chocolate, granulated sugar and vanilla. Stir in eggs, one at a time. Stir in flour, baking powder and salt. Divide dough into two bowls. Cover; refrigerate at least 3 hours.
Remember the dough has to be well-chilled for so confectioners' sugar does not get absorbed by dough upon rolling
2. Heat oven to 350°F. Grease cookie sheet with shortening or cooking spray.
3. Drop dough by teaspoonfuls into powdered sugar; roll around to coat and shape into balls. Place about 2 inches apart on cookie sheets.
Dough has to be really chilled before you roll on the powdered sugar
I roll the dough lightly on the bowl minimizing warm contact with my palms. Remember dough has to be really chilled
4. Bake 10 to 12 minutes or until almost no imprint remains when touched lightly in center. Immediately remove from cookie sheets to cooling racks.
Notes
1. 4 ounces of unsweetened baking chocolate is equivalent to 113 grams. In Manila, I purchase unsweetened baking chocolate from Chocolate Lovers.
2. If you don't have unsweetened baking chocolate or tablea, you can substitute with cocoa powder.
3 tablespoons cocoa powder + 1 Tablespoon fat is equal to 1 ounce of unsweetened baking chocolate
4. Make sure the tablea that you buy is pure, unadulterated tablea. Sometimes, the tablea is already mixed with sugar. That is not a good substitute for baking