Yesterday, I got invited by a friend to attend the Sarap at Home, a cooking show at QTV 11 and a cooking demo by Chef Nino Logarta. I found it interesting because I love tuna and I know some of you like easy to cook recipes once in a while.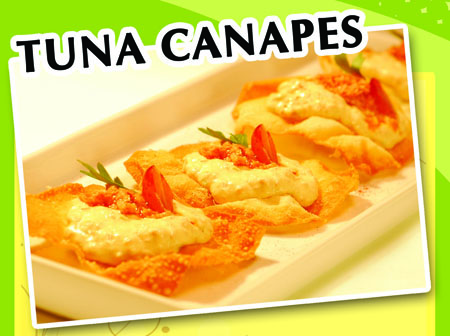 TUNA CANAPES
Ingredients:
1 can San Marino Corned Tuna
10-12 pcs wonton wrappers
5-6 pcs grapes, halved lengthwise
Cayenne pepper
Salt
1/4 cup cream
1/4 cup cream chese
1 1/2 tbsb chopped chives
Procedure:
1) Dust wonton wrapper with cayenne pepper and fry until golden brown, Season with salt right after cooking.
2) Whip cream cheese until soft
3) Mix cream cheese, cream and chives with San Marino Corned Tuna
4) Spoon tuna mixture on fried wontons and add 1/2 a grape to each canape
5) Garnish with extra chopped chives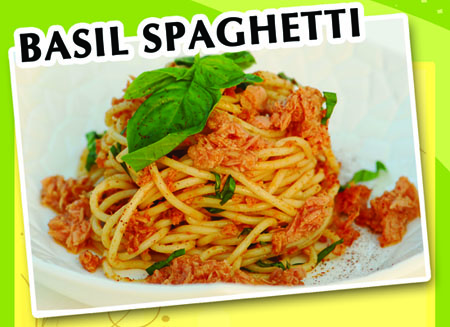 BASIL SPAGHETTI
Ingredients:
100g spaghetti
20g sun dried tomatoes chopped
10g red onions sliced into 1/4 inch rings
10g minced garlic
1 can San Marino Corned Tuna
10g basil
2-3 tbsp olive oil
20g Parmesan cheese
5g parsley for garnish
Salt
Pepper
Procedure:
1) Cook spaghetti according to package directions.
2) Sautee the onions and garlic in olive oil.
3) Add the San Marino Corned Tuna and tomatoes and continue sauteing for 3-4 mins
4) Season with salt and pepper
5) Turn off the heat and toss in basil and mix.
6) Plate and garnish with parmesan cheese and parsley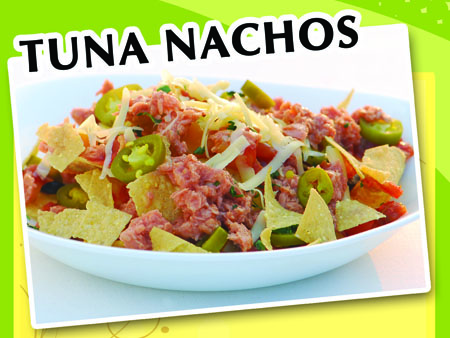 TUNA NACHOS
Ingredients:
1 bag nacho chips
1 can San Marino Corned Tuna
1 tbsp olive oil
1/4 tsp paprika
1/8 tsp cumin
Salt and pepper to taste
1 cup shredded iceberg lettuce
1/4 cup sliced black olives
1/2 cup melted cheese sauce
1/2 cup ready-made tomato salsa
1/4 cup diced mango
1/2 cup grated cheddar cheese
1/8 cup sliced jalapeno peppers

Procedure:
1) Heat olive oil and saute San Marino Corned Tuna for 2-3 mins. Season with paprika, cumin, salt, and pepper
2) On a large plate, layer shredded lettuce then top with the nacho chips
3) Evenly layer on top the rest of the ingredients except for grated cheese
4) Top with Corned Tuna and finally layer the grated cheese on top.