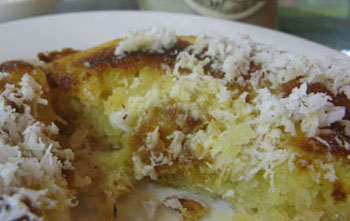 Mommy used the book, "Recipes of the Philippines," compiled and edited by Enriqueta David-Perez as her guide for making her Bibingka recipes. Bibingka reminds me of those early bakeshop days in the early 1970's when my sister and I had to help grind the rice into "galapong" and dump them into clean plastic pails, knowing (by smell) the difference between fresh and rancid galapong. Mommy also taught us how to pre-mix the "secret" part of the recipe (the combination of dry ingredients) which was stored in plastic bags at the locked stockroom in the "dirty kitchen."
Mommy was also one of the first advocates of ALMEDAH Food Machineries Corporation since the famous inventor himself, Benjamin Almeda Sr., taught Mommy how to use his bibingka machines. I used to accompany Mommy whenever she visited Mr. Almeda in Manila.
Continue reading Bibingka Recipe: Bibingka Royal →

convert this post to pdf.