Ginataan
May 22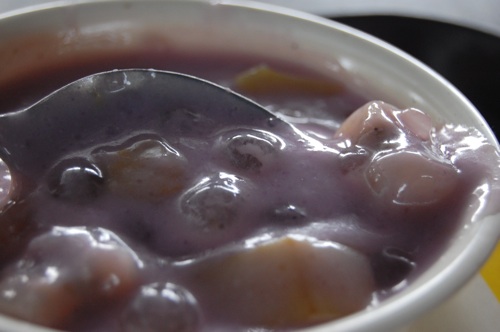 I never knew how to make ginataan until I became a mother. I recall eating ginataan as a child but never took the time to cook it as I was growing up. Even when I took up Principles in Food Preparation in UP Diliman under the late Matilde P. Guzman and learned the technique of Extracting Coconut Cream and Coconut Milk, I still didn't take time to cook a batch of this yummy filipino merienda fare. Anyway, by the time I became a mother, I decided to cook it for my kids. Here is my recipe.
Ingredients
1 coconut, grated
1/4 kilo ube or gabi, diced ( I don't really like a lot of tubers in my ginataan so I just add a little of each)
1/4 kilo kamote, diced
5 saba bananas, sliced crosswise
8 sections of nangka or jackfruit in strip
3 tablespoons sago (kids love more sago in their ginataan)
1 cup sugar or add more depending your sweet tooth
Optional ingredients include tapioca balls which I didn't add because of my preference to saba, langka, sago and kamote in my ginataan.
Directions
1. Prepare the coconut coconut cream and milk following instructions from Extracting Coconut Cream and Coconut Milk. (For those overseas, you can buy a can of coconut milk and coconut cream at your local grocery similar to the photo below)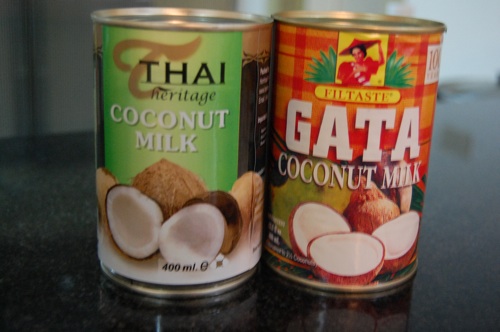 Set aside 1 cup of thick coconut milk (first press) and 2 cups of coconut milk.
2. Boil coconut milk. Add sago, gabi or ube.
3. Cook until half-done.
4. Add the bananas, camote and nangka.
5. Blend in sugar.
6. Pour thick coconut cream (first press) before removing.
7. Cook until done.
I like my ginataan to have thick yet runny consistency.
Google+
Recommend this recipe?
If you like this recipe, please recommend to your friends by adding a plus one . You can also get FREE recipes in your email by subscribing below: